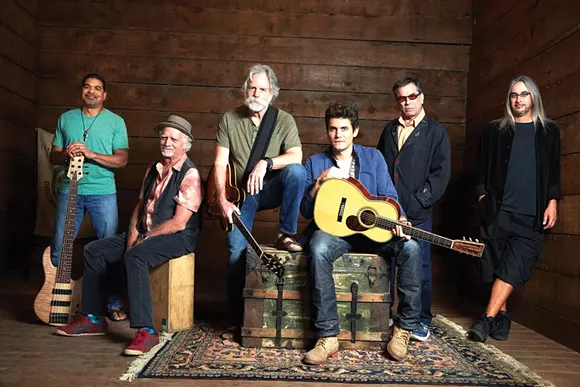 Pack up the VW Microbus, break out the tie-dyed halter tops, and dig the Birkenstocks out of the back of the closet: Dead & Company are rolling into DTE Energy Music Theatre on Thursday, July 7 during their 13-city summer run. The group — original Grateful Dead members Mickey Hart, Bill Kreutzmann, and Bob Weir, plus John Mayer, Allman Brothers Band bassist Oteil Burbridge, and RatDog keyboardist Jeff Chimenti — coalesced after three record-breaking "Fare Thee Well" shows at Chicago's Soldier Field over the Fourth of July weekend in 2015.
A 50th anniversary celebration, "Fare Thee Well" was billed as the last time the surviving members of the Grateful Dead would perform together, and along with Hart, Kreutzmann, and Weir, included original member Phil Lesh with a host of guest players over the course of three days. Twenty years after the untimely death of Jerry Garcia in August 1995, fans came in droves to Soldier Field, eager for the chance to witness a reunion of sorts. But the music never truly dies when Deadheads are concerned, and Dead & Company are keeping the tradition alive.
Mayer had long been a fan of the Grateful Dead and he bonded with Weir after the two met while Mayer was guest hosting The Tonight Show Starring Jimmy Fallon. He was a guest artist during "Fare Thee Well," and it was the beginning of another long, strange trip when they formed Dead & Company in August of last year. The current incarnation of the group played 20 shows that year from Halloween through New Year's Eve, and the overwhelming response to the performances led to a tour announcement.
Though Mayer might be best known for pop hits such as "Your Body Is a Wonderland" and "Say," he's a skilled guitarist who tackles Garcia's famous guitar parts, as much as anyone can label "parts" within the original modern instrumental jam band. Weir and Mayer recently appeared on an episode of Bravo's Watch What Happens Live with Andy Cohen, discussing the tour, their collaboration, and the feeling of Garcia's continuing presence. Weir even goes so far as to say, "Jerry never really died, he's 20 feet back .... stage left, over my shoulder. I hear him crackling away at all times."
It's a spiritual experience for Mayer, as well. Although he always felt Dead & Company was a " ...really interesting, cool idea and a musical matchup really worth doing," he had no idea he'd "leave the stage and go to this place on a spiritual level." Whether it's Garcia's guiding hand or not, there is an undeniable passion for the music to continue.
Dead & Company headlined the Bonnaroo Music and Arts Festival the first week of June, to a fittingly Woodstock-style crowd in Manchester, Tenn. The nostalgia was even more evident when 1970s Grateful Dead vocalist Donna Jean Godchaux sat in with the band at the 700-acre farm. Giving the crowd ample opportunity to spin or just chill and be mellow, the band touched on classics including "Shakedown Street," "Passenger," "Scarlet Begonias," and "Touch of Grey." Expect two full sets of favorites, jams, and surprises July 7.
There might be new faces in the crowd and onstage, but Dead & Company embody a spirit that transcends generational stereotypes. It will be a combination of young and old truckin' into DTE on Thursday night, just like it was at Pine Knob back in the day. You're likely to find a guy who's been following the Dead since 1969 chatting about the merits of hemp clothing with a kid young enough to be his grandchild as they munch on grilled cheese sandwiches. A woman who sold T-shirts in the parking lot of The Palace before Garcia's last Detroit-area Grateful Dead show in 1995 will probably be there, listening raptly to the Mayer fan telling her about the ridiculous guitar face Mayer made during a mind-blowing "Slow Dancing in a Burning Room" performance in Houston.
It's not just about patchouli and candles and kids spinning on the lawn. It's what the sense of community means to the fans; their shared love of music is why they come together year after year in city after city to create a buzz unlike any other. Just as their music can't be defined by a single genre, the aura surrounding Dead & Company is all-encompassing and inclusive. Everybody is welcome as long as they love music Every parking lot is a party at a Deadhead show.