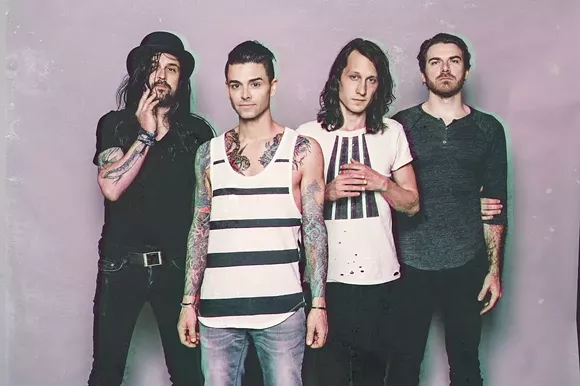 That's right people, your favorite emo band from high school Dashboard Confessional are reuniting for a special tour with a slew of other bands that made you feel the feels back in the day. We talked to lead singer Chris Carrabba before their show at Freedom Hill tonight to get some insight on what Dashboard Confessional has been up to in the past couple of years.
Metro Times
: What was the catalyst for Dashboard Confessional to get back together?
Chris Carrabba
: It was a lot of things, but mostly I was writing a song for another band I'm a part of called Twin Forks and this song just ended up being a Dashboard Confessional song. It was pretty surprising, but we got lucky and then just stayed in that place for a while.
MT
: Is there a difference in the songwriting between a Twin Forks song and a Dashboard song?
Carrabba
: Twin Forks songs tend to be a more traditional in story telling and song structure. Dashboard songs are kind of everywhere, but the emotion is still there for both of them.
MT
: Are you working with the same lineup in Dashboard as you were before the hiatus?
Carrabba
: I would say the lineup is newish. Three years ago Ben joined Dashboard and our friend AJ joined on guitar. There hasn't been any resistance from anyone which is nice. We are all ready to play these new songs and the old ones.
MT
: You guys are pretty notorious for being the quintessential emo band. How did that label sort of all happen?
Carrabba
: There was a lot of overlap of different styles and scenes. Punk pop and ska was overlapping and emo was a term that was borrowed from a musical generation right before ours. I think the press was trying to figure out what to call us and they just landed with that.
MT
: Did the term "emo" ever feel negative to you or the band?
Carrabba
: There were times. I really hate it when a kid is getting bullied or harassed because they are being labeled as emo or even scenester. I hate the idea of someone being bullied just because they like our music and dress like the other fans do. It wasn't a hateful word when we weren't popular, and as soon as we did then it became negative. I don't think that happens anymore, so I've come to like the word and what its done for the band.
MT
: Did you ever think you were an emo band?
Carrabba
: You know, for a while I didn't. Maybe for a couple albums we were, but I would see other emo bands and think they we didn't sound like them. Now I do.
MT
: This Taste of Chaos tour with these bands seems like a ton of fun. What is it like on the road with these other bands?
Carrabba
: We came up with Taking Back Sunday and Saosin and The Early November so it's just great to be with them and hanging out. We play guitars every night and sing so it turns into this borderline hippy convergence.
MT
: You guys have toured and played with a ton of bands.
Carrabba
: So many. We've opened for Weezer and U2 and done tours with Third Eye Blind and New Found Glory. It's a great community of musicians.
MT
: What's something that fans might not know about you or the band?
Carrabba
: Before every show I always like to listen to the other bands and walk around the venue, so if you see me stop and say hi! Get there early!
The Taste of Chaos is at Freedom Hill in Sterling Heights. Doors are at 5 p.m. Tickets are still available at livenation.com at $55.95, $49.25, or $25.95.