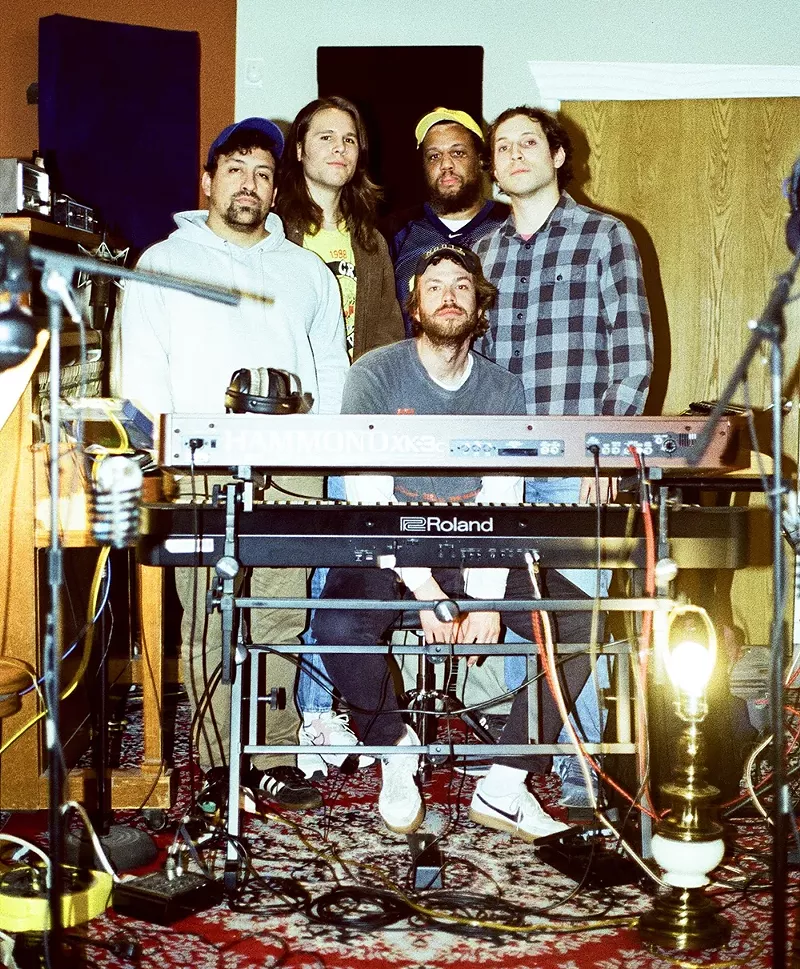 Danny VanZandt knows you might not get it. Of course, the Detroit-area singer-songwriter hopes that you can see the humor in his lyrics. Humor for humor's sake, really. And often oddball humor, because… why the hell not?
"I feel that in the past I've fallen into those art school or film school stereotypes where you make the very self-serious piece of art that just winds up not connecting at all," VanZandt says. "So I wanted to do something intentionally goofy."
VanZandt says this while discussing one of his recent singles, "Springsteen on Ice," an alt-country twanger where he croons in a nearly-baritone low register, with lyrics that indulge in clumsy metaphors that are somehow funny because they're also cryptic enough to arrive at a place of endearing absurdity; the song goes on to declare that if something as abhorrently kitschy as an ice-capades style show devoted to the musical-universe of Bruce Springsteen toured into town, he wouldn't dare deny himself the pleasure of such an experience, however ridiculous.
Another song, "Night at the Rock & Roll History Museum," is a riffy indie-rock ballad, which speculates a not-so-distant dystopian future where rock 'n' roll actually does die and struggling indie musicians are forced to cryogenically freeze their own Gibson SGs in their basement for posterity, devoid of any hope that their band's T-shirts will ever be on sale at Target. Or "Wendy's In The Digital Age," an irreverent, snarly-sweet electro-pop dance-dirge imagining of an alternate Fahrenheit 451-styled future where a laundry list of arbitrary cultural ephemera has "fallen" yet fast food is still doing booming business and even expanding drive-thru service beyond the stratosphere with tech-billionaire investments.
All three of these songs are on Danny VanZandt's forthcoming full-length album, Music to Your Ears, out this week and celebrated by a release party at the Loving Touch on Friday. More importantly, when it comes to all of these songs, the droll-in-the-face-of-doom humor is actually charming camouflage for genuine and honest sentiments.
"I've learned how important that balance is," VanZandt says. "To go back to the film-school comparison: some of my favorite sad, serious films still have levity to them and that's what makes them work, that's what lets you in — instead of pushing you away like super self-serious things tend to do. So I appreciate that you need the balance, along that spectrum between funny and sad."
VanZandt, who's been making visual art and playing the guitar since before he could drive a car, will do two things this year: the first is he'll finish up his degree in art history, and the second is he'll turn 30. All that to say: he's reached a "maturation" as far as his outlook on art, music, and life itself, and just because his lyrics may sound silly, it doesn't mean he's not serious. On "Springsteen on Ice," VanZandt declares, "I won't bow before the altar of good taste," which he considers it his mission statement, while acknowledging that the sentiment is similar to Henry Miller's "spitting in the face of good taste."
Good taste, VanZandt says, is a deceptive construct, "and frankly, you get to a point in life where being tasteful becomes boring," he says. "Because you're just doing what you're told, following what the canon's telling you, while the more fun thing to do is to dunk on the canon. All of my favorite artists break those traditional codes with a wink and a nod."
VanZandt's favorite artists include Pavement, Neil Young, and yes, Bruce Springsteen, in that order, but he also reveres poetic-yet-esoteric troubadours like the late David Berman and Jonathan Richman, while admiring the humorist sides of Bob Dylan and David Byrne. Put all those together, and perhaps you've got a solid inkling of what to anticipate at the show this Friday, as well as on Music to Your Ears. What you'll certainly get is a swaggering mix of indie-rock, alt-country, and Americana, with the occasional blips of electro and pop-punk.
But that's not exactly what you would encounter on his previous album, 2021's Through the Fire, to the Place Beyond, which leans much harder into the art-rock-electro-dream-pop realm, landing much closer to Dirty Projectors than Dylan. VanZandt said that's because he's been "shuffling" through "phases" over the last decade, while being more scrupulous or guarded about what he actually "released." (He admits he'd removed several album's worth of material from the internet, and essentially locked it away.)
VanZandt said that with the songs on this new album, "I feel like I've finally found my voice. I feel like this is the mode I'll try to keep in for a while; I feel excited about this current lyrical voice and musical style and whatever the next thing I do will build upon it. I don't feel the urge to turn away from it, as I'd had in the past with other phases or styles."
The biggest reasons why he's excited about this "mode" are the versatile musicians contributing to "the project." Austin Stawowczyk "is the creative partnership I want to keep for the rest of my life," VanZandt says. "They play in the bands Seaholm and Shortly and they produce music out of Eureka Records in Wyandotte." Stawoczyk "can play everything, from autoharp to glockenspiel, to violin, bass, and drums," but perhaps their key role for the album was mixing and mastering it. Along with Stawoczyk, VanZandt has his best friend George Vaughn Martin Jr. on bass ("He's been there with me the whole way, just a real teammate and guiding force," VanZandt says). And then there's Kris Hermann on drums, who VanZandt credits as being integral to helping with creative decisions and can be summed up in one word: "savvy."
Hermann helped VanZandt arrive at the perfect album art, which pays homage to the iconic nonchalance of a Nilsson Schmilsson by Harry Nilsson. "That's what I wanted to go for," VanZandt says. "I needed it to feel off the cuff. But it is this paradoxical thing where it's planned to look that way, but I just wanted it to feel that it wasn't heavily labored over. Because to me, what's special about rock 'n' roll is that it shouldn't be too thought out. I love lots of bands that take their music very seriously, but sometimes it should all just be fast and dumb and fun, and that's what [rock 'n' roll]'s purpose is – to go against logic and to go against self-seriousness and to go against caring about image."
On "Springsteen on Ice," VanZandt declares, "I won't bow before the altar of good taste," which he considers it his mission statement.

tweet this
VanZandt knows it might be divisive to be so dry and facetious, but he's found an inspiring lane creatively here. Growing up blue-collar and still holding an unglamorous day job slinging pizzas keeps him humble and perhaps accounts for his draw toward balladeers like Young, Dylan, and Springsteen, but he's also put the work in when it comes to studying (and making) art and he's found himself particularly drawn to Warhol or Duchamp-esque iconoclasts who mix style with subversion.
To now, with this new album, VanZandt is embracing postmodern satire, pop-art, and kitsch, and not shying away from decorating his lyric sheet with proper nouns and overt brand-references. It's very much in the spirit of "art can be anything," but its delivery system is a multi-faceted indie-rock album full of swaggery ballads. Fun ballads, to boot!
"To me," he says, "there's such a freedom in going against that canon, that there is no good taste and reminding people that the world is malleable and you can take it apart and put it back together in all these different ways. You don't have to follow these rules. And that's what's fun — [the songs] can bring all these boring parts of life into a new light and make it exciting."
Coming soon: Metro Times Daily newsletter. We'll send you a handful of interesting Detroit stories every morning. Subscribe now to not miss a thing.

Follow us: Google News | NewsBreak | Reddit | Instagram | Facebook | Twitter