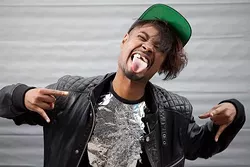 Shaming airlines on Twitter is
basically an art form
, but nobody does it like Danny Brown.
Following a delayed flight, the rapper threatened to drop a diss track aimed at Delta featuring "Dr. Dao" — a reference to David Dao, the man who was
violently dragged
off a United Airlines flight in April when the flight was overbooked.
Brown took back his threat after the airline's Twitter account responded with an apology. "No, we good," he wrote. "You know I love you guys."
Damn Daniel!!!!! .... Back at it again wit another delayed flight!!!! @Delta u guys are a class act!!!

— Danny Brown (@xdannyxbrownx) April 13, 2016
We ain't cool no more im recording a diss song about y'all https://t.co/K07FdRe3Dl

— Danny Brown (@xdannyxbrownx) April 13, 2016
@Delta y'all fucking up today .. you know I still got that diss song in the stash .. don't let this be the day I drop that fire feat Dr Dao

— Danny Brown (@xdannyxbrownx) May 3, 2017
@Delta Nah we good ... you know I love you guys ... we all mistakes sometimes .. but y'all accept responsibility .. that's why I fuck wit y'all

— Danny Brown (@xdannyxbrownx) May 3, 2017