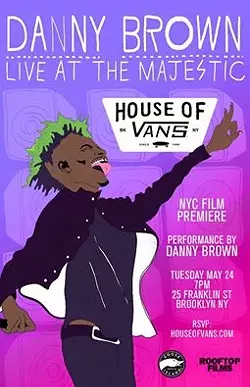 Detroit rapper Danny Brown
tweeted
back in January that a follow-up to his great 2013 album
Old
is in the works and he will be promoting it when the time comes around. In the mean time, it turns out that Brown has been working on a documentary called
Live at the Majestic,
and is slated for release on May 24 at Brooklyn's House of Vans.
Pitchfork
reports that the documentary, which is directed by
Andrew Cohn
, is about his show at the venue in Detroit. There is footage from both behind-the-scenes and from Brown's performance at the Majestic.
At the premiere of the doc itself, Brown will also perform. Here's hoping that the show is a success and Danny Brown brings the documentary home to Detroit for a premiere party, too. Unfortunately, he has no new tour dates/ home shows scheduled, but he will be performing at
Lollapalooza
this summer in Chicago.
Now go forth in your day and listen to this Danny Brown jam.