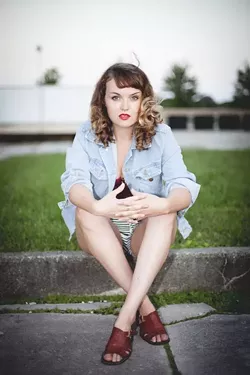 When singer-songwriter Laura Finlay arrives at the Metro Times office for her interview, she's sweaty and breathing slightly heavily; she's just cycled here from Hamtramck in the summer heat on a bike that she purchased last week.
The exercise only generates more energy though — Finlay's eyes are wide and enthusiastic. She has a firm handshake and an air that is independent, strong and overtly feminine. She's brand-spanking-new to the media game, despite the fact she's actually been writing and performing music for more than three years.
"I didn't start taking it seriously until about five years ago, but we grew up in a musical family," Finlay says. "Our father is a former opera singer. He met my mom taking private voice lessons. Their instructor had set them up to do a duet. So my parents always sang — my dad did it professionally.
"My father gave voice lessons in our home, so my sister and I [each] have a really well-trained ear … my sister [Tamara Finlay] is in the band the Thornbills, with our cousin. She had started her band when I was still living in New York and I got really jealous. I moved home and saw that all of my friends here are musicians, so it was a lot easier to get it done."
Finlay grew up listening to the likes of Mariah Carey and even Ella Fitzgerald, taking in Portishead, Björk, Tori Amos and Garbage through the '90s. She steered well clear of opera, however, considering it to be dad's thing.
"We absolutely pushed away from that," Finlay says. "It drove us nuts. My dad doesn't like sports; he wears makeup and sings on a stage. We definitely got picked on a lot because of it, but absolutely now I couldn't imagine a better situation. My dad's always dumbfounded that he and my mom are classical singers and they ended up with two kids doing pop."
Finlay, 28, has been focusing on her music since returning from New York a couple of years ago, picking work up when and if necessary. It's a lot easier to be a musician in Detroit, she says, than it is in NYC.
"I was there for a little over a year when I had a really bad accident on my bike," Finlay says. "I bashed my face, and then wrote a ton of material. I had a nine-to-five job; I was scared to quit my job because I was on $40,000 a year. I had paid vacation and benefits, and I thought that if I didn't have that job I wouldn't be able to sustain my lifestyle there. But all I was doing was eating, drinking, shopping and smoking. I snapped out of it and thought, 'What am I doing?'
"I moved back home to concentrate on music," Finlay continues. "You get sucked into other things — I had another job that took a lot out of me, a relationship, and after that was all done, I was like, 'I'm still Laura.'"
Almost immediately after moving back to Detroit, Finlay started working with the Beehive Recording Company and boss Steve Nawara. "I did a couple of songs on Beehive, [and they] did really well," she says.
"I think I'm still the top downloaded artist on there, and it's been almost three years come October. The first show was a couple of years ago, the Beehive Ball. I only did three songs but I headlined that event because I had the most downloads. I played July 4 this year, with Patti Smith. That was awesome," Finlay explains. "It was only four songs but I got to play for 1,200 people. That's crazy when it's only your second or third show. It was humbling and nerve-racking. We got a great response. People were going nuts after the show — coming up to me and saying that they enjoyed it. I have a problem striking while the iron's hot, and I have to do it all for myself. Nobody's going to do it for me."
That's true, although Finlay has assembled a killer band to help her out, featuring Joe Mazzola on guitar (Sponge, Sugarcoats, Detroit Cobras), Jen David on keys (Illy Mack), Matt Rickle on drums (FAWN, Javelins), and Eugene Strobe on bass (Cosmic Light Shapes).
She's also working with Eddie Logix. That level of talent behind her suggests that Finlay is already well respected, and her dusty, soulful take on nightclub jazz deserves the kudos. "That's just what I was drawn to, and it's how I naturally write," she says. "Obviously, it's because of my influences. Some people think there might be a stigma attached to it, that we're trying to do something like Amy Winehouse. She had her thing and she was awesome.
"I'm not trying to copy anybody's style, but Jessica Hernandez does a similar thing and Loretta Lucas is pushing into a little more of a jazz-type thing. I've definitely had people tell me that it's not common and I have a really good hold on the throwback sound. Like I said, I want to make it more experimental. I did folk, I did jazz, I did rock and now it's time for me to do something else. Hopefully, it'll all melt together."
This weekend, Finlay will perform on the Forest Stage of the Dally in the Alley at 4:30 p.m., sandwiched between Eleanora and Flint Eastwood. It's a great spot at a great time, and the singer can't wait.
"I've been to the Dally very many times," she says. "Last year, I sang backup for Loretta Lucas on one of her songs. She's one of my best friends. The whole time, I was thinking, 'Why aren't I doing this?' I didn't know how the submissions process worked; I just thought that you're invited to play. This year, I spoke to Jen [David, also a Dally in the Alley organizer], and she told me to just submit and I'll be in. We were guaranteed and I got a spot … I'm happy with. You hope not to play for all your friends and the people that have been drinking all day. If you get a spot in the middle of the day, people are going to remember it."
You can be guaranteed that, if nothing else, Finlay will be singing her way, no compromises. "I have the croon-appeal," she says. "Joe [Mazzola] is always getting on my case, saying, 'You can't be playing bummer songs at festivals. You gotta rage.' I don't rage. This is how I write. But he's right, I do need to challenge myself. I want to be making more energetic music. My heartbreak songs are still very powerful."
Laura Finlay plays Dally in the Alley at 4:30 p.m. Saturday, Sept. 7, on the Forest Stage. For more information, see dallyinthealley.com
Brett Callwood is a staff writer at Metro Times. Send comments to [email protected]