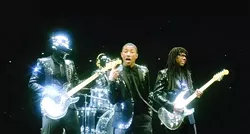 If the ultimate dance album of the mainstream music world could ever be conceived, it would doubtlessly come from the minds behind Daft Punk. By Jove, we thinks they've got it.
Its cast of collaborators includes '70's icons disco/synth-pop pioneer Giorgio Moroder and breezy-dance-pop craftsman Paul Williams, along with contemporary R&B crooners like Pharrell, ambient-experimentalists like Panda Bear (of Animal Collective) and more. These cameos and collaborations are key to crowning Random's dance-epic achievement. Their previous albums were heavy on samples, mechanical loops and sequenced beats — still devastatingly effective and masterfully arranged, and keenly deployed with a modern melding of synth-pop, cinematic electro-rock and dazzling neo-disco hustles.
Random invites all these talented friends up to the mic (and to the production boards) to join a much more organic (rather than synthetic) party … where actual sweat beads off real skin, and is bolstered by live instrumentation.
Wicked guitars riffing in a classic funk-chording style, live-kick drums beating along that indelible disco beat, and the breathy-breathless balladry of masters like Williams and Pharrell feels like arriving at the summit; the pulsing veins of the human's heart and the sparking wire-packed innards of the Moog synthesizer.
"Everybody will be dancing and will be feeling alright," is a key lyric, cadenced to the hypnotic, shuffling beat of "Doing It Right."
The most epic song also has a telling title to the robot's epiphany of charisma: "Touch," eight minutes, with three movements, edged with wah-wah-pedal flared guitars, nostalgic sci-fi B-movie synth showers. This record is a dance party for everybody, not just robo-hipsters, to get on the floor together.
— JEFF MILO