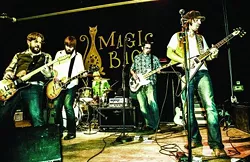 Eric Kelly, frontman for the dusty Southern rock band Crooked Little Reasons, describes his band's sound by way of rhetorical allegory: "Have you heard the call of a blue jay?" he asks. "They have several calls, and they mock the call of other birds. That's our band."
Granted, it might sound a little pretentious in the cold light of day, but it doesn't seem Kelly intended it that way. Rather, he was likely saying his band is tough to define, given that its members go out of their way to be indefinable.
All of the dudes in Crooked Little Reasons were, at one time or another, in the hard rock band Dirt Road Logic until that group imploded a couple years earlier amid infighting and disillusionment. The guys took some time away from each other — a necessity as it turns out — and then re-formed with a new name and a new group creed: Let's have a good time playing together and forget about trying to break big.
Essentially we're left with a band that doesn't give a crap about impressing anyone, which is refreshing. Kelly speaks candidly and with brutal honesty about life in a starter band in Detroit, because he isn't trying to create or preserve an image.
That's why, when asked what he thinks about the Southern rock and country scenes in Detroit right now, he answers, "I'm gonna get in trouble for this but, whatever, I'm not trying to get anywhere. I think there are too many bands in Detroit claiming to do a Detroit groove or some sort of Detroit sound. It's always riff-driven guitar rock. Every one of them has a song that has Detroit in the title somewhere. It's always some bullshit. I want to believe that what we're doing is unique just because it's ours. We don't have to be anything.
"We played Bell's Brewery [Kalamazoo] a few weeks ago and we were so drunk that Garrett [Bielaniec, guitar] had to play slide at the end because he couldn't finger chords anymore. I did a terrible job singing, they paid us way too much money and we were awful. We're usually reasonably good musicians and we do a good job playing. I didn't feel all that guilty, but 10 years ago we would have panicked and tried to do damage control about how shitty that gig was. Now, we just figure that we won't get to play Bell's anymore. Who cares, honestly?"
Kelly apparently doesn't, laughing as he recalls Bielaniec lounging backstage after the Bell's Brewery show and saying, "Man, when those people call to invite us back, we're going to have to politely decline."
Crooked Little Reasons, completed by Al Weyer, Pauly Delamater and Kevin Schmitt, didn't even court Metro Times for this feature — we found them. And it's not that they're ungrateful, it's simply that pushing themselves into the public eye isn't their priority — anymore.
"We play pretty much anything that we like to do," says Kelly. "In Dirt Road Logic, we were really focused on having all original material all the time; now we pick two or three fun covers. We'll do our original songs and some DRL stuff too. We pick the last song that we heard on the radio that we really liked, something that maybe we always wanted to do.
"When we're firing on all cylinders and everyone's giggling at each other, there's nothing better for us — even if people don't like it. Any band our size, you're gonna have nights when you're playing to 15 people or a couple of hundred people. If people don't care, we're just going to turn into a circle and have fun playing music. I don't want to be in a band anymore where I have to worry about how many T-shirts we sold last night, or if we have $10 [of merchandise] left in the van or whatever. We want to make a record, but we're not going to press 1,000 copies so they can sit in my garage for a year."
That's a trap that all too many bands fall into: writing and recording an album, and then paying for way too many copies that often sit in garages — forever. Dirt Road Logic did it and Crooked Little Reasons has learned the lesson. Kelly is frank and honest when discussing that subject. "The first record we made with DRL, we did 1,000 and I only have 200 in a box in my garage," he says. "People will never tell you how many they buy and what kind of sales they have, but selling 1,000 copies of anything is really good. If you look at all the numbers of sales across the country, 90 percent of bands are below 1,000 CDs — ever. We made a second and third record and they did reasonably well. We broke up right after we made the last one, so I have a billion copies of that if you want 20 of them to hang on your porch."
While it might be easy to assume Kelly is contemptuous — even bitter — over his time in Dirt Road Logic, the earnestness during his interview is undeniable. He's just over the bullshit, keen to avoid past mistakes and have some fun; he chuckles throughout the interview.
"It's not that I'm cynical or angry about it, but I lost friendships over that; Paul and I, the guitar player, didn't talk for three or four years," Kelly says. "It was because we were constantly going at each other. The drummer quit three or four times. We'd fight over the most inane shit. We'd be in Cleveland at a gig where 12 people showed up, fighting about why we were in Cleveland, and who's going to stay in a hotel room. Fighting over shit that had nothing to do with anything and it just got to be like, 'why would I want to do that?' Nobody was happy. It's just so much better now. Rehearsals are just fun times with your friends. It's just about inviting people that you like over to your house. It's mostly the same people and the thing that's changed is that we're not trying to prove anything to anybody. We just like doing it."
This Friday, Crooked Little Reasons is playing a show at P.J.'s Lager House with Ryan Dillaha to celebrate Dia de Muertos, otherwise known as Day of the Dead. Appropriately, the band will pull out a tune called "Loretta." Kelly should really tell this story: "It's about a chubby Mexican girl I slept with," he says. "I used to work in a bar on Mackinac Island that had co-ed dormitory-style housing. One night, I stayed home and at 3 a.m. she came home to my room. The door flew open and she had this bottle of wine between her legs. She was drunk as shit. I had some wine in my room so we drunk my wine and hers.
"For the next few weeks at work, everyone made fun of me because I found some underwear in my sheets that were way too big for underwear to be hiding in the sheets," he says. "I keep waiting for her to recognize me one day as I'm telling the story and punch me in the face."
Who said that romance is dead?
Crooked Little Reasons plays PJ's Lager House with Ryan Dillaha & the Miracle Men and the Dirty Dirty Dollars on Friday, Nov. 1; 1254 Michigan Ave., Detroit; 313-961-4668.
Brett Callwood is a staff writer for Metro Times. Send comments to [email protected]