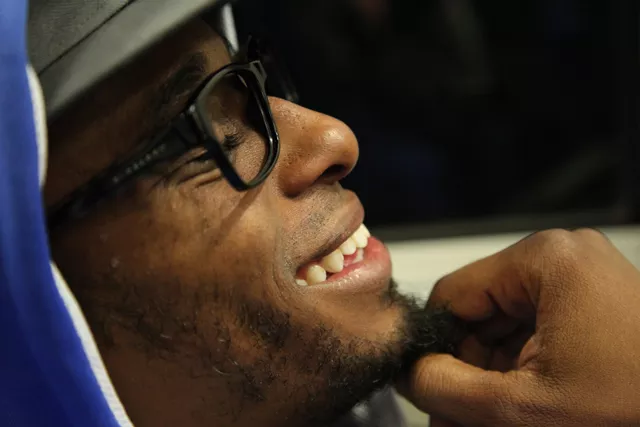 It's a warm day in Los Angeles and, in the heart of Koreatown, a couple of Detroit ex-pats are making music and cracking jokes galore. The innately talented producer-rapper Quelle Chris, a Detroiter off and on for decades, is clamoring inside of DJ House Shoes' pad while the two hang out and, in Shoes' words "plot world domination." In just a few hours they'll be meeting up with Detroit rapper Big Tone of Wasted Youth fame and kicking it like they're inside of Northern Lights circa 2005.
Back in those days, Quelle Chris was just an upstart rapper fighting to make a name for himself in Detroit where, per capita and based around sheer talent, he was arguably immersed in the most competitive hip-hop market on the planet. Despite doing a handful of shows at Alvin's, 5th Avenue, and a few other sweaty venues that barely come to his mind, a Detroit music fan half a decade ago could be forgiven for not knowing his name. But from that breeding ground, Quelle Chris has grown into an artist who is consistently getting write-ups on revered music sites like FADER, URB, Pitchfork.com and others for his unapologetically obscure yet focused brand of hip hop. Over the past year, he's become a darling of Internet hip-hop critics around the country with a string of well-timed singles that finally put a face to a name that rap nerds have recognized for years. It was Quelle Chris who produced the lion's share of music on Danny Brown's breakout album, The Hybrid, and together with his crew, Crown-Nation, Quelle's material seems to strike a nerve with those who listen.
Just a few weeks ago, Quelle released his latest album, Shotgun and Sleek Rifle, to strikingly positive reviews and has managed to keep listeners enamored with his ability to be crass, conscious, silly and intensely driven all at once. He raps with a mountain-sized ego over surging beats that are so hungry they could've been created in a soup kitchen. In addition to rhyming atop his own production, he also shoots and edits his own music videos. 
"Why always wait for someone else to help you. ... Who can do better for you than yourself?" Quelle asks rhetorically during our conversation. It's obvious that the 28-year-old, who is currently based in Oakland, CA doesn't see the whole DIY approach as something to exploit but instead as a principle of life.
"My approach to making music is to think to myself, 'What do people not like listening to, and let me try to make that,'" he says with a laugh. "I'm like, let me go at that hard as hell. People are always waiting for a new dish. A person can only eat pizza and hotdogs for so long before they're like, someone needs to serve me a new dish. The music I make is a home-cooked meal. And if you don't like the food, at least you can appreciate the heart that went into making it."
Compared to some of Quelle's other material, Shotgun gives off the most gourmet feel yet. His other projects, such as the buzzed-about solo record Blue Mondays or the Slut Bag Edition record he cut with his Crown-Nation partner Denmark Vessey, were intentionally mixed dirty and rough — a sound that Quelle prefers. For him, producing music that sounds gritty and seems slightly unmixed is what gives certain compositions their appeal. "Everything I've ever recorded has been dirty music, recorded in the shittiest of conditions, and that's how I like it," Quelle says. "That's what helps the songs sound unique in this world of polished music."
His longtime partner in rhyme, Vessey, who also appears on Shotgun and Sleek Rifle, agrees that Quelle's music has a signature production feel. "There's definitely a Quelle sound," Vessey says. "It's lo-fi, it's spacey, it's minimal, it's like half Thom Yorke and half Madlib."
Back in October, Quelle released a demo-EP entitled The Son, which was so brusque and stream-of-consciousness that music critics desperate for something new wrote about it consistently for over a month — six months in blog attention-span years. The irony is that, as Quelle puts it, "a couple of songs on The Son I recorded while laying in bed. I was comfy as shit recording that. I had a pizza laying there and everything." 
It's with all of that in mind that he pieced together Shotgun and Sleek Rifle and finally opted to utilize a proper studio.
He pieced it together in a short amount of time in response to how much media press some of his singles like "The Loop" and "The S.O.N. (Shitting on Niggas)" were getting and agreed to release it on a friend's homegrown record label, Synergy Works. With a host of features on the record including Danny Brown, Roc Marciano, Wasted Youth, and Vessey most notably, Quelle's oddball mystique is immediately on display. Listeners should be able to hear the breadth and versatility in Quelle's sampling and production skills. "One of the album's best songs, "The Slick (in the morning)" features a well-spliced sample from Detroit music legends Anita Baker and the Winans. One typically wouldn't expect a song about sex and bustos [Detroit-style orgies] to have a gospel sample underneath it but the juxtaposition fits like hand-in-glove. On "Mo Money Less Problems," possibly the album's finest cut, Quelle lets a toddler sing the beginning of an Earth, Wind, and Fire classic before looping the original song and then spitting on top of it.
The overall audio quality on Shotgun and Sleek Rifle is noticeably better yet the integrity doesn't suffer because of it. The album title's from a Chinese film called Together, where the father looks at his son and says, "the shotgun has become a sleek rifle." "I thought that line was really fitting. This album is a mixture of the shotgun spray, the dirty shit, but also the sleek rifle because it's cleanly recorded. It's dirty but still precise."
Longtime ambassador to Detroit music, DJ House Shoes has been adamant for years that Quelle's music deserves a wider audience. While the two are in the same room, Shoes can be heard yelling "fuck Quelle," but his feelings are the exact opposite.
"I've been saying for years that Quelle is next," Shoes adds after hijacking the telephone. "People usually pay attention to what I say for whatever reason. I've been on Twitter and every platform I can think of trying to give this cat the exposure he deserves. I feel his time was long overdue."
Shoes is not alone. On the song "Still Wasted," toward the end of Shotgun and Sleek Rifle, Quelle manages to get the now defunct group Wasted Youth back together on a record — something that would never happened if all three members didn't believe in him to the utmost.
Those are all signs that Quelle doesn't take lightly. He knows some music fans in Detroit may or may not remember him from his time grinding away here but hopes that people are finally paying attention now. He laughs about not having the heart to whore himself out slinging CDs to anyone willing to listen, mostly because he doesn't possess the humility for it.
"I always had a superstar fuck-you, pay-me mentality back then anyway, Quelle says laughing. "Probably 'cause I'm always drunk and cocky ... I just feel like, if you say the right thing enough eventually people will have no choice but to listen."