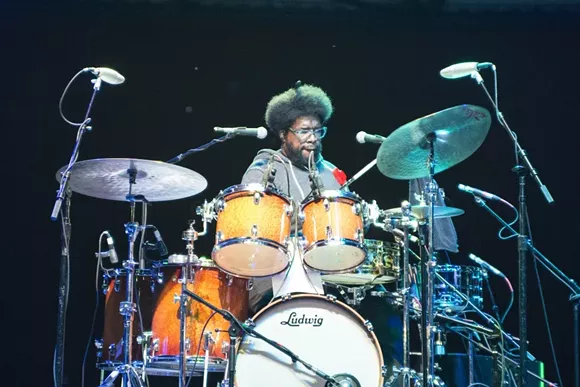 WHO: The Roots, Wale
WHEN: Sunday, Aug. 9
WHERE: Chene Park, Detroit
Last night's show at Chene Park was a reminder that sometimes, hip hop just needs to be
live
—not just an MC and a DJ, but a full collective of musicians working together to achieve a groove. The Roots are the best band in the game, and though their show didn't feature a ton of bangers or hit songs, they managed to impress on pure musicianship alone.
But before The Roots came Wale, performing his first couple of songs on an Oxboard (that's a Segway without handlebars) and riding it like a pro. Frankly, I wasn't expecting all that much from the "Seinfeld"-loving rapper — he's always shown potential but lacks any real classics — but he seemed so excited and happy to perform and fed off the energy from the small-but-hyped-up crowd. He brought a live band, too (along with a hype man who could actually sing hooks), and that enabled him to build up his songs into huge climaxes, most notably on "90210." Wale wasn't afraid to venture into the crowd throughout the show, and he also gave Detroit some love when he shouted out Big Sean, calling him "one of the most underrated n*ggas in the game."With a crowd pumped for every song, Wale took full advantage, especially when he had the audience get lighters and cell phone lights out for "The White Shoes." Strangely enough, after a fiery "Clappers," he elected to end the night by performing Waka Flocka's hit "No Hands," but even this move got the crowd singing along louder than any other song. Wale could have done this exact same set as a headliner, and he wouldn't have disappointed.
The Roots came on to the opening sounds of their breakout record, 1999's
Things Fall Apart
, with its "Mo' Better Blues"-sampling dialogue leading into "Table of Contents." Unlike some other bands their age, The Roots weren't afraid of their past, and in fact mainly focused on it, culling from
Things Fall Apart, Phrenology
, and even going all the way back to
Illadelph Halflife
for "Proceed."
But the band's set wasn't all that fixated on their own songs, instead focusing on the talent and abilities of their individual members, most of whom got solos throughout the night. Mark Kelley took the earliest bass solo I've ever seen in a concert when the spotlight shone on him during "Table of Contents." Kamal Gray had a sick keyboard solo in a particularly groovy moment of the night, and "Tuba Gooding, Jr.," as he's called, traveled up the aisles for his solo. Perhaps most impressively, Detroit-bred electronic artist Jeremy Ellis took an extended interlude to show off his skills, drawing huge cheers out of the crowd with his moves on the pads, culminating in his take on the "Super Mario" theme.
Most interesting and surprising was how anonymous Questlove was the whole night. Not only did he never take a solo or get introduced, but he really just felt like your standard drummer for the whole show, something he's so far from that it's almost ridiculous. This meant that it was Black Thought's stage, and he took the opportunity to reassert himself as the group's frontman after being marginalized a bit for a few years with the band's more instrumental work on "The Tonight Show." He's undeniably one of the most talented and perhaps one of the most underrated MCs out there, as evidenced when he ran through the technically challenging set-closer "Men at Work" (a Kool G & DJ Polo cover) with the confidence and ability of a guy who's rapped its lines every day since the '90s. But Black Thought's appeal is mainly lyrical and intellectual, which can be tough to pull off in an amphitheater, especially one that was as Echo-y as Chene Park was. The Roots as a whole (at least when they're not on TV) aren't the kind of band who can pull out very many pop hits or show-stopping songs, but the one they do have was probably the highlight of the night. "You Got Me" may have drawn attention to what was missing from the rest of the set, but the band was 100 percent on point, centering the song around guitarist Kirk Douglas, who went full Jimi Hendrix during his vocal/guitar solo, eventually holding out his instrument like it was a sacrifice to the crowd as the full band crecendoed.
If you weren't already a knowledgeable fan of The Roots, or if you only knew them from "The Tonight Show," I'm not sure you would have loved the show. The Roots are off-the-charts respected by every hip hop fan, but as far as their actual work goes, they're probably better known as collaborators, giving cred to guys like Jay-Z and Jimmy Fallon or soulful backing beats to artists like John Legend. I would pay a lot of money to see The Roots burn through funky, high-energy covers in a club setting, playing stuff like "Apache" and "Jungle Boogie" (both of which they did fun snippets of at Chene), but when they play their own material, they become a band for hip-hop purists, focused on grooves and lyrics over hooks and melodies. Of course, pure, natural hip hop is a wonderful thing, but at larger venues, that won't always send the crowd into a frenzy, or leave them wanting more after the show's done.