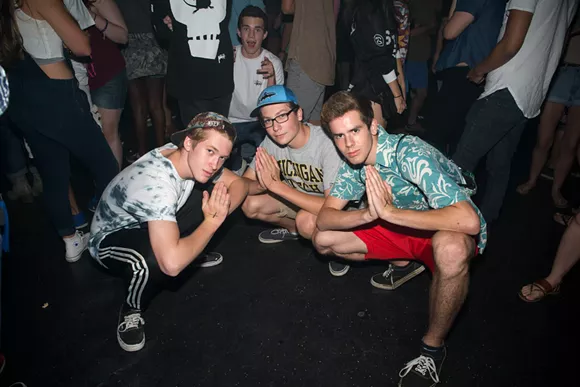 WHO: Jamie xx with Mike Simonetti
WHEN: Wednesday, Aug. 5
WHERE: Majestic Theatre, Detroit


I'll get to Jamie xx in a minute — but first, I want to riff on an amusing trend I've noticed in the wild world of "indie" music.
A couple of years ago I checked out a past-their-prime set by Yeah Yeah Yeahs at Detroit's Fillmore, where I ran into some acquaintances I knew from back in high school ten years ago. I was a little shocked to run into them at a Yeah Yeah Yeahs show in 2013, of all places. They were, to put it bluntly, bros. (Note: I use the term "bro" affectionately here — many of my best friends are bros.)
While drinking beers in the lobby, we got to talking about summer festivals. Turns out the dudes had just road tripped down to Tennessee for Bonnaroo, and were telling me about all the
siiiiiiick
bands they saw. What was once a festival centered around jam bands and folk rock had now become something of a fratboy summer staple, with lineups that billed up and coming indie acts alongside megastars like Eminem or Jay-Z.
One of my bro friends mentioned they had caught a set by indie darlings the xx at Bonnaroo. "Dude," he said. "The xx were
siiiiiiick
!"
It was kind of unintentionally hilarious. The xx had earned heaps of critical praise for the their 2009 debut record, which had an understated soul sensibility and bedroom recording aesthetic.
Critics
dug
the lead vocalists Romy Madley Croft and Oliver Sim's hushed, almost-whispered style and the sort of alt-R&B production of Jamie Smith, aka Jamie xx. In short, it's kind of twee — and the thought of a crowd of thousands of fratbros drinking beers and high-fiving during it seemed comical.
Which brings us to the bro-ification of indie culture. I'm not 100 percent sure when it happened. At one point,
Pitchfork
was an obscure website that published
Kid A
-era Radiohead deep-dives that drew more of a horned-rimmed glasses set. Now,
Pitchfork
and its tastemakers are basically MTV.
It could be because of the vacuum left by MTV (
TRL
aired its last episode in 2008). It could be when
Pitchfork
started crowning acts like Kanye West with the site's coveted decimal Best New Music scores. Or maybe the shift coincides with the rise of the destination festivals in the past few years (
Pitchfork
's eponymous festival in Chicago draws pretty much the same huge acts as Bonnaroo's).
At any rate, it's amusing to see a realm once dominated by hipsters get invaded by dudes who are, well, very much not hipsters.
Or maybe not. See, while Smith's solo debut,
In Colour
, features something of a similar quiet bedroom feel to the xx's catalog, there are also some surprisingly bona fide club
bangers
on there (though he glaringly omitted album highlight
"Gosh"
in Wednesday night's set).
That said, Smith is no typical EDM club DJ. His nearly two-hour long set could be divided into two parts: Phase one saw him creating a sprawling soundscape created out of soul, house, and other samples, occasionally teasing
In Colour
originals. Phase two saw him in more of a traditional disc jockey role a la , putting on slabs of obscure, vintage vinyl on and letting the tracks play pretty much uninterrupted.
It was a beautiful harmony — bros raving to obscure vinyl they've never heard, and hipsters busy whipping out their smartphones to Shazam them.