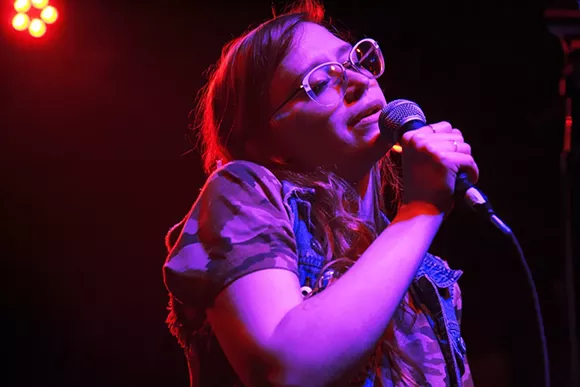 It's been interesting watching Ferndale's Loving Touch transform over the last few years from a pool hall with occasional musical acts playing in the corner to a full-fledged, bona fide rock venue (well, we weren't here during its former massage parlor days — if you were,
drop us a line
and let us know what it was like). For years, Atlanta's Black Lips have been faithful Magic Stick fixtures, but
now that those days are over
the Loving Touch seemed like an apt venue to host them for
Metro Times Blowout
festival.
We arrived in time to catch Mexican Knives' set.
As recently pointed out
, this band can almost seem like an entirely different act every time we see them. Tonight, they were locked in a muscular, driving groove, with frontwoman Ruth Synowiec giving just enough of a fuck to be a total rock star. She mentioned that they just picked up their debut album from Archer Record Pressing that very day, and apparently had three to give away last night — so maybe some of you out there are already wearing it out on your record player right now. We're definitely looking forward to it.
Finally, the Black Lips. Watching them, we were reminded of seeing them for the first time nearly 10 years ago — which means they've been a band longer than indie-rock giants like, say, the White Stripes or LCD Soundsystem. How long can these guys keep up the decidedly primitive act The answer is as long as they want to, because beyond all the scuzz and fuzz the Lips have always had a penchant for writing
hit
after
hit
after
hit
. We weren't up front amid the chaos like we would have been a few years ago, but we still sang along to every song from the back.
We weren't surprised to see our buddy climb on stage in the heat of the moment to do a stage-dive, but we were surprised to see him aggressively bounced out of the club immediately after. That was (thankfully) pretty tame for a Lips show —
they've been known to do far worse
onstage.