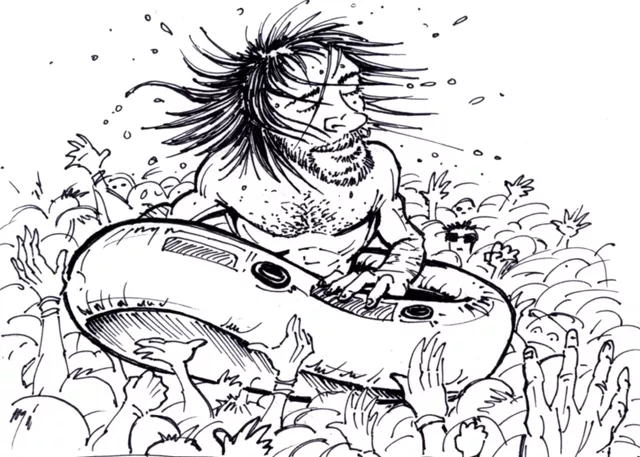 There's this massive party store on the corner of Conant and Caniff streets in Hamtramck. My friends and I call it the "rock 'n' roll party store" because they blare classic rock all day long, not just inside the store, but out in the parking lot through outdoor speakers. I guess the guys who own the place just want us to feel comfortable while we're buying a six-pack or a bag of chips — to an endless soundtrack of Bob Seger, the Rolling Stones or Elton John.
Maybe they're right. For people of a certain age, classic rock is like wallpaper; it has been there so long it hardly registers. If it's on my car radio, I hardly notice it anymore. It's not as aggressive as hip hop, not as soft as pop; it's the music that's supposed to appeal to folks like me, I guess, drifting north of 40 and forever humming a song from 1962. Classic rock is something we hear, but don't really listen to.
At least that's the way I felt until, one day, walking out of the rock 'n' roll party store, I heard the opening of Led Zeppelin's "Kashmir." After a few seconds of that driving rhythm and guitar, I passed some other guy walking into the store and he was rhyming to it. It earned a total double-take from me. Somebody had used that for a song. Was he rhyming P. Diddy? Or maybe it was that old Schooly D tune? I didn't have time to tell, but my immediate thought was: You know, this isn't my music anymore.
And that's a good thing.
In fact, that's why I'm enjoying the most recent free download, All Day, from Girl Talk so much. This guy Gregg Michael Gillis is really onto something. He's taking tired old classic rock, '70s funk and '80s pop and mixing them with hip hop, Top 40, soul and R&B, creating something fresh — maybe a little bit baroque, yeah, but engaging as hell.
He's a damn skilled DJ with what they used to call catholic musical tastes. Which means his mash-ups are a lot of fun, and at times kind of a total mindfuck. The Terror Squad's "Lean Back" supported by Spacehog, and then joined by DJ Amaze? Rick Ross' opening verse for "Hello Good Morning" laid over the opening of "Cruel Summer" by Bananarama? Lil Jon and the East Side Boyz screaming "Get Low" over the foot stomps, hand claps, guitar and flute of Simon and Garfunkel's "Cecilia"? I'm cracking up just thinking about it, even though it's catchy.
There's so much unexpected harmony there. Notorious B.I.G. really works over Cream's "Sunshine of Your Love." New Order's "Bizarre Love Triangle" backs "Pull Over (That Ass is Too Fat)" perfectly. You'll love Rye Rye rapping "Bang" over Rage Against the Machine, to say nothing of Pitbull backed by Depeche Mode.
Girl Talk keeps me guessing. Is he being unduly dramatic (B.o.B.'s "Nothin' on You" over the Toadies' "Possum Kingdom"), amusingly catchy (Nicki Minaj rapping "Lil Freak" backed by Blue Oyster Cult's "Don't Fear the Reaper"), just plain silly (N.E.R.D. rapping about "All the Girls Standing in the Line for the Bathroom" over Bruce Springsteen's "Dancing in the Dark") or sublimely ironic (Drake rapping over A Flock of Seagulls)? Lil Wayne and Joe Jackson? Ice Cube and Devo? Wiz Khalifa and the Rolling Stones? Jay-Z and the freakin' Modern English? Ol' Dirty Bastard and Radiohead? Rihanna and Fugazi? Not only does it work, it sometimes makes a strange kind of sense: When Skee-Lo's "I Wish" merges with the trashy '80s synth-pop of T'Pau, it puts his adolescent complaints almost in the context of a John Hughes film — with a little wink.
And, frankly, sometimes Girl Talk even verges on social commentary. There's a reason he backs Gucci Mane asking the ugly girls to be quiet with Jean Knight's "Mr. Big Stuff." When the opening guitar and drums of Iggy Pop's "Lust For Life" kick in, we hear contemporary courtesan Lady Gaga asking for a ride on your disco stick right before the Beastie Boys dive headlong into their late '80s anthem to philandering: "Hey, Ladies." It's brilliant stuff.
His choices enliven and reinvigorate old pop and punk, as when Joey Ramone sings over the Doors before Missy Elliott raps over "Blitzkrieg Bop." The pop mix takes some of the swagger out of the hip hop and adds a playfulness its overly serious mien often lacks: Jay Z's "Can I Get A ..." over General Public's "Tenderness," or Juicy J and Project Pat over Electric Light Orchestra's "Mr. Blue Sky." Suddenly, head-bobbing rap feels ecstatic, sunny, wonderful.
What's more, for those who never got into hip hop (there are a few) All Day is like a Baedeker guidebook to 30 years of urban charts, and can inspire listeners to seek out any originals they missed to get the suddenly all-important context.
Perhaps most of all, though, you get an exciting feeling hearing music — which is so often divided into white and black music — artfully racially integrated. Instead of vocalists preaching at people about how we should all get along, why not just make music that white people and black people can dance to together? Music that makes us all smile? It's not an accident that All Day ends with John Lennon exhorting us to live together as one.
At least in my humble opinion, DJ Gillis lives up to every overblown, overweening claim about a pop star. How many times have you heard somebody say, "This recording artist is so good, he will change the way you listen to music"?
Well, that's what happened for me. For instance, the other night, after a deadline, I wound up at home in my driveway with the radio still on. I was about to cut the engine off, but I heard that guitar line from "Don't Fear the Reaper" as if for the first time, wishing I could hear Nicki Minaj over the cowbell. Why? Because it isn't my music anymore.
It's our music now. Thanks, Girl Talk.
Girl Talk appears at 7 p.m. Thursday, March 3, at Compuware Arena, 14900 N. Beck Rd., Plymouth; 734-453-6400. For a complete breakdown of Girl Talk's All Day, see mashupbreakdown.com.