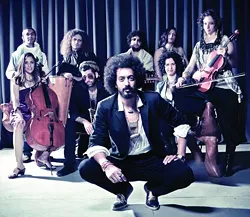 The Concert of Colors is not like other concerts, or festivals for that matter. The city of Detroit hosts and has hosted many festivals, from the Detroit Jazz Festival to the Dally in the Alley, from the Downtown Hoedown to Movement. The Concert of Colors is none of those things — it's much more important.
We have just passed the 70th anniversary of the 1943 Detroit race riot, and if there is an event in Detroit that beautifully, vividly shows the region and the rest of the world that huge progress has been made, it's the Concert of Colors. Things are far from perfect, granted, but this is a very different Detroit from the one that erupted into tension-bred chaos in the 1940s — and again in 1967.
According to event organizers, Detroit's free annual diversity music festival "is presented by the Arab American National Museum, Detroit Symphony Orchestra, Detroit Institute of Arts, Charles H. Wright Museum of African American History, Midtown Detroit Inc. and ACCESS with the goal of bringing together metro Detroit's diverse communities and ethnic groups by presenting musical acts from around the world. Over its 20-year history, the festival has become a beloved highlight of metro Detroit's summer festival season, and one of the few free-admission music festivals remaining locally."
Anyone who has ever attended the event will agree that all of the above is true. Children from all backgrounds gather in front of their parents, dancing to music of all styles. It is often said that music is the great leveler, and much of the time that sounds empty and a bit silly. At the Concert of Colors, it appears to be absolutely true.
It's not purely a local music festival, but there is a focus on Detroit-based artists. This year, performers range from the original Family Stone (obviously minus Sly), jazz guys Planet D Nonet, Cajun band Feufollet, calypso group Kobo Town, Celtic songstresss Cathie Ryan, R&B vocal group Leilani, and many more. There's also a screening of the Grande Ballroom documentary movie Louder Than Love, and other attractions, including retail stalls, face-painting, and food.
The epic conclusion to the event for the past few years has been the Don Was Detroit All-Star Revue, for which Was pulls together a bunch of local artists, some legendary, some new and some in-between, and has them jump on stage one after another, sometimes simultaneously. It's a party, one of the highlights of the musical calendar for fans of Detroit music.
This year, Was has included the two remaining members of the MC5, Wayne Kramer and Dennis "Machine Gun" Thompson, so that will undoubtedly be magnificent. Other jammers include Ty Stone, the Hounds Below, the Howling Diablos, Katie Grace, the Handgrenades, Passalacqua, Horse Cave Trio and Jeecy & the Jungle, among others.
"I think it's extremely commendable that someone like Don works so hard to bring incredible musical cultures from across the globe to the good folks of our town," Stone says. "It's truly a testament that you can get as much culture in Detroit as you are willing to seek out. That being said, it's a huge honor to be asked to represent the music of your own community, especially when you come from a place like Detroit that has so much talent, now and historically."
"Concert of Colors to me seems more international," says Tino Gross of the Howling Diablos. "It originates out of Detroit and it's a beautiful thing for Detroit; I really like the diversity and the culture in the acts, and all the different styles of music. It's a world-class event. I really like that it's supposed to be the most kid-friendly event. I talk to my neighbors who don't go to see rock 'n' roll bands, and they go to Concert of Colors with the kids for the face-painting and stuff. You've got to love that they hook it up like that."
Jason Stollsteimer of the Hounds Below says that, for him, the event offers an opportunity to perform in front of people that wouldn't normally be at one of his shows. "For me and my band, 9 out of 10 artists I don't know," he says. "They sent me a list of bands playing, and none of my band mates had ever heard of them and they're 22. For me, it's going to be a great time to see bands I've never heard of but are all respected in their own genres. Our friends the Handgrenades are playing, so we're excited about playing with them."
Gross says that he was a young child when the '67 riots hit. "People were so worried about everything that the population left," he says. "The only way to bring it back is for events like this to show people that it's cool. C'mon and get down. People get together — the number one thing for that is music. Little Richard and Chuck Berry — when they did those songs, they had whites and blacks. People would go crazy for the music, make friends and fall in love over the music. I think this is in that direction, and we need that more than ever right now."
"Truthfully, I think the Concert of Colors goes so far beyond black and white," adds Stone. "It's global. So on the one hand, I think a global perspective is far more cosmopolitan than the blatant racism in the '60s, but I don't really see a real correlation between the concert and the riots. I think every generation is going to be less racist and eventually the color of your skin will be about as important as the color of your eyes — of no importance. They do say I'm a dreamer. But, I'm not the only one."
Stollsteimer adds a little perspective. "There's a whole generation that exists right now that don't even know there was ever a riot, unless you bring it up," he says. "That's got to be a good sign. It's one thing to acknowledge the past, but don't dwell in it. There's a reason it's called the past. As long as you move forward and you're not treading water, you have to move on eventually. You don't want history to repeat itself so you've got to pay attention, but I don't see that happening."
R&B singer Cynthia David of the band Leilani, performing earlier in the festival proceedings, says, "Many people around the city of Detroit have given up hope in many ways. … Music seems to bring people together all the time. We need an atmosphere that will join people together and music does just that."
Of course, she's right. One of the festival's organizers, Kim Silarski, believes that progress has been slow but steady. "Have we changed every mind and heart in town with fabulous music in a mere two decades? Clearly not, and it would be naïve to think we could," Silarski says. "Have we stayed on message, built a reputation for excellent musical curation and earned the support of new and returning audiences and funders? Absolutely. Has the political and economic landscape in Detroit and the U.S. changed in recent years as it relates to issues of immigration and diversity? Heck, yeah. Are there a few more individuals out there who are rethinking their personal prejudices? I think and hope so, but a music festival alone cannot claim credit for that. What we can do is give folks a bridge, a safe way to explore the unknown, to discover and enjoy it, even if it doesn't result in a new fan for a certain musical genre or a vote for a candidate whose racial background is not our own."
And that is a gift that we should all accept with sweaty, grasping hands.
The Concert of Colors is going on July 4-7 in Midtown, Detroit. Find out more at concertofcolors.com.
Brett Callwood is a staff writer at Metro Times. Send comments to [email protected]