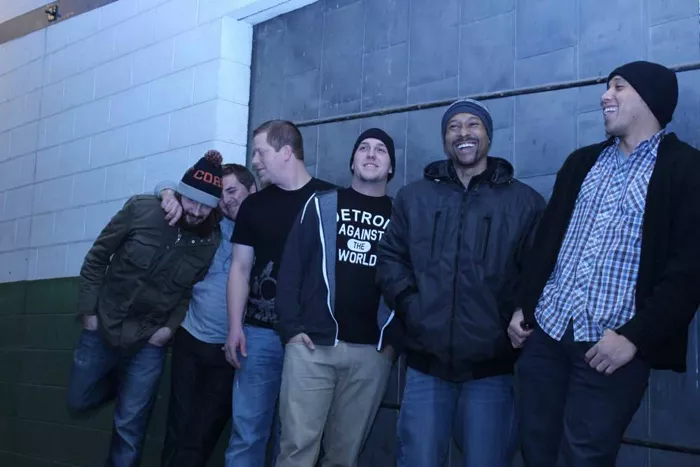 Cold English can teach you a thing or two about harmony. Metro Times needed two hands to check off the genres that this local sextet shifts through. While one guitar clearly rocks, the other is waving in more of a funk direction. The bass breathes some soul in, but the drums slam and snap accommodatingly for a lyricist to rap some smooth bars over. But then things get kind of electronic-heavy when you pour in the keyboards and spacey pedal-effects. This kaleidoscope of genres blends together well, demonstrating the uncanny chemistry struck between these six performers (David Allie on vocals, Andy Hines and Colton Hendrickson on guitars, Alan Gadzinski on keys, Mo Grier on bass, and Ryan Brukwinski on drums), each from unique musical backgrounds.
Metro Times: We think Cold English's new record One Band, One Room, One Take can start a conversation about how preoccupied people can get over genre. You guys sound like everything all at once. How does it work?
David Allie: Half the time I don't even think we know what we're doing. Everybody comes from different backgrounds. In the beginning we'd write a song and it might reflect only a member or two. So if one member is comfortable in a song, there's always another member stretching himself and his talents.
MT: Can you give us a breakdown of these backgrounds and how you have to stretch for songs?
Allie: (Hines, Brukwinski and Gadzinski) are probably more towards the rock spectrum of things. (Hendrickson) comes up with a lot of jazz and funk riffs. (Grier) is also an emcee, and he and I are in the hip-hop collective United States of Mind. But, song to song, that stretching makes us all better. However, the new material, that stretching is still there, but the songs are starting to sound more like everybody and we're truly forming a cohesive unit.
MT: What about your own background?
Allie: Yeah, I definitely come from hip-hop, along with (Grier). Five years ago you could've probably seen me in baggy pants, Timberlands and a hoodie. I've come to realize that hip-hop is not as much what's on the outside as what's inside. My jeans might be skinnier but I still get down. Also, hip-hop is very derivative so it's natural to get into the music that eventually composes those samples, the boom-gap that I came up with, like jazz or rock, funk, soul … But that's just me.
MT: What's it like being a hip-hop lyricist coming into a predominantly rock format, to be ready to react to something live, a live drummer, rather than a sampled beat?
Allie: The band does stretch my abilities more; as a solo emcee I could just pass on a beat. But, with the band, if there's a melody that I see someone else is digging, I'll give it a little extra to see if there's something there, even if it's a melody I don't particularly like. More often than not, then, it ends up becoming a better song. Everything is so changeable with so many moving parts and each song will sound different show to show, so we're always working towards a finished product for when we do get into the studio.
MT: With that sort of fluctuation, this ebb and flow of expanding across genres or seeing how things can bounce off each other's talents in a live set, it's fitting that your next release is a live album.
Allie: Yeah, there was a lot of pressure going into GrooveBox Studios for that. We practiced hard and played a more rigorous show schedule to get the songs down. The live show is the mark of a great band, and I think we hit our expectations, even exceeded them, actually. I'm excited for people to hear it on their headphones or in their cars, but I'm hoping it will make people realize that we're something to see live.
MT: When you guys do play locally, you're paired with lineups that seem to shift either more toward rock or more toward hip-hop without so much in-between. It goes back to that thing of dividing-up by genre.
Allie: From rock to poetry … we've been fortunate enough to fit on a lot of diverse bills. I wasn't used to being on rock bills and the rockers in our group weren't used to poetry nights. It's all been such a cool learning experience. Although we have our differences, it works because we all want the same thing, which is to make the best product possible and satisfy our creative needs.
MT: What's it like for you to go from rap and poetry to playing more of a rock show?
Allie: When I'm solo I'm the focus so I have to be more energetic and leave less dead air, as there's nothing else to take the attention off me. With the band, there's so much going on and so much more energy to pull from; I can get feedback from the crowd but also turn around and feel energy from the band.
MT: After being in it a few years now, what's your take on the current hip-hop scene?
Allie: A few years ago it seems it was just about having the illest bars and saying the sweetest shit. Nowadays the genres are blending to where I'm not sure what is 'hip-hop' and what is 'electro' and so on. Nowadays I'm on my fanboy-shit when I see Flint Eastwood, Jamaican Queens, Tunde Olaniran, James Linck, and too many more to name, blending every genre under the sun. Even hip-hop is more avant-garde; I love being part of the #CoOwnaz movement. I think everyone's more motivated to do something different these days.
MT: What's been the band's most formative moment or show?
David Allie: Every moment is a formative moment if the moments keep occurring. The fact you're asking me questions about my music ensures we keep going. I'll be sure to give my parents your number when they're looking for somebody to blame.
MT: Future plans for Cold English?
Allie: Play as many shows as possible and hopefully get on some festivals. We also plan to get in the studio at GrooveBox and do more than 'one take' next time.
Cold English celebrates their new record, performing with Eddie Logix, RacecarracecaR and Of Mice and Musicians at 8 p.m. on Friday, May 9, at the Magic Bag; 22920 Woodward Ave, Ferndale; 248-544-3030; themagicbag.com; $8-$10.