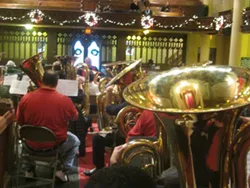 Want to do something a little different during this holiday season? Maybe take in an all-tuba concert? Just tubas? All the time? (Well, OK, some euphoniums, a couple baritones and even a Sousaphone are thrown in for good measure.) Or feast your ears on the former Detroit Red Wings organist booming out seasonal classics on a magnificent old-time theater organ? It's all going on in metro Detroit.
If you've always wanted to hear a symphony orchestra play "The Twelve Days of Christmas" in the style of "Stars and Stripes Forever," this is your lucky month, and the Warren Symphony is the place to be.
Meanwhile, Randy Safford, a Bloomfield Hills attorney, coordinator and one of the players in the fun, festive and free TubaChristmas performance at Oakland University, makes a compelling case for the tubafest.
"It's an experience you've probably never had before, so if you have a bucket list with nothing on it, put an all-tuba-and-euphonium concert on it," he says. "And you can't beat the price."
This year marks the 40th anniversary of the concerts, which are presented from Alabama to Alaska, New Zealand to Switzerland. The event was conceived by the late Harvey Phillips, a professor at Indiana University, as a tribute to his mentor William J. Bell, who played tuba under conductors from Sousa to Toscanini, and whose birthday was Dec. 25. Locally, TubaChristmases have taken place since at least the late 1980s, according to Safford, who had his own tie to Bell.
"One reason I do TubaChristmas is that, in 10th grade, I played a solo at my state solo and ensemble festival." he says. "I got a '1' [the highest rating]. The judge was the legendary William Bell. I just about had a coronary."
TubaChristmas events are happening in Detroit and Flint as well as Rochester, and are open to musicians of all stripes and ages. (Safford says the Oakland University event draws musicians from ages 10 to 80.)
For a festive event featuring fiddles, flutes and a full-blown orchestra, the Warren Symphony is offering a holiday concert with the Cantata Academy Chorale.
The program is "on the pops side," says conductor Greg Cunningham. "People know this music."
Featured on the audio agenda is Craig Courtney's "Musicological Journey Through the Twelve Days of Christmas." Sounds stuffy? In fact, it's a sly, hilarious new treatment of the beloved old carol, a take on musical styles from Gregorian chant to Wagner, ending with a John Phillip Sousa-type blowout for all 12 verses. (Bonus: "Seven swans a swimming" is done a la Saint-Saens' The Swan. Of course.)
Also on the program is a very contemporary piece, the 2010 "Gloria" by Karl Jenkins, a Welsh composer whose original background was jazz-rock.
"It's a style of composition rooted in pop music," says Cunningham. Formatted in the traditional Western style, "Gloria" incorporates various musical styles and readings from other sacred religious texts, including the Bhagavad Gita, the Diamond Sutra, the Tao Te Ching and the Quran.
In mid-December, the Redford Theatre takes a break from reeling out classic movies to host a holiday concert. Many know of Dave Calendine from his former gig leading the crowd cheers on the Joe Louis Arena organ during Red Wings games. But he's an active member of the Motor City Theatre Organ Society, based at the Redford Theatre.
"I do concerts all year 'round, but Christmas concerts are my favorite," he says. "To be able to play Christmas music in a concert is a bonus."
Calendine says the family-oriented concert also includes the Casali Holiday Dancers and a chance to visit with Santa Claus.
Seeing the theater festooned in decorations adds to the show, says Calendine, who's also crazy for Christmas trimmings. "I own several Christmas trees and decorations — it's sort of a disease with how much I have."
Randy Safford offers a closing argument for hitting a fun, free or inexpensive holiday concert. "You'll begin to feel the Christmas spirit. You'll enjoy the arrangements. You'll be surprised by the beauty of the sound."
Holiday Concert at the Redford Theatre featuring David Calendine on the Barton Organ takes place at 8 p.m. Saturday, Dec. 14, at 17360 Lahser Rd., Detroit; 313-537-2560; doors open at 7 p.m. for pictures with Santa in the lobby; $6.
The Warren Symphony's Joy of the Season, with the Cantata Academy Chorale takes place at 3 p.m. Sunday, Dec. 15, at Warren Woods Community Auditorium, Warren Woods Middle School, E. 12 Mile Rd., Warren; adults, $23; seniors, $20, college students, $10, 12th grade and younger, free. For more information, and to hear a preview of the Jenkins' "Gloria," see warrensymphony.com/concert3_13
TubaChristmas will have two performances, one at 10:30 a.m. Saturday, Dec. 21, at Varner Hall, Oakland University, 3600 N. Squirrel Rd., Auburn Hills; free; free parking. The other performance will be at 3 p.m., Sunday Dec. 15, at Central United Methodist Church, 23 E. Adams St., Detroit; free (donations accepted for the church); free parking. For more information (including how to participate as a performer), see tubachristmas.com.