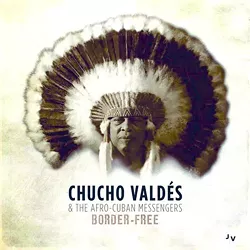 Leading Cuban jazz pianist, composer and band leader Chucho Valdes says his new album Border-Free "combines compatible styles with Afro-Cuban roots …" These related styles, ranging from Spanish flamenco, Arabic music, Comanche music and classical, and are woven into the Afro-Cuban musical fabric that provides the framework of the various compositions.
Multiple Grammy award-winning Chucho Valdes is one of the most powerful and impressive jazz pianists in the world today. He was the founder of the Latin fusion orchestra Irakere, which got its start in 1972 and is often referred to as the Latin "Weather Report." His father is the legendary pianist Bebo Valdes, who was also the former director of the popular "Tropicana Nightclub" in Havana.
Chucho Valdes' pianistic style is characterized by prominent traditional and modern rhythms, lyrical melodic phrases and massive chords, all played to perfection by this true virtuoso who plays with total precision, even at highly accelerated tempos.
Valdes' band consists of well-seasoned top players, including Reinaldo Melian Alvarez on trumpet; Dreiser Durrethy Bombale on batas and lead vocals; Rodney Barreto Illarza on drums and vocals; Angel Gaston Joya Perellada on double bass and vocals; Yaroldy Abreu Robles, percussion and vocals; and special guest, saxophonist Branford Marsalis on "Tabu." With this classic lineup of instrumentalists doubling on vocals, Chucho's got a full vocal and percussion choir backing him up!
This highly spirited album delivers so much — from great writing and arranging to stylistic variety and great musicianship. You'll likely be compelled to play it over and over again — each time hearing new things