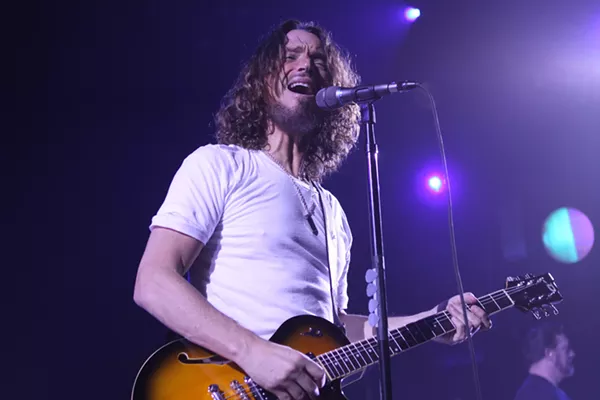 When Soundgarden frontman Chris Cornell took the stage for a sold out show at the Fox Theatre on May 17, 2017, no one knew that it would be his performance. Some in attendance reported that something was noticeably off about his stage presence, while others remained in awe of his visceral vocal power.

Mere hours following the performance, Cornell was found dead in his room at the MGM Grand Detroit Casino hotel. The death was ruled a suicide an hour and a half after discovering the 52-year-old who had asphyxiated with a red exercise band tied around his neck. This determination has caused a flurry of controversy, conspiracy theories, and doubt. Some on social media have suggested that Cornell's wife, Vicky, had a hand in his gruesome death. Others have floated the idea that he was killed for being a Pizzagate truther.

Vicky Cornell tells the Detroit News that she believes the public has been misled by a "botched" medical report by the Wayne County medical examiner's office, which she says stated that "drugs did not contribute to the cause of death" in a detail that "made headlines around the world."

"The poor choice of phrasing has misled the public to believe he was of sound mind and body," Cornell tells the daily. "So, some conspiracy people think if Chris wasn't impaired, he would never have killed himself, and so he must have been killed — and then they start getting into the rest of the holes."
The late singer had been prescribed Prednisone, a steroid with side-effects that include "extreme changes in mood, confusion, depression, and loss of contact with reality." Cornell was also prescribed Lorazepam, a generic anti-anxiety medication which lists suicidal thoughts as a possible side-effect. According to the toxicology report, Cornell was also under the influence of non-prescribed barbiturates.

"My husband had no intention of leaving this world," she tells the Detroit News. "He did not have control of his faculties due to toxicology, perhaps even exacerbated by other factors, including a head injury, which was referenced in two EMS reports that were left out of the autopsy report."

The Wayne County Medical Examiner declined to comment for the News. The office has previously said it stands by its cause of death.

Vicky and Chris Cornell were married for 13 years. She has arranged a vigil to be held at Los Angeles' Hollywood Forever Cemetery later this evening.
"We're human beings," Vicky said, "This is real life. We're not characters in some film. I lost my husband. My children lost their father. We're in a lot of pain, and we have to deal with these people coming after us. If the autopsy report was thorough, I believe some of this could have been avoided."

Watch Cornell's final performance below.



Stay on top of Detroit news and views. Sign up for our weekly issue newsletter delivered each Wednesday.