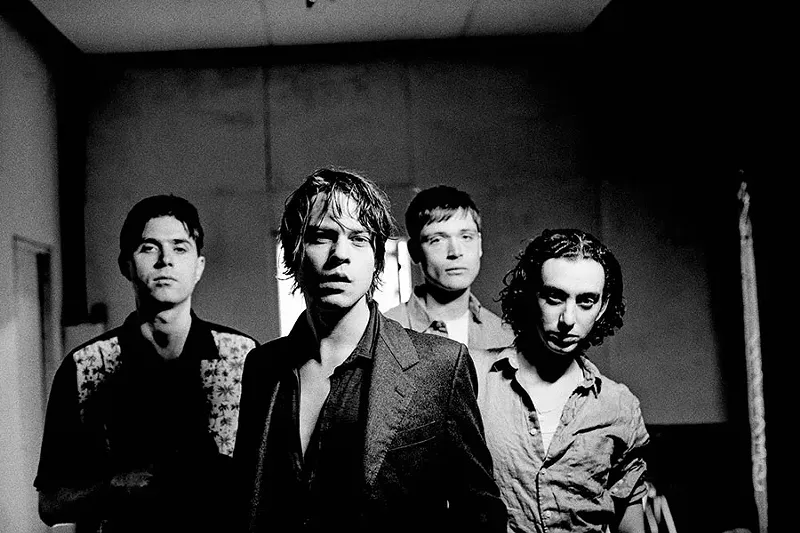 Iceage's Elias Bender Rønnenfelt has been labeled "rock's most difficult frontman" by several outlets who have attempted to interview him, and by attempt we mean just that. He's walked out, shit-talked, and shrugged his way through many press obligations spanning his 10-year career. When Fader followed the band in 2014 after the release of Plowing into the Field of Love, writer Patrick D. McDermott referred to the experience as being "cheerless" and painted an ungrateful portrait of the band's collective attitude toward being a band.
As the contentious leader of the Danish punk outfit, Rønnenfelt's reputation for shutting down, in many ways, precedes him. By deduction, one could assume that he has little to say — when in fact, the opposite is true. Just listen to Beyondless, Iceage's fourth record. The album centers around what could be a mix of childhood memories and the heartbreak and cruelty of the adult world, one where music itself can wither and die. Recorded completely in analogue, Beyondless is driven by its poetic inflection. It is almost as though Shakespeare had one too many at the local pub after learning that time is not linear — only to smash his glass against the bar top with his hand pressed against the shards. What Iceage accomplishes is complicated, which might explain why a conversation with Rønnenfelt requires patience and the ability to read between the lines, or in this case, the many pauses and moments of silence. Rønnenfelt reminds us that the music speaks for itself, without ever saying as much.
Metro Times: Iceage is so commonly referred to as a punk band. Is there a pressure to wield a strong message with that label?
Elias Bender Rønnenfelt: We never cared about whether we were a punk band or not. We don't want to be the best of a musical genre. We just sort of stand on our own. That seems more interesting than lumped into a category with a bunch of other bands. Outside of that, no, I don't think there's pressure to have any message. It's about expressing yourselves. If there are things that we can change with music whether it be internal or external things in the world, nobody's pressuring me to do anything, to take what I do — I express myself the way that I want to.
MT: So much of your writing feels very abstract and influenced heavily by literature, especially on Beyondless. Do you write from specific experiences?
Rønnenfelt: Yeah. A lot of it draws from general living.
MT: Your latest record is considerably more tapered and focused than 2014's Plowing the Field of Love. What were you guys listening to while you recorded Beyondless?
Rønnenfelt: I don't think we were listening to anything when we were touring. Generally we all have very eclectic musical tastes and a lot of general cultural understanding gets into the music and is influenced by a lot of things. It's also hard distinguishing what comes from where.
MT: You have been friends with your bandmates long before you had a proper band. Has the dynamic between you and the band changed?
Rønnenfelt: Yeah, it's like a very brotherly bond. We have this ridiculous ability to feed off each other and spend so much time together, it's hard to understand almost and still remain the best of friends. When we get back from a tour, usually not more than a day or two passes before we see each other again.
MT: You have said that with each album you try and push yourselves to do something different as not to get stuck. How did you approach Beyondless with that philosophy in mind?
Rønnenfelt: It's just kind of what draws you in, what ideas that you attach to and which things that we're sort of adapting. We're not really interested in something unless it holds a sort of unshattered territory for us. It's not so much a conscious thing, it's just getting led by your instincts. There's not an accepted amount of time to dwell on what you're making.
MT: You have a reputation for being resistant to press, interviews, and the non-creative aspect of a career in music. Is being a professional musician what you thought it would be?
Rønnenfelt: I don't know what I thought it would be. I didn't plan on becoming a musician. it just sort of happened. I didn't end up making plans when we started this band. I had no dream. Making it as a band means to play around the world. I don't think we have any plans about anything other than trying to finish an album. I don't know, we just sort of fell right into it. Fortunately it shows itself as something that is extremely interesting because it became our life's pursuit by chance.
MT: Do you think much in terms of the future of Iceage?
Rønnenfelt: I rarely think more than one step ahead. There's ideas that we are working on... It's just more albums and more shows.
MT: Do you prefer to stay busy?
Rønnenfelt: Yeah, I prefer to have ideas to work on and it can get quite frustrating and a bit scary when your mind wanders off, when you don't have certain ideas that you can center thoughts around. You can get lost a little bit.
Iceage will perform on June 22 at 8 p.m. at El Club; 4114 W. Vernor Hwy., Detroit; 313-279-7382; elclubdetroit.com; Tickets are $13-$15.
Get our top picks for the best events in Detroit every Thursday morning. Sign up for our events newsletter.