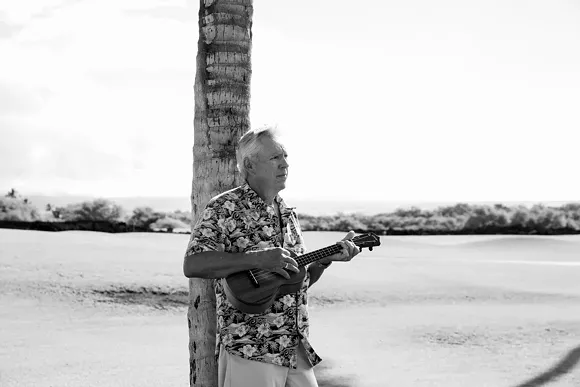 We've all heard various "cool" backstories of Silicon Valley executives — most notably, Steve Jobs' time spent dreaming up the smartphone while ingesting tabs of super-potent LSD in the early 1970s. But few can top the street cred of
James Williamson
, who, after penning the music for the seminal Stooges album
Raw Power
, quietly rose through the ranks of the San Jose tech world to become vice president of a little company called Sony Electronics.
After years of keeping his guitar wizardry and punk rock past on the hush, Williamson rejoined the Stooges for their 2009 reunion tour. More recently, he has also begun to revisit the world of songwriting and released two brand new originals in support of a good cause. Having lived in Detroit since his teenage years, and later the Bay Area, Williamson now spends time with his family in Hawaii, and is donating the proceeds of his new digital release to a local homeless charity
Project Hawai'i
.
The single's A-Side
"I Love My Tutu"
is a mellow, reggae-inflected number dedicated to Hawaiian grandmothers. It features Williamson on ukulele, with guest vocals by Lisa Kekaula of the Bellrays. The song has arrived just in time for summer in Detroit, and is a perfect soundtrack for your afternoon barbecue on Belle Isle beach.
The B-Side,
"Never Far From Where the Wild Things Are,"
was co-composed by his son Jamie and is a little closer to his previous body of work. But the song is fairly upbeat, and a far cry from, say, "Your Pretty Face is Going to Hell." It seems that family life, professional success, and Pacific Coast living have allowed James Williamson to chill out significantly. How interesting for fans of his work, that we can now observe one of rock's greatest guitarists enter into a entirely new phase in his career.