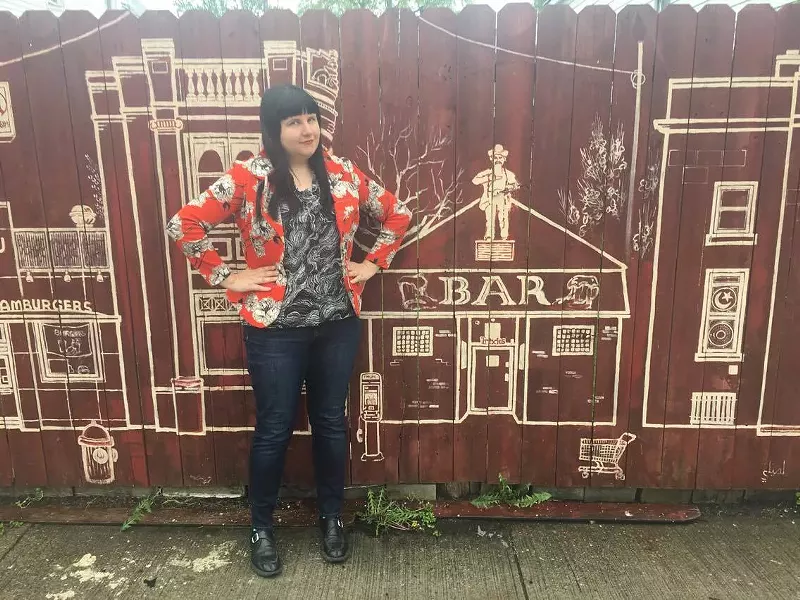 We sent a few questions to Hamtramck's master of vintage stuff and host of rad tunes, Michelle Birawer.
Metro Times
: Please introduce yourself.
Birawer
: Hi! I am Michelle Birawer. I sell vintage clothes at
Lo & Behold! Records and Books
and have a small sewing studio in the back of the shop where I do custom work. I also book bands, bartend and help manage
Trixie's Bar
in Hamtramck. Aside from that, people may know me from my musical projects Wooden Highway (field recordings and woodwinds), Strange Brew (handmade instrument junk noise) and Ghouls (industrial goth).
MT
: How did you start to book music at Trixies?
Birawer
: I had my own shop space around the corner from Trixie's. I would go in after I closed to have a few drinks and got to know the owners, Andrew and Ian. I came in one afternoon last August and their Tuesday bartender had just quit. I half joking said I would take the shift. I know a lot of people in bands, and pretty much every single one of my friends in musical in some way. Then in December they asked me if I wanted to start doing the booking. It is something that came natural for me. I have always lived at venue houses in college and would sometimes have three shows a week. Its nice that I have a more legit platform and can move it out of the basement so to speak.
MT
: How would you describe the scene at Trixie's?
Birawer
: Trixie's is like a chill house party. There are nights when you can walk in and play video games, play horseshoes in the yard, hang out in the rocking chairs on the back porch, have a drink with a city council member, and just come in and enjoy a show.
MT
: What percentage of Trixie's shows become magical jam sessions at the end of the night?
Birawer
: I never know when it is going to turn into a free for all jam. I love when it does though! The last Psy Jazz night was magical. It is my favorite new monthly we have going on now. I have been working with John Olson and Dan Dlugosielski on line-ups for those nights. Its been great working with those guys. I have known both of them for a little over a decade now and they have played at my house in some variation for just as long. The vibe those nights is one point, seriously the best $5 you can spend. There is a sporadic hip-hop night that always has some pretty fierce talent come through. I admire the collaborative spirit and insane hustle they put into their night.
MT
: Is Hamtramck some kind of magical island? How often do you actually leave Hamtramck, physically?
Birawer
: Hamtramck
is
magical! Since moving back to Michigan in 2014, I was craving sense of community. I feel really fortunate to have finally found it here. It feels like home, which is really nice, and strange for me to say because I have always been very nomadic. I live on the border of Hamtramck and Detroit and I technically leave all the time when I walk the dog! hahaha! But Trixie's did just donate to the
El Club Kickstarter
so hopefully they get fully funded so I can physically leave for free pizza and shows.
MT
: What is coming up that you are really excited about?
Birawer
: There is so much to be pumped about! The calendar is filling up quick, sometimes too quick. I am super excited for
the next Psy Jazz Night
obviously. We are doing a night market and there are a couple of touring bands I am curious to see. I am playing as Wooden Highway with a band from LA called Olga at Lo & Behold! on May 13. Strange Brew is making a rare public appearance at Trixie's May 21 and I am sewing my own clothing line now, which will have a release party at the shop on June 3. I am also working on a few releases that will resurrect my Harsh Tokes label. I am also a part of the next round of Fleatroit Junk City June 11 at Outer Limits. After all that I think I can take a nap sometime in July — maybe!
MT
: How are things over at
Lo & Behold!
these days?
Birawer
: Things at Lo & Behold! are great. I ended up working out of the space when the building my shop space was in sold. The new owner had a different vision for the building and I wasn't apart of that. My heart broke into a million little pieces. It was a long drawn-out process that they went through to get me out. It took a lot out of my spirit. I am extremely lucky to have Richie as a friend and that he was able to take me in under his wing. I definitely wouldn't be about to take on as much as I do without his encouragement and support.
He is like the twin brother I was supposed to have. There are super fun things coming out on the Lo & Behold! record label Richie just started an off shoot called DMT (Detroit Magnetic Tape Co), a series of 45s which just had a release party for the firsts one. Plus, he is constantly working on the
Gary Grimshaw poster preservation
with Gary's wife Laura. Aside from all that, Laura leads a meditation group every Tuesday and the space is home to
Passenger Recovery
, an AA/NA group.
MT
: What's the best thing that's happened at Trixie's thus far, in your tenure there?
Birawer
: There have been so many moments here that have been amazing to pick just one! I really love getting here early and watching the place fill up and see how excited people get. I like to think that I have a small part in introducing someone to their new favorite band. It's also super fun to give someone their first show. I remember my first show still, and how freaking nervous but pumped I was to play it. I just love music in general, and I am extremely fortunate enough to still be able to surround myself with it.
Trixie's Bar is located at 2656 Carpenter St., Hamtramck; Open 6 p.m.-2 a.m. every day except Sunday; 313-316-5376; Cover for shows is typically $5.

Lo and Behold! is located at 10022 Joseph Campau, Hamtramck; Open irregular hours; 313-759-0075; There can be cover charges during events, but they rarely are over $6.