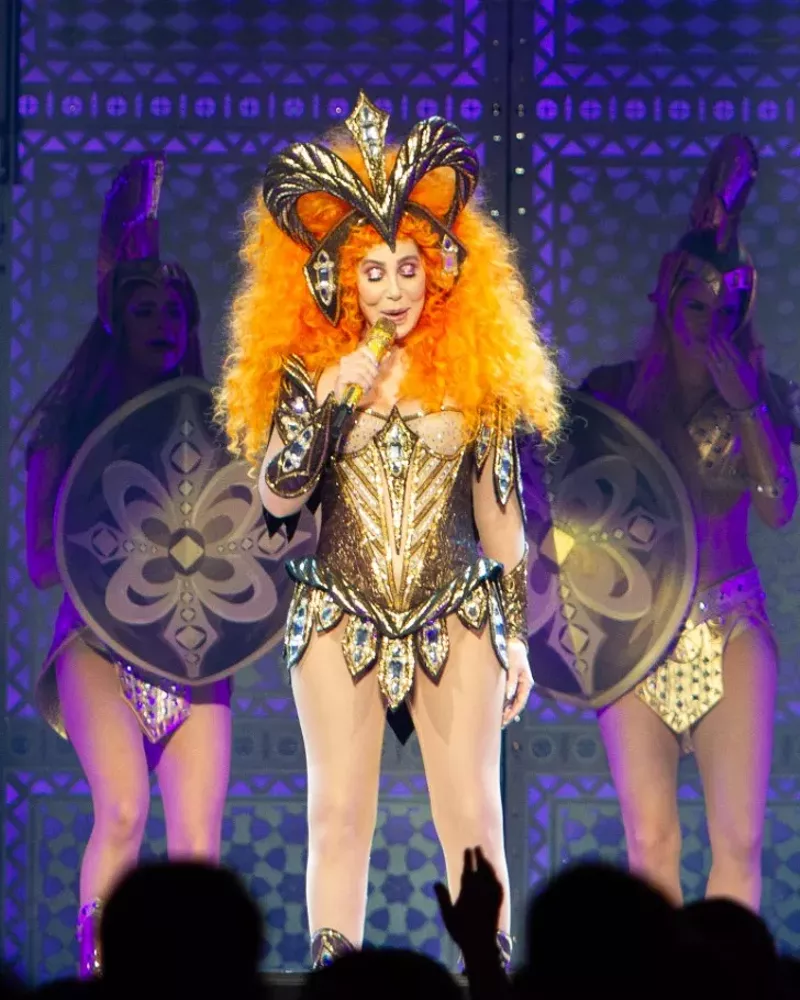 Sixteen songs, nine costume and wig changes, four video montages, three ABBA covers, and one duet with a late ex-husband via video screen, and what you have is but the tip of the iceberg in terms of Cher's latest farewell spectacle.

The iconic performer and actress took to the Little Caesars Arena stage Tuesday night, armed with nearly six decades worth of material and turned back the clock with an energetic and, at times, delightfully campy romp (at one point she emerged from the top of a robotic elephant in Indian garb) through her resilient career.

The 72-year-old Cher opened the show surrounded by sexy gladiators and warriors while she emerged wearing an untamed orange wig, metal headdress, and a glittery frock with a mile-high slit and launched into 2013's "Woman's World" and "Strong Enough" from 1998's Believe.

Harkening back to her Sonny & Cher Comedy Hour days, the living legend then unleashed a sprawling, seemingly improvisational, 15-minute monologue, during which she dished on her life-changing 48-hour 40th birthday, her David Letterman debut, owing back taxes, performing sad dinner theater in Windsor casinos, Studio 54, and Nicolas Cage.

"I was just about to do a movie with Nicki Cage," she said in reference to Moonstruck, for which she won an Academy Award. "I was 40, he was 21 and honestly, I looked better than he did. Just sayin'."

And she was able to unintentionally rally the thousands in attendance to boo Jack Nicolson and director George Miller for having told the actress that she was too old and unsexy for her role in The Witches of Eastwick. Cher said all of this, mind you, while dressed like a goddamn resurrected Roman Empress.

Throughout the night, Cher limited herself to minor dance gestures and toggled between stomping across the stage (in sensible footwear, mind you) and stationarily basking in the spotlight while supported by a bevy of dancers and elaborate choreography. Her voice, however, seemed virtually unaffected by her 50-plus-years as a performer and yes, her vocals were live (she laughed during a verse of "The Shoop Shoop Song (It's in His Kiss)" and it was incredibly endearing) though, again, supported by some strategic backup singing.

Wearing sequin bell-bottoms, the most touching moment straight out of 1965, when Cher joked that she had planned on saving the following song for her next farewell tour, but, instead, performed "I Got You Babe" alongside a video screen and an old recording of her late ex-husband and partner Sonny Bono.

She threw in a few covers "Walking in Memphis" by Mar Cohn and "The Shoop Shoop Song (It's in His Kiss)", and tossed a bone to anyone who saw her 2010 movie with Christina Aguilera with "Welcome to Burlesque."

The centerpiece of the 95-minute show was Cher's take on three ABBA songs ("SOS," "Waterloo," and "Fernando,") which might seem random if you didn't know that Cher released 2018's Dancing Queen — a collection of ABBA covers released in conjunction with Mama Mia!: Here We Go Again in which Cher stars as Meryl Streep's mother (yes, Cher looks that good.)

To round out the set and as a true testament to her show-womanship, Cher emerged in a cheeky see-through black one-piece complete with garters, black leather jacket that was more revealing than when she wore it famously in 1989 for last night's renditions of "I Found Someone" and"If I Could Turn Back Time.

Closing out the evening, Cher gave everyone what they came to see and hear: "Believe" — her empowering autotune-heavy dance banger about second chances that is, even today, ahead of its time.

Wearing a red wig, and a bejeweled, flapper-style, barely-there dress, and nude bra, and using less autotune than she did in 1998, Cher left us believing in something bigger than life after love, or anti-aging wizardry, or the power of reliable nipple pasties — we left believing in Cher.

Following the performance, snippets of audience commentary ranged from "She didn't play enough old songs," to "she sounded perfect," and "I can't believe she wore that."

But early in the evening, Cher gave us a stern reminder:

"This is me, you came to see me. This is what you get."

Get our top picks for the best events in Detroit every Thursday morning. Sign up for our events newsletter.