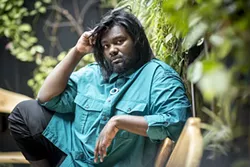 Just a couple weeks ago
we profiled local musician Tunde Olaniran in our People Issue
. The Flint native is a musical machine, crafting lyrics, music, costumes, and his stage show mostly on his own. He's set to release his first full-length album,
Transgressor
, on August 7, but fans are getting a sneak peek with the release of the album's fourth track, "Namesake."
Listen to it here:
While you're at it, you can
pre-order Transgressor on iTunes too
.