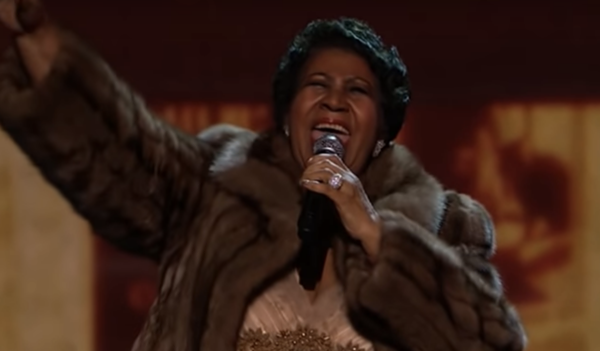 On very rare occasions, Twitter isn't so bad.

On a day where theatre marquees are displaying the image of the late icon, radio stations have switched over to wall-to-wall Aretha songs, her hits are topping the iTunes charts, and people all over the world are celebrating the remarkable life and legacy of Detroit's Queen of Soul, proof of her widespread impact cannot be escaped. Just take a look at your Twitter feed.

Aretha, for many, was more than a singer, she was a beacon of light, hope, and empowerment. Though to describe her influence in 280-characters seems impossible, everyone from President Obama, Oprah, Paul McCartney, and even NASA have taken to the social media platform to share memories and declare their love of Aretha Franklin who died surrounded by family today at the age of 76.

Aretha was Detroit's sister, auntie, momma, Queen and homegirl — all in one career. There are few people that defend, honor and protect someone the way we did Aretha. You can talk about our economy, and our crime, but say something about Re-Re, and you'll get dealt with. Quick.

— Jemele Hill (@jemelehill) August 16, 2018
Watching Aretha Franklin perform at the White House, and on so many other occasions, made time stand still. @BarackObama and I are holding Aretha's family in our hearts right now. She will forever be our Queen of Soul. pic.twitter.com/NhHsbKijpl

— Michelle Obama (@MichelleObama) August 16, 2018
Mourning the loss today of @ArethaFranklin who shared her spirit and talent with the world. She deserves not only our RESPECT but also our lasting gratitude for opening our eyes, ears and hearts. Rest in eternal peace, my friend.

— Hillary Clinton (@HillaryClinton) August 16, 2018
The Queen of Soul, Aretha Franklin, is dead. She was a great woman, with a wonderful gift from God, her voice. She will be missed!

— Donald J. Trump (@realDonaldTrump) August 16, 2018
Aretha helped define the American experience. In her voice, we could feel our history, all of it and in every shade—our power and our pain, our darkness and our light, our quest for redemption and our hard-won respect. May the Queen of Soul rest in eternal peace. pic.twitter.com/bfASqKlLc5

— Barack Obama (@BarackObama) August 16, 2018
We'll miss you Queen. #ArethaQueenForever pic.twitter.com/hus3lw5pwG

— Oprah Winfrey (@Oprah) August 16, 2018
My thoughts on Aretha Franklin pic.twitter.com/eAIxByt1Me

— Tyler Perry (@tylerperry) August 16, 2018
👑 Aretha.....Go Gently Into That Good Night.Your Glorious,One Of a Kind Voice Will Be With Us Forever🙏🏻.
You were Always Just Beyond Our Reach#SkyLark

— Cher (@cher) August 16, 2018
Salute to the Queen. The greatest vocalist I've ever known. 🙏🏽🙏🏽🙏🏽🙏🏽🙏🏽 #Aretha

— John Legend (@johnlegend) August 16, 2018
The whole world will miss her but will always rejoice in her remarkable legacy. The Queen is dead. Long live the Queen. #RIPArethaFranklin

Elton xx

— Elton John (@eltonofficial) August 16, 2018
Very sad to hear the news about Aretha, she was so inspiring and wherever you were she always brought you to church. pic.twitter.com/GMCzQRkahc

— The Rolling Stones (@RollingStones) August 16, 2018
Today has always been a hard day for me, and now the "Queen Of Soul" Aretha Franklin has left us, this loss saddens my heart not only was she a fellow Memphian, but she was also my inspiration to sing 😢 pic.twitter.com/amLqmcGvri

— Lisa Marie Presley (@LisaPresley) August 16, 2018
Aretha was such a timeless inspiration to me and so many others, the ultimate queen, thank you for the gift of your voice, music and unshakeable soul 🙏🏼 pic.twitter.com/me3FXBY4WZ

— Christina Aguilera (@xtina) August 16, 2018
Aretha Franklin. The Queen of Soul. The Icon. The ultimate singers' singer. The greatest singer and musician of my lifetime. The power of your voice in music and in civil rights blew open the door for me and so many others. You were my inspiration, my mentor and my friend. pic.twitter.com/QD9pxvGLLh

— Mariah Carey (@MariahCarey) August 16, 2018
Consequence of Sound shared this touching video of David Bowie presenting Aretha with a Grammy in 1975.
David Bowie presents Aretha Franklin with a Grammy Award in 1975. pic.twitter.com/h98EjfJTsz

— Consequence of Sound (@consequence) August 16, 2018
Aretha Franklin honored in subway graffiti https://t.co/cdc6bdz1ax pic.twitter.com/Wxcfq34kpH

— New York Post Metro (@nypmetro) August 16, 2018
Locally, Detroit's Mayor Mike Duggan, the Detroit Pistons, Lions, Kid Rock, Bob Seger, and fellow Motown legend Martha Reeve's have taken to Twitter to eulogize the Franklin.
Our heartfelt condolences to the family and friends of Aretha Franklin. A symbol of strength and soul that will live on in Detroit and beyond.

— Ford Motor Company (@Ford) August 16, 2018
I was honored to present Aretha Franklin with the key to our city last year at her last show in Detroit. She earned the love and respect of millions of people, not just for herself, but for the city she loved so dearly and called home. We are deeply saddened that she has passed. pic.twitter.com/XyirDp2u6b

— Mayor Mike Duggan (@MayorMikeDuggan) August 16, 2018
Sending lots of love and prayers for Aretha. Truly a woman god has his hands on. All of my RESPECT - forever. Kid Rock pic.twitter.com/MLwpXWS5sT

— Kid Rock (@KidRock) August 14, 2018
Much R-E-S-P-E-C-T

RIP Queen of Soul. pic.twitter.com/87j06SLzic

— Detroit Pistons (@DetroitPistons) August 16, 2018
Our deepest condolences to the family and friends of Aretha Franklin.

Aretha was a groundbreaker and an icon whose legacy will live on forever. pic.twitter.com/dmYrfpDOjC

— Detroit Lions (@Lions) August 16, 2018
The Lord has come to take my "Soul Sister" home. Aretha Franklin was a true Icon in Detroit and around the world. My prayers go out to the family during this time. Her legacy and friendship will forever be remembered-Martha Reeves 🌹

— MARTHA REEVES (@MARTHAREEVESvan) August 16, 2018
Metro Times cover girl
and National Association of Black Journalists journalist of the year, Jemele Hill gave a word of warning.
Let's all take a moment to give thanks for the beautiful life of Aretha Franklin, the Queen of our souls, who inspired us all for many many years. She will be missed but the memory of her greatness as a musician and a fine human being will live with us forever. Love Paul pic.twitter.com/jW4Gpwfdts

— Paul McCartney (@PaulMcCartney) August 16, 2018
Lady Soul. The first woman inducted into the Rock & Roll Hall of Fame, Aretha Franklin was an artist of passion, sophistication and command, whose recordings remain anthems that defined soul music. Long live the Queen. pic.twitter.com/3gJDuV2KF4

— Rock Hall (@rockhall) August 16, 2018
Even NASA chimed in.
We're very sad to hear about the #QueenofSoul passing. Rock Steady Aretha.
From your steady rock out in space. pic.twitter.com/1rbBRlRUW7

— NASA Moon (@NASAMoon) August 16, 2018
August 16, 2018
Stay on top of Detroit news and views. Sign up for our weekly issue
newsletter
delivered each Wednesday.