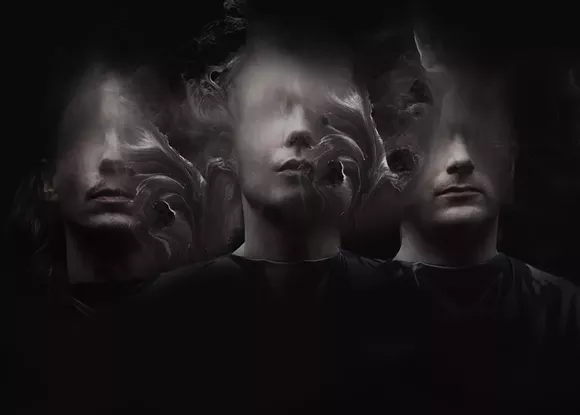 When your editor says you're going to interview one of the most enigmatic post-rock bands of the past 20 years, you sweat a bit. Then when you Google "Sigur Rós interview" and the first 10 results are articles detailing what might be the most painstakingly awkward, almost completely silent interview since the dawn of digital music journalism, you start to regret accepting the assignment altogether. I mean, it was 2005's Takk that provided the only salvageable memory from the first time I made love and it was 1999's Ágætis byrjun that served as the passageway to the mushroom trip where I saw my future spelled out on the late night waves of Lake Michigan. Sigur Rós is that band, a deeply personal road marker for memory, fantasy, and release. So, you shake off your nerves, do your research, and allow yourself to feel relieved when the band suggests an email interview to appease tour schedules and time zone differences.
It has been four years since the ethereal Icelandic threesome released their last record Kveikur, a moody and brooding retaliation to the swelling, sky-opening catharsis of their previous works, an incredibly unique sound which they have pioneered. While Sigur Rós keeps us guessing as to which incarnation of their tormented beauty will reveal itself next, bassist, multi-instrumentalist, and founding member Georg Hólm takes a moment to shed some light on inspiration, success, and why Sigur Rós isn't the soundtrack to the afterlife.
Metro Times: How is touring different when you're pushing new material versus not? Is there a pressure to appease the audience, or does set-list formation reflect more of where you're at as a band?
Georg Hólm: It's always a balance. I'm not sure we feel we are in the business of "pushing new material," but we are usually most excited by what we've just written, since there are things we don't yet know about the songs that we are clear to test and see what happens. It's good to develop songs in this way live before they become "fixed," but if you wait too long, it can then be tricky or boring trying to record them because all the experimentation has already been done. [In regards] to the show, it sounds trite, but you have to think of it as a journey, with different stages on the way. The setlist for each tour will be largely planned around how many people are onstage and what that allows us to do. If there's 11 people, it's going to be different to how it is now where it's just the three of us. Right now it's darker and rockier.
MT: Touring is a remarkably vulnerable and reflective experience. What have you learned about each other or yourselves over the course of your 20 years of touring?
Hólm: That we are all very different, but bound together by this common creation. Touring is a coccoon-like existence and if there isn't a deep-seated commonality underpinning it, it isn't going to last so long. And, of course, the trials and demands it places on a body are more than outweighed by the feeling you get playing a great show.
MT: In an interview you were asked "How do you create a song?" To which you replied, "We just sit down and create a song." Although I don't doubt that to be true for veterans like yourselves, I have to question the trigger. What triggers the need to write a song? What emotions or life experiences drive you to start something new?
Hólm: Whatever is going on in your life at that precise moment will inevitably bleed into what you create. If you are angry then anger will manifest itself in the writing. If you are serene or contemplative, that is what will out. As we've said before, we skirt analysis, even between us, and don't ask questions or decide what is going to happen. We just play.
MT: Sigur Rós is most exhaustively described as cinematic. Are there any notable films or film scores that have played a role in shaping your sound?
Hólm: We are all big fans of film scores, although it is quite a broad church between the three of us. That said, I can't think of any time a movie score has directly influenced anything we've done. We were once asked to make a song for the end titles of the U.S. remake of Let the Right One In, and that allowed us to approach writing in a different way, because we were making music for a vampire movie. The song wasn't used in the end and ended up as "Varúð" on the Valtari album.
MT: Is it a conscious decision to make an anti-pop (or as closely anti-pop as you've come) record like Kveikur? Or was it an organic channeling of change and resistance?
Hólm: Most artistic ventures are a reaction to what's gone before, and Kveikur was the record we made after the overt beauty of Valtari, which was conceived as an ambient album. It was also the first record we made without Kjartan Sveinsson, and there was a desire to go to a less pretty place than perhaps we had been since ( ) a decade earlier.
MT: Are you ever surprised at how deeply connected people are by your music despite language barriers and traditional hook-chorus structure? What do you think makes Sigur Rós so transportive and transformative?
Hólm: The lack of meaning allows the listener a lot of room to maneuver within the music. Also, I don't think Sigur Rós is a communal experience; it's very much a one-on-one between us and the listener, and that allows for immersion and the transport you talk about.
MT: Your sound is, for lack of a better word, atmospheric. How has Iceland and your many travels impacted your sound? Or is the world your music inhabits/weaves more fantasy?
Hólm: We are in Iceland and Iceland is in us just by osmosis. We resisted this line of enquiry right up until Heima when we accepted that being Icelandic might have something to do with our sound. Prior to that we always felt it was completely irrelevant. We certainly do not make any conscious effort to "write Icelandic."
MT: Who do you make music for?
Hólm: Another cliché: ourselves — first and foremost at least. But we are always amazed and humbled by people's response to our music. Old, young, happy, sad, anywhere and everywhere. There's an unintended consequence of it being meaning-free is that people seem to find themselves in the music somehow and for that we are grateful.
MT: Jónsi said in an interview that "Music is a totally spontaneous, pure art form." When do you know a burst of spontaneity has resulted in something "good" or "true" or that the timing is right? Are there plans to release new music this year, or is that as spontaneous as the creation process?
Hólm: There's a phrase, "Inspiration finds you working." So you just have to go to work, make music and every once in awhile some of it might turn out to be touched by the light of inspiration. You generally know right there and then if it's good. The rest you can use as b-sides : ) Seriously, we have a recording system on the road with us and are beavering away at making new music day by day. Some of this should emerge in some form or another in the not too distant future.
MT: How do you define success? Do you believe you've achieved it?
Hólm: Success can only be defined in artistic terms, and no artist will ever consider any work perfect or even finished. So, in that sense, you are always about whatever's next since there's the chance and expectation that perhaps next time everything will fall into place.
MT: Finally, do you believe in heaven? If so, how likely is it that Sigur Rós is on eternal rotation there?
Hólm: Being Vikings, we believe in Valhalla, and no, it's Mayhem.
Sigur Rós performs on Friday, June 2 at the Masonic Temple; 500 Temple St., Detroit; Doors at 7 p.m.; Tickets $39-$105.