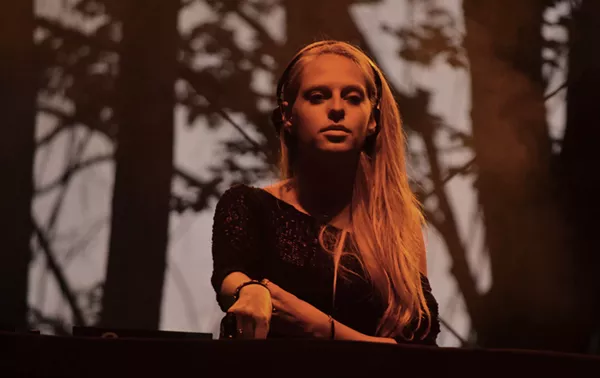 From playing out at big festivals to the smaller intimate clubs, Nora En Pure has a way of weaving a groove that you cannot resist moving along to. Nora is coming back to the Grasshopper Underground next Friday to grace us with her deep house and indie vibes. We were able to get some of Nora's time to catch us up with her tour and other things she's working on.
Metro Times: You are in the middle of a tour that is seeming taking you all over the world, how is it going?
Nora En Pure: It's been incredible, and I have been playing at some of the best dance spots in the world. I played my first ever time at Tomorrowland and directly on the main stage with a three hour set! That was amazing! Then I have been playing in Ibiza at Ushuaia a couple of times which is really cool too, those productions and stages are another level. This month I was mainly in Europe which was so nice for a change and the traveling wasn't too exhausting either.
MT: You've played at Grasshopper before, have you been able to see much of Detroit?
NEP: I have, and I really enjoy playing at Grasshopper as its super intimate. I do my best to get out and explore the cities I play in, but of course a lot of the time I am only there for a very short time, so I haven't seen too much from Detroit yet.
MT: I really enjoy your Purified Radio podcast, how do find the time to make it?
NEP: Thank you that's so nice to hear as it is very time consuming. I am quite picky and spend a lot of time to find the right tracks but it is also amazing as you come across a lot of music and detect trends while being on the lookout. Often I work on this after shows as those are times I have to drive down before sleeping and have usually high motivation to listen to new stuff.
MT: I saw your set at Electric Forest on the Forest Stage — what did you think about the scene and setting there?
NEP: I absolutely loved it. It was a perfect setting for my sound, and the whole forest vibe made it very unique. Places that are filled with nature are the best locations for me to play. Also the crowd was really cool following where I wanted to take them with the music.
MT: What's your favorite food on tour?
NEP: On tour I try to eat really healthy as the lack of sleep and jet lag gets to your health and I catch a flu easily. So I usually try to eat a lot of fresh & healthy stuff and keep the pizza and pasta for my home time
Nora En pure plays Grasshopper Underground on Friday, Aug. 11;
22757 Woodward Ave., Ferndale; 248-268-3219; thegrasshopperunderground.com; show starts at 9 p.m.