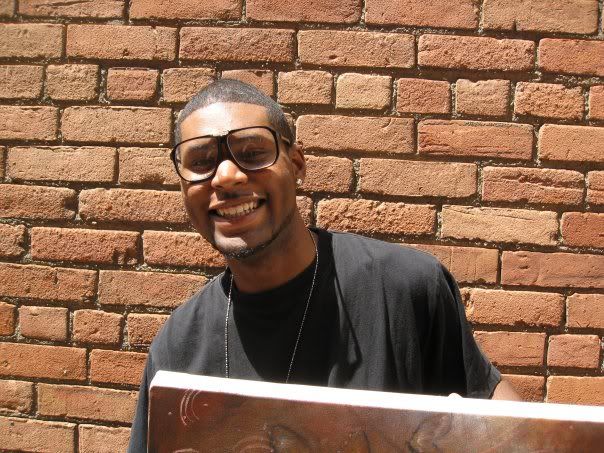 Erykah's biggest fan?: Demetrius Green.
We get a lot of interesting folks dropping by here at the office. And not all of them are the "Monday morning lineup" for personal services ads, homeless dudes crashed out in the doorway, or celebrity impersonators looking for their big break. Some of them are just pleasant enthusiasts of one kind or another who really, really want us to write real, live stories about what they're up to.
Not all of them are newsworthy, of course. We media types blab on about "hooks" or "angles" so much I think we do forget that some of the walk-ins could be just as newsworthy than some of the other stuff we peddle. In fact, a friend of mine asked me, "Why not cut someone a break and give them some positive exposure?"
With that in mind, here are a few photos we snapped of 21-year-old Demetrius Green, a resident of Detroit's nearby Lafayette Towers. Green dropped in to tell us that he has covered the walls of his apartment with his paintings. His latest obsession? Painting pictures of Erykah Badu.
In fact, this guy's such a Badu-head that when we mentioned that we'd snap some photos of him and his work, he first rushed out to his car to get his "Badu glasses," a sort of tribute to the recording artist's penchant for unusual eyewear. He held up a painting of Badu, this one with her hair filled with butterflies, telling us it was titled "Where Do Butterflies Hide at Night?"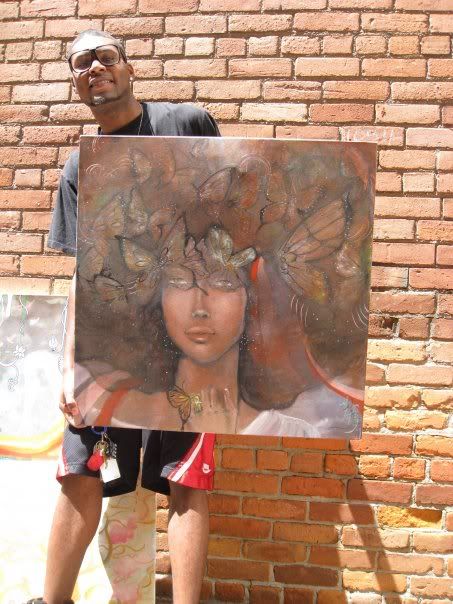 Butterfly effect: Green holding a Badu-themed artwork.
He was especially hopeful that we'd somehow get this information before the big Erykah Badu show tonight in Chene Park. Isn't that sweet? Sure, thing, Demetrius. So if you see this guy at Chene Park tonight (perhaps holding a big ol' canvas in the air?) be sure to say hello to Erykah's biggest fan. He's the "Real Thang."
Oh, and thanks for dropping by!
Erykah Badu performs at 8 p.m. tonight, Friday, Aug. 7, at Chene Park, at the foot of Chene Street, Detroit.