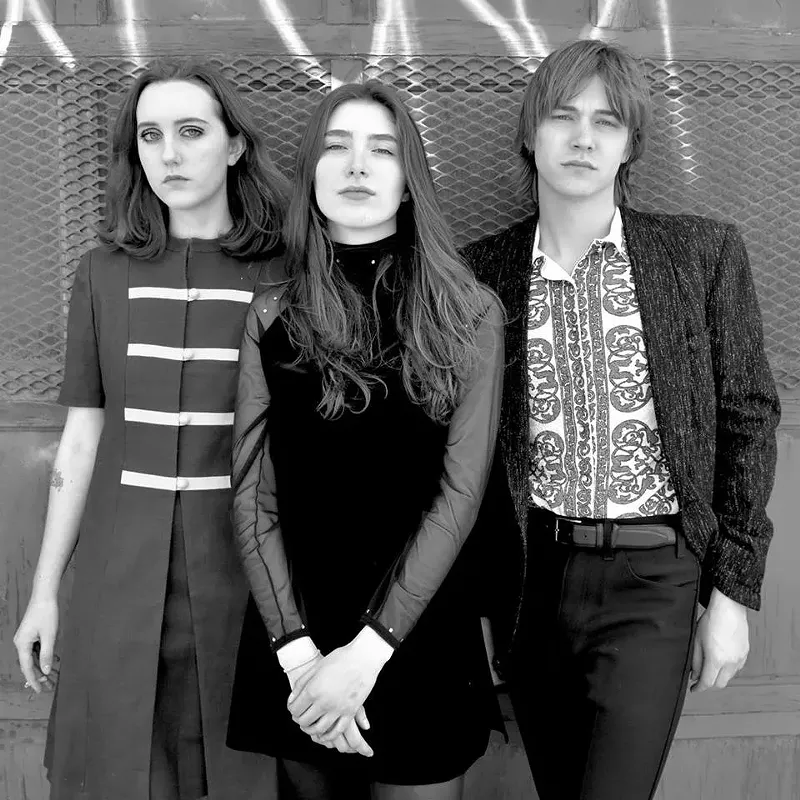 This weekend presents two chances to see Detroit's
Moonwalks
. They've not played around much of late so you will want to try to do this because they are our favorite local dreampop band, combining as they do sugary-sweet melodies with an unexpectedly intense delivery. Their music doesn't have you reaching in your phone to find the other bands they remind you of; this is very difficult to pull off with this kind of stuff. These seas are well-charted, so it's such a joy to find new .
Tonight, Friday, May 19,
they're playing at MOCAD with Vnesswolf Child
for their spring exhibition opening. And on Saturday, May 20,
they're headlining the seventh annual Whateverfest
at Tangent Gallery.
The Moonwalks just returned from their first European tour supporting a
new 7'' record on Brooklyn-based Greenway Records
. In light of these events, we caught up with them. The three members (Jakie, Kate, and Kerrigan) answered as one voice, via email.
Metro Times
: Does the band have a philosophy? If not, make one up now.
Moonwalks
: Moonwalks are sounds for those seeking a last impression.
MT
: How did you guys hook up with this label, Greenway — how did that new 7" release come about?
Moonwalks
: Harry Portnof, who runs Greenway, reached out to us about a year ago about putting out a 7''. We met him at our show in Brooklyn and went from there- super cool guy and a super cool label. He's been putting out records of a bunch of awesome bands — LA Witch, White Mystery, Worthless, etc. — all exclusively on colored or splattered vinyl. He made us a limited alternate splatter 7'' with album art by Dan Curran, too!
MT
: How did the European tour come together — what was that like? Did you get mints on your pillows?
Moonwalks
: We were spoiled in Europe. We lucked out and got in touch with our booker Luca (of the band Go!Zilla) who's based in Italy and managed to pull off a six week tour through ten countries. We started off in Sardinia- an island off Italy in the Mediterranean sea- and ended in Switzerland. We also hit Poland and Slovakia to name a few.
MT
: Headlining Whateverfest is so rad — what Detroit bands are you all most excited about?
Moonwalks
: Whateverfest is a great festival because in a way it helped us get our start. We played Whateverfest 4 as teenagers when it was just a big house party in a mansion on East Grand boulevard- the floor was literally caving in. The organizers Brent Szczygielski, Sophocles Sapounas, and Miles Hubbell have made leaps and bounds in putting the festival together in the years since. This year is Whateverfest 7 — over 40 bands on three stages @ Tangent; it should be insane.
We're stoked for our dudes Werewolf Jones (members of Growwing Pains) playing at 3 p.m! Also Virginia Violet and the Rays are amazing and are playing after us at 12:30 am (we play at 11:30 p.m.)
MT
: What are the plans for a new album looking like?
Moonwalks
: We did some recordings with a guy named Niek at 4 a.m. in Rotterdam; we're still waiting on getting those back. Right now we're working on new material and have someone that's interested in putting something out in the fall/winter.
MT
: Any other future plans?
Moonwalks
: We're playing in Brooklyn June 29, at Sunnyvale w/ Deadly Vipers, Junk Boys, and Sun Abduction.