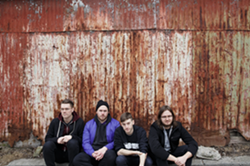 After changing its name in 2013 from Topanga (a Boy Meets World reference), Pup haa come a long way from "drinking too much Hawaiian Red Fruit Punch." Finding inspiration in Toronto's once healthier, all-ages music scene and garnering both critical and fanatical attention, Pup has stolen the torch of contemporary punk rock in a very short time. This Sunday, the band is bringing all the "rippers" to Mo Pop Festival on Detroit's West Riverfront Park. We spoke with singer and guitarist Stefan Babcock to learn what the band has been up to.
Metro Times: Pup has played a lot of festivals over the last year. As a band that is so interactive with its live audience, how do festival gigs differ for Pup?
Stefan Babcock: That's definitely a different thing. We're used to playing packed basements, where the crowd is right in our face, and at festivals usually there's a big barricade and the stage is a bit higher so it's a different thing. But I still like to get in the crowd and make it as intimate as possible. There are drawbacks like less crowd interaction but there are good things too. There's just a whole different energy that we feel when we're playing outside to thousands of people, or however many it may be, as opposed to a smaller venue. It gives us a whole different energy and mentality with the show. I like to think the vibe is different but equal.
MT: Maybe not as many chances to stage dive while playing guitar.
Babcock: Yeah it's definitely a little trickier! Not that I have not done it but it really depends on how that barricade is set up I guess.
MT: How do you approach writing a festival set list differently and do the song choices vary depending on the size or draw of the festival?
Babcock: Not really. We don't really give a shit about that. We just want to come out and play the songs that we like and we just rip. We don't really approach it differently. I feel like we've had a little bit of modest success and that's because we are who we are and it's better to show people exactly what we are and let them decide for themselves if they like us rather than trying to convince them that we're something we're not and then have them be disappointed when they listen to the record. So we come at it exactly the same and the only difference would be, sometimes our set is a bit shorter at festivals but you just deal with it. The short ones are fun too because you just get to play all the rippers and then leave.
MT: What can Pup fans attending Mo Pop be excited for?
Babcock: We've been digging in the corners and busting out some tunes we don't always do just because when you play the same 12 or 14 songs over and over again for months, it's kind of nice to play the deeper cuts that we don't get to play often.
MT: Pup just won a songwriting award for its latest single. How did that come about?
Babcock: Yeah. The SOCAN (Society of Composers, Authors, and Music Publishers of Canada) songwriting prize. It's an award they do in Canada every year for what they consider to be the best songwriters in Canada. That was pretty humbling. It was really cool to be considered for that. I don't really feel like you can make songwriting a competition because there are so many great songwriters and they write differently than each other. It's a different process for a lot of the other people who got nominated. I don't feel like music is a competition so I kind of feel weird about that and things like the Grammys. I think it's a bit strange but it's also really nice to be recognized and it's a nice thing to be able to tell our parents.
MT: Pup was also nominated for an award for a recent music video which starred Finn Wolfhard from Stranger Things. How has it been getting to know him as both of your careers have recently blown up?
Babcock: It's cool! He's a very chill dude for his age. He's pretty young, I think like 13 or 14. He knows a lot about music and he's a good hang. He did a video for us a few years ago for our song "Guilt Trip" before he was in Stranger Things and he was cool then, and we've watched him become this superstar and he's still grounded and just a nice dude. We have nothing to do with his success but we're just proud to see a guy who's deserving of a lot of success, receive that success right in front of our eyes. We're stoked for him!
MT: The last time we spoke, just as The Dream Is Over was being released, you expressed feelings of disillusionment as an adolescent and in the music business. What are your thoughts on those feelings one year later?
Babcock: Oh, I still have them big time. I think the music business, for the most part, is a crock of shit. And I think there are a lot of people working in the music industry for the wrong reasons, and the people who suffer from that are the people who are trying to play music because they love it, and it's a shame that they suffer at the hands of people that are greedy and in it for bad reasons.
But with that said, we've just gotten a lot smarter about it. We've been lucky that we get to work with a lot of incredible people in the music industry, and its good to see by working with them that it's not all like a fucking horror show. So we've been really lucky and we've made it a point in the past year of always surrounding ourselves with good people that we believe in, that believe in us, and that are in it for the right reasons. I'm still cynical and jaded about that kind of shit, but I find myself navigating it differently.
MT: Is there a third record in the works?
Babcock: Yeah, we've been writing it. We haven't started recording it, but we're pretty deep into writing it right now.
MT: Do you write on the road, or is that something you all regroup on after a lot of touring?
Babcock: I'm totally incapable of writing on the road. I'm barely capable of being a functioning human being when we're on the road. Basic life tasks seem impossible to me when we're on tour.
MT: Just because of the busy schedule?
Babcock: Yeah, and I find it, mentally and emotionally, quite taxing to be around people a lot, and with anything creative, you need space to let that simmer and percolate. I find that for me, I have to come at anything creative slowly and let it come to me more than me going out to find it, and it's a hard thing to feel creative or inspired when you're surrounded by people at all hours of the day.
So we kind of treat touring like what it is. It's like work but it's really fun work for us, and we go and do it and it's really good, and when we come home, for me at least, I quickly find that there's this whole well of creativity that's been building up in my subconscious without me thinking about it, and I try to actively tap into it when I'm at home and alone — it just flows a bit easier.
MT: Because there are less opportunities to get dickered in the back of the van.
Babcock: That's right! Good ol' Canadian term right there. I like that!
Pup perform on Sunday, July 30, at the Mo Pop Festival; West Riverfront Park; 1801 W. Jefferson Ave., Detroit; mopopfestival.com; Tickets are $90.