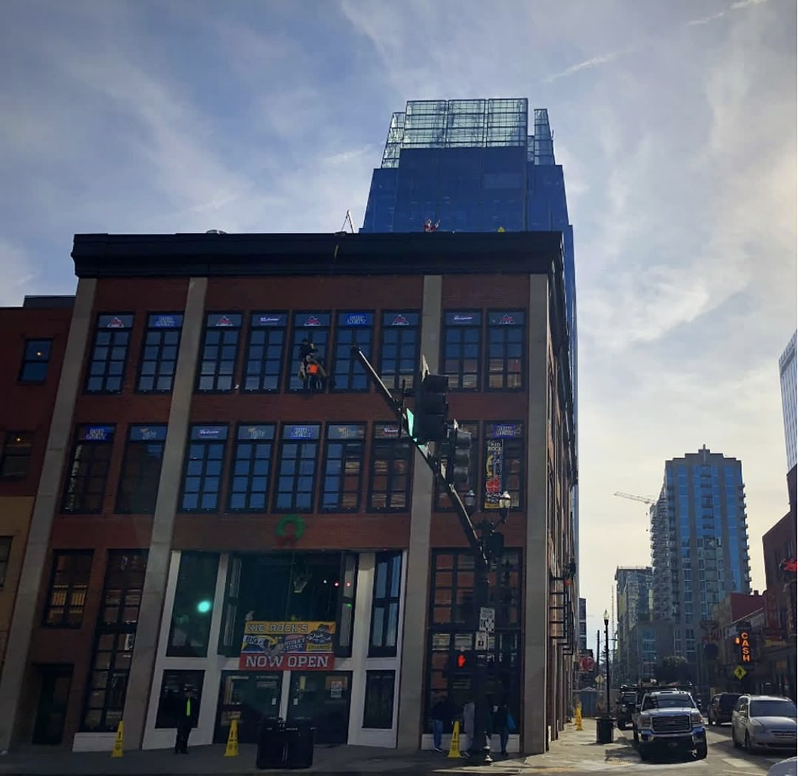 Just two weeks into 2019 and we can't help but put Kid Rock's name in a headline — this time it's not for being an ass, just liking ass.
Kid Rock, who most recently offended the nation last month by calling
Joy Behar a bitch on Fox News' trainwreck of a morning program
(which stripped the Badass Beer slinger of his Nashville Christmas parade grand marshal duties), wasted no time in ruffling some local tail feathers.
The Metropolitan Council of Nashville voted 27-3 last week in reluctant support of a 20-foot neon sign proposed to adorn the outside of the Macomb County native's newly opened bar and restaurant, Kid Rock's Big Ass Honky Tonk Rock N' Roll Steakhouse. In staying true to Kid Rock's tacky and muddled-message, the sign boasts a whopping four
different
fonts, an arrow, a guitar,
and
a fedora. The controversy, however, is in the
shape
of the guitar body as it is made to look like a woman's butt. To really drive the imagery home, the guitar has thighs. (Obviously.)
"We've worked very hard as a city to become somewhere that is a tourist destination, an 'It City,' somewhere that is family friendly," Councilwoman Kathleen Murphy told
the Tennessean
regarding her abstaining vote.
"This one I feel crosses the line between good taste, family-friendliness, and I think what we would like Nashville to portray to people who come to visit us. If we allow this, what is going to come next? I think we can all use our imaginations here."
While not all 27 votes in favor of the sign were necessarily enthusiastic, many voted on the basis of protecting the First Amendment rights of the bar owners. Metro Council attorney Mike Jameson suggested that local government's role in such decisions and that they should not "constrain the contents of a sign" and cited a similar instance when the council approved the naming of a local bar, the Wild Beaver Saloon.
"Prohibitions on
purian
interests or vulgarity has been deemed to be a legitimate government interest but it is fraught with peril in defining what is obscene."
He adds, "It's not to say that you would lose the case, but Mr. Rock or his business affiliates might have a legitimate First Amendment challenge."
A construction start date has not been announced, but the submitted design can be seen
here
.
Stay on top of Detroit news and views. Sign up for our weekly issue newsletter delivered each Wednesday.