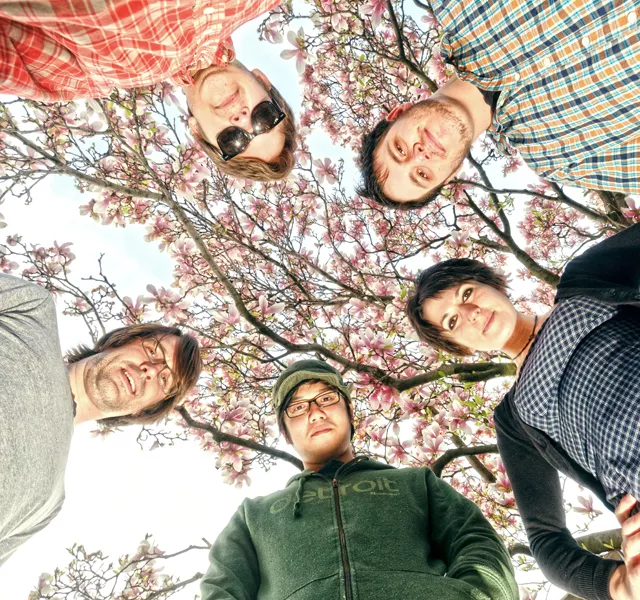 It's about 10 o'clock on a Wednesday night and the members of Telecollision are watching scenes from Shin-Chan, an absurd Japanese cartoon, and dissecting the intricacies of Kung Fu godhead David Carradine's death. They're in the living room of a cozy Eastpointe home, slouched on couches, working on pizza slices and breadsticks. It's not hackneyed to say that this crew — guitarist-keyboardist Erik Ladendorf, vocalist-guitarist Nicole Ladendorf, multi-instrumentalist Cedric Yee, bassist Aaron Redfield and drummer Thom Blower — work off each other as if siblings. When they're not tossing cynical rejoinders at each other, they're whooping it up and cracking jokes.
Telecollision is set to drop its debut EP, Bubbles, this week, celebrated by a record-release show in Hamtramck. And while they may appear to be your average Devo T-shirt-wearing, art-space-dwelling indie digits, the group really has a fringy, experimental bent that goes lengths to stretch the limits of ever-compartmentalized pop music without stretching the limits of your attention span. Now that's hard to do.
Some EP songs, such as "Bubbles" and "Bookcase," mine that pretty, shoegaze-jangle mother lode; slow-burning beginnings with reverb-wet guitars chiming and building into bouncy, fuzzy choruses flanked by skittering drums and Nicole Ladendorf's lovely lilting voice.
Conversely, "Places" is moody, contemplative and dynamic, with soft passages — it's here that the band fully utilizes its space-shuttle-cockpit's worth of effects.
Telecollision began as a solo project for Erik. It became a union born of a union: "Four years back, I had a bunch of songs written. Me and Nicole had started kinda dating and I asked her if she could sing some backup vocals on the stuff, and she did an amazing job and we just started playing together."
The band, which has been operating with its current lineup for six months or so, is incredibly cohesive. Makes sense because their personal histories go back further. Erik, 27, and Nicole Ladendorf, 22, are married, living in Eastpointe with Redfield, 35. The 26-year-old Yee grew up with Erik in Grosse Pointe going through "the awkward years of middle-school together listening to OK Computer." Erik and Redfield both work at Roseville's Guitar Center, the classic band-guy gig. "Aaron came from another Guitar Center," Erik says. "And I just fell in love with the dude. He moved in with us, like, a week later."
Yee labels Blower, the band's whiz-kid 20-year-old drummer, a "boy child," probably because he looks to only have recently hit puberty. Erik met Blower randomly while the skinsman was shopping for recording gear at Guitar Center. "We had a great conversation about music," Erik says. And I was like, 'you play drums?' He's like, 'yeah, I'm OK.' So, he came over and jammed and when he got to band practice we realized that he wasn't just OK at drums. He was sick. Like, the kid was just off the hook."
So what of the songs? Erik's a songwriter. Who else? It's a rule that there must be tension when a rock band puts its songs together.
And yes, there is some pain here. ...
"It's painfully democratic," Yee clarifies. "I mean, it's slow. We'll just sit down and talk about it. 'Well, what do you think about that?'"
"It's this whole birthing process," Redfield adds, earning laughs from the group.
Yee chimes in: "That's true. It goes through its child-rearing cognitive development stages. Then it's going to go through puberty, its awkward adolescent teenage years."
"Then it's going to get laid," Blower butts in from the corner of the couch.
"It might not!" Yee retorts, sending the band into a fit of laughter.
Because Erik and Redfield have been recording and engineering their own music for years, the band self-recorded its new EP. (Yee graduated from Wayne State University with a music degree, and he even interned at Electrical Audio, producer Steve Albini's Chicago studios.)
On stage, Telecollision is a rehearsed and oiled machine — sweat, verve and energy propel a highly organized mantle of sound. It's a concoction that has translated well to record.
"It was just like a marathon session," Yee says of making Bubbles. "It was a very fast recording and I think you can feel that energy in there. Everything was tracked live."
"It was an interesting process recording it," Erik adds. "It wasn't one person's vision. It was everyone as a whole. It was a very interesting situation."
You can hear the band's reference points. Erik and Yee grew up on Radiohead (Yee: "OK Computer redefined what I thought music was"), while Redfield calls the Cure's Disintegration a life-changer. Nicole, whose parents were working musicians steeped in country, recalls being blown away seeing Green Day. And Blower is a math-rock and metal fanatic (easily detected in his sometimes frenzied drumming).
As a collective, they dig Portishead and Arcade Fire lately, gives them credit for helping the band advance its songwriting. "Arcade Fire has been a band that has made us rethink what we were doing," Erik says. "With all those instruments in there, you know? I remember when we started off we were so straightforward and [after hearing Arcade Fire] we started experimenting so much more. Suddenly, I wanted to pick up a xylophone."
The impulse to experiment may have gotten a bit out of control. "We had to hold back," Yee says, laughing. "At the time I had two keyboards, I had a xylophone, I was playing a little bit of guitar and I had a violin bow I was playing with."
What's next?
Well, Erik met up with Hype Ignition founder and Detroit music scenemeister Scott Boyink and slipped him the band's record. Boyink immediately wanted to work with the band. "[Boyink] is an old friend of mine from back in the day," Erik says. "My old band used to play with his band, the Amino Acids. I met him again at the musicians' caucus last year and I ended up giving him a disc and he freaked out and e-mailed me going, 'This is great stuff!' So, he came to one of our shows and he said, 'I have to book for you guys.' He really knows how to do this. And he's gotten people aware."
Boyink's helping with the album release and he's booking all Telecollision shows. There's a mini Midwest tour planned.
Telecollision could easily wear the dull and archetypal tag "band of the rise." Only here, with this band, it's true, they are rising. You easily sense that this isn't another Detroit combo of five folks who are each in five other bands, and who all mostly wear the same T-shirt and beard. That's so played out. No, Telecollision generates a hum that's part chemistry and part a collection of persons who all believe in the songs. So it doesn't matter if you like the group or not, you can tell they all believe in it. You can't deny passion.
Now they're dropping a record of killer tunes. Of course, the band isn't enough to allow them to drop their day gigs, but, as the Paybacks' Wendy Case once said, just you wait.
"I think the important thing is growth," Erik says. "If we can make twice as much progress by this time next year. ..."
Friday, May 20 at Small's, 10339 Conant St., Hamtramck; 313-873-1117; with Jehovah's Witness Protection Program, Almost Free and Future Genies.