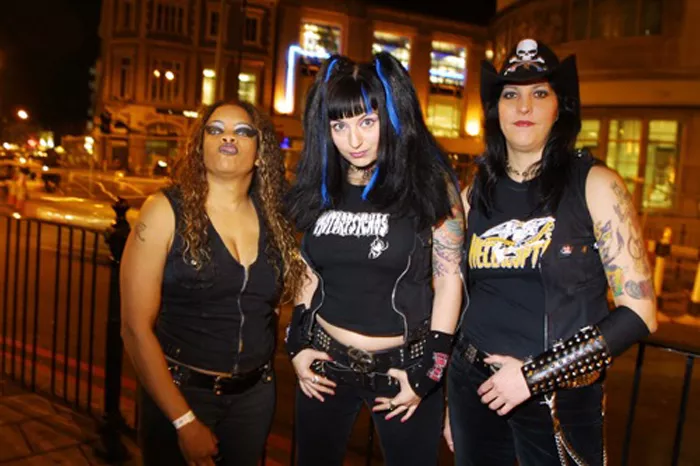 We don't often have a reason to walk into the Free Press' grand building, but an interview with nightlife editor Rachel May certainly offers us an excuse to see the place before the newspapers relocate to the Federal Reserve Building on Fort Street later this year. May is, of course, also the lead singer and guitarist with all-girl hard rockers Broadzilla, a band that roared all over metro Detroit and indeed the world for more than a decade, before deciding to take a well-earned and much-needed break. And now the girls are back for Blowout 17.
Broadzilla formed in the summer of '95, with the band playing its first show in January of '96. "So we just hit 18 years in January," May says. "I had a slightly different lineup, just getting the band off the ground the first couple of years, but we settled in on the final lineup around '98 or '99. So everything that we've done with Broadzilla that has been big and mattered has been with the current lineup."
That lineup is completed by drummer Angie Manley and bassist Kim Essiambre. On the band's Facebook page, the girls describe themselves as, "Three wayward rock queens spawned from the city of Detroit," and that's just about perfect. The women are cute, but, a couple of decades into their career, there's also a strong element of road weariness and, frankly, a tough quality that's etched all over their faces. These girls will party with you, sure. They'll very likely drink you under the table. But they'll also kick your ass without flinching.
Interviewing May is interesting; she herself admits that she spends more time interviewing bands these days while fulfilling the duties of her day job than she does actually being interviewed. That makes for a fun dynamic, because she knows what we, as the interviewers need from an interviewee — detail, anecdotes and no one-word answers.
May certainly speaks colorfully and with nostalgic glee about some of the good times. Broadzilla didn't score a Billboard hit or headline any major European festivals, but the band made its way to Britain under its own steam, and performed at the Bulldog Bash, a festival in the center of England hosted by the Hell's Angels.
"A couple of times we played the Bulldog Bash," May says. "We got to play with the Wildhearts [an English cult rock 'n' roll band]. I was a huge fan of that band going in, so to hang out with [singer and guitarist] Ginger, those are great moments as a band. It makes all the peanut-butter-and-jelly-sandwich couch tours worth it. We got interviewed by a Dutch TV show for Naked TV at the Bulldog Bash. The girl that interviewed us was topless. There's a media tent there and she just sat there topless."
In fact, simply arriving in England prompted a private celebration for the girls. "The opportunities that come along don't come along for every band," May says. "I just remember landing in England, getting off the plane at Heathrow Airport. We're waiting for the bus to take us to central London and it's the overnight flight so we're just waking up, and I look at the girls and we took a deep breath of air and I was like, 'We did it. We're here.' That's a big accomplishment for bands. Not every band gets to stay together as long as we have and do some of those cool things."
This is the first time Broadzilla has had any sort of lengthy feature in the MT for many years. That's no slight on the band, but the girls played hard for a decade or so and then took a rest for a few years around 2005. The band has some new material written, revealed recently when opening for all-girl Mötley Crüe tribute Girls Girls Girls at the Magic Bag in Ferndale, but there's no new album in the immediate future. Still, Broadzilla is performing at this year's Blowout and some of those older songs from the Broadzilla vs. the Tramp-o-Lean ('99) and Lady Luck ('01) albums are worth revisiting. Younger festival attendees would do well to check them out.
May attended the first Blowout without playing, and then Broadzilla performed at 10 in a row. "I don't necessarily remember the band performances so much, but more the excitement of what it was at that time," she says. "I loved the close-knit part of it, the ability to look at your schedule and bounce around. I know I can get to this next venue within two minutes and go to see this next band, or if this band's boring me I'm walking next door to see this band. That excitement and energy, and the potential of what I knew it was going to become eventually, stayed with me that first year so for sure, come hell or high water, I wanted to get Broadzilla on that bill."
Take it from us, music journalism is not an easy career path. It requires tenacity, commitment and long hours. Balancing a band with a journalism gig is going to be especially challenging. Thankfully, Broadzilla is at a point now where the girls can pick and choose the gigs. "The band is at a comfortable pace now, so it's not as aggressive a work ethic with the band," May says. "For that period of time where I was working and pushing the band at that pace, it was difficult and wearing. Every day after work, I'd come home and have some kind of chore to do for the band, and then we'd go to work. Friday would come and we'd leave and go off for two days. Sunday night would come, we'd go home and unpack the RV, get up and go back to work the next day."
As for Blowout? "We'll try to play some new stuff at Blowout and some of the old favorites," says May. "You know what you're gonna get with Broadzilla."
Broadzilla plays the Metro Times Blowout, April 30-May 3; mtblowout.com.