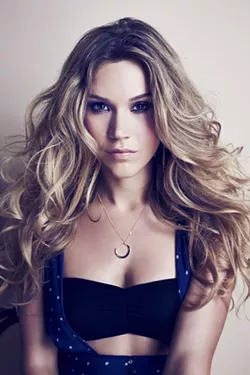 Your money or your life? We typically imagine those words coming from the mouth of an assailant. But for Joss Stone, it was her record company. Like Johnny Rotten, the young soul singer ran up against EMI, and in 2009 surrendered an estimated 10 million pounds ($12.8 million) — everything she had but her home — to get out of a four-album deal with three discs left to deliver.
"I wanted something and they wanted something and luckily those two things were completely different," Stone says from the country house in Devon, England, where she grew up. "So we both made a trade. I wanted to be free and to be able to make music and be myself without (being) told off for being myself; and they wanted lots of money. So I just gave them all the money I could, and then they were happy basically. It's a business deal at the end of the day."
Not everyone will give up a lifetime's earnings simply so no one can tell them what to do, but it's worth it to a free spirit like Stone. Her gentle laugh is as sweet as her demeanor as she admits to fitting a stereotype, sitting in her English kitchen sipping tea while we chat on Skype, a couple of dogs bustling at her feet.
A big-throated soul singer with a honeyed tone, Stone's break came in 2001 on the BBC television show Star for a Night, which she won with a rendition of Donna Summer's "On the Radio." She was just 13. The third of four children, Stone didn't do well in school, due in large part to her dyslexia, which helped prompt her to audition on a lark.
"Dyslexia is just a different door, it doesn't mean you're incapable, it just means you learn in a different way. Now I think schools deal with that much better [than] they do in England," she says. "We have come a long way. When I was in school it was just like, 'Well you must be lazy or stupid because you're not getting it.' Then they just thought I was naughty, because if you weren't lazy or stupid it's 'Oh, you're naughty.'"
That early break led to several more performances including a charity show that year in December, which led to a contract with S-Curve Records. CEO Steve Greenberg flew her to New York where she sang three classics: "(Sittin' on) The Dock of the Bay," "(You Make Me Feel Like) a Natural Woman," and "Midnight Train to Georgia." He offered her a deal on the spot.
Before she signed her parents asked her if she was "sure you want to be a pop star?" (A nice gesture, but then again, have you ever tried to reason with a 14-year-old girl?)
"We were in the kitchen I'm standing in right now and they sat me down and said, 'Are you sure this is what you want to do with your life?' and I'm like, 'I don't bloody know, I'm 14!'" Stone says. "It's kind of a big decision to make, but I don't think one should ever have to make a decision that big. It doesn't matter how old you are even if you are 35. It should be, 'I'm going to do this right now, and then maybe next year I do something else.' I like to kind of remain free."
Stone made her debut in 2003 with The Soul Sessions, highlighted by her reworking of a White Stripes tune into "Fell in Love With a Boy." The album reached No. 4 in the U.K. and No. 39 in the U.S. Billboard charts. She followed a year later with her breakthrough, Mind Body & Soul, which topped the U.K. charts, making her at 15 the youngest star to reach No. 1 in the U.K. It reached No. 11 in the U.S., and went platinum in several countries around the world.
She went to Virgin for 2007's Introducing Joss Stone, which didn't do as well in England but did even better in the U.S., reaching No. 2 on Billboard. Then came the label row with EMI and the buyout deal that essentially accompanied her appropriately titled next album, 2009's Colour Me Free! Released without a lot of label support (natch!), it still reached No. 10 in the U.S.
Stone has since released two more albums in cooperation with other labels, 2011's LP1 (Surfdog), 2012's The Soul Sessions Vol. 2 (S-Curve), and 2015's Water for Your Soul solely through her own label, Stone'd Records. The latter is a reggae album, encouraged and eventually produced by Damian Marley. Though she'd fooled with reggae on a few tracks in the past, she still suffered some insecurity.
"I was making some reggae music before I met him and I played it for him and he was like, 'This is great you should put it out; you should do a reggae record.' And I was like 'Ah, Damien. I think everyone would hate me.' And he was like, 'No, no, just do it, it's great,'" she recalls. "So it took me about three seconds to agree to that. It was great. He's lovely. He's very supportive and a very, very nice man. I'm kind of lucky to be surrounded by people that are encouraging rather than discouraging."
Stone has tried to return the world the favor. Since releasing the album, she's embarked on a world tour. For those of you unfamiliar with marketing speak, that typically means a tour of the wealthy countries and cities around the world. Unless it's a charity concert, people aren't tromping through Bangladesh and Zaire on the regular. As a child, Stone didn't really understand this.
"I'm a bit literal, so..." she pauses to consider this statement, before charging forward. "I'm very literal and so when I was younger I believed when I heard the term 'world tour' it was every country in the world. When I grew older and learned that wasn't the case, I kind of felt like that was a bit wrong."
So far Stone has visited 109 of the world's 196 countries, and it's literally been a learning experience. She takes time in each country to play with a local musician and learn about their history and culture. Indeed, if you invited Stone to play your third-world festival, you can be sure — hell, high water, or armed insurrection — she's going to show.
"I just think it's lovely when we go to countries where they don't get a lot of bands, like we went to Venezuela," she says. "It was in December after they had that horrible moment with the coup. I was paid to play a festival there with a bunch of other artists and I was the only one that turned up. And the people there were shouting out to me while I was playing, 'Thank you so much for coming, thank you for being here and not deserting us.'"
Stone sees borders as largely imaginary in human terms, even if they cause so much pain and hardship.
"There are some countries that are actually at war as we speak right now, and they still have children they're trying to educate. They still have mothers and fathers and they're falling in and out of love and living their life as we're living our life. So it's just nice to have a night where you can forget about it and you can have a dance," says Stone. "All over the world there are a lot of different issues and there are lots of different fixes, but at the end of the day we all fall in love and we all have babies and we are all humans — the differences kind of disappear a little bit."
That Stone can take such an expansive view of mankind is particularly striking when you discover she was the subject of a failed robbery plot in 2011. (They hadn't heard EMI beat them to it.)
Two thirty-something layabouts planned to extort a million pounds from Stone, feeling if she knew the royal family and was a famous singer she must be good for it. Then they planned to cut off her head with their samurai sword, and throw the body in the river. They were apprehended nearby looking suspicious and driving a badly damaged car that they had crashed on their way to Devon. It'd be comical if it weren't so serious.
We speak the morning after the terrorist attack in Manchester, so the threat feels close at hand. Even dastardlier is the targeting of music, one of the great uniters of people.
"I just talked to a friend of mine earlier and she was like, 'I'm supposed to go to this concert next month and now I don't know if I want to go,'" Stone says. "It's just sad it should be like that. We shouldn't be afraid to go outside. But people are scared. Sometimes horrible things happen. I don't know, I just think what are you going to do if you let them win? Stay inside for the rest of your life and wrap yourself in wool? Then they've won."
Stone wasn't about to let that happen, and beefed up security at her house afterward. Fortunately, things have remained quiet in the years since in her sleepy English hometown that she earnestly invites me to visit.
"If you come to England you'll go to London probably and that will be lovely but get on the train and get out of there as soon as possible," she chuckles. "Come to Devon because it's so, so nice. And it's quintessentially English with nice pubs and thatched cottages, things like that, it's very cute."
It's hard for Stone to believe she's turned 30 and has been performing more than half her life, but she's not undergoing any crisis about it. "I don't believe it! How did this happen," she cries, feigning panic. "All this time is passing so quickly but, no, I think I'm alright. I've done a few things so I feel like it's OK."
In fact, Stone swears she remains very much the same, and she's got witnesses. She recalls hanging out with a childhood friend she's known since they were 8.
"I rarely see her but we were really, really good mates when we were young and she's like, 'Joss you are the only one out of all of our friends that is exactly the same,' and I took that as a massive compliment because I do make a big effort to just stay exactly as I was," she laughs. "I think you are who you are. You go through different changes in life but mostly the core of you remains."
That core's charming as her hair is long. There's no pretense — indeed, Stone's damn self-deprecating for someone as pretty and famous as she is. For example, she's self-conscious of her height, leading her to mostly play barefoot. But it's not like she doesn't like shoes. She is a woman.
"You'll be really shocked to learn this. I totally love shoes. I think they're beautiful and I wish I could make them," she says. "However I am 5'10" and when I put them on I'm 6'2" which is embarrassing and I like to be a little bit smaller and a little bit more ladylike, so I'm a bit insecure about my height and also I don't want to fall over in front of thousands of people. So I take them off."
She wishes that fame were as easy to lose. While young people everywhere chase it on social media, Stone would just as soon be done with it.
"It's not a fun thing. I don't know why it's become this amazing thing. I suppose they put those people on a pedestal, but it's not real. It's very hard to explain this to a child. When you ask them what they want to do, a lot of them want to be famous," she says. "It's a pain in the ass to go out by yourself to buy a pint of milk and have everybody stare at you like you're something alien. I don't know why anyone would want that, but it's hard to explain to people unless they've had it."
If Stone sounds like the earthy, upbeat bestie everyone wants, you're not mistaken. She's the type of soul that's not only true but ready for fun and adventure. The tattoos that dot her body and the flower on her left palm stand witness. The latter was sort of a gift for a friend. Even journalists aren't immune.
"My friend was getting a tattoo, and she asked me to take her. She was covering up one she didn't like, and she was very, very nervous, and she said, 'Oh can you get one too?' And I was like, 'OK,' so I got a flower on my hand," she says. "Another time I was in New York in an interview with this chap who had never gotten a tattoo and he asked me about the one on my foot and said I really would love to get one. I said, 'OK, c'mon now, let's go.' And so we went."
If you're stuck on the ambling alto imploring so sweetly for you to "Love Me," it may be because there's a deeper allure beneath the words. It's in Stone's easy way, quick laugh, and full heart, which underscore everything she does.
"I think you just have to live life for the moment and enjoy what you have because tomorrow isn't promised to anybody. So just have a nice time," she says. "Someone texted me once, 'Stay where it's warm,' and I've always remembered that. I think it's the best advice I've been given. If you feel bad in something move away from it. If you feel good, continue on that path. It's very simple. Life is very simple if you allow it to be, and that's how I choose to live my life."
Joss Stone performs at Chene Park with special guest Charles Bradley opening up on Thursday, June 22; Doors at 8 p.m.; 2600 Atwater St., Detroit; cheneparkdetroit.com; Tickets start at $26.