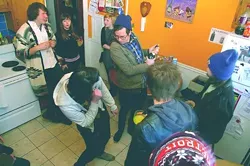 If you're a local music lover who's been thrown off by the shifted schedule for the annual Blowout, you can still get your fest fix this weekend thanks to Gold Tapes. An exceptional sampling of "interesting, quasi-punk Detroit music" will be showcased across four venues (in three nights), all thanks to a local record label that's essentially run out of a cluttered kitchen in Woodbridge.
The curator of this mini fest, dubbed Gold Tapes Fest, is Zak Frieling, a 26-year-old "label head" who started his own cassette-only music distribution "company" out of the house he shares with bandmates from his hardcore revivalist quintet Kommie Kilpatrick and other fellow musicians.
"When there's so much going on, it just motivates you," Frieling says. As he talks, he mans both the waffle iron and the cassette deck on his vintage Radio Shack stereo while ticking off numerous other labels in town: X! Records, Urinal Cake, Italy, Gingko. "And I'm forgetting others, but they're all putting out their friends' stuff, or their own stuff, or live sets of other shows they booked, or whatever."
In this way, Frieling feels each "label" finds its own niche. "It wouldn't be interesting if just one person released all the weird, punk-noise-whatever-type records or tapes in town," he says. "There's so many good bands, there needs to be a bunch of labels."
Speaking of those bands, they're here. The extended "family" of Gold Tapes — about a dozen different musicians — crowds around the countertops in Zak's blazing orange kitchen, spooning fresh fruit, sporks of macaroni and second servings of mimosas.
"Zak's got his shit together a little bit more than most of us," says Craig Brown, who's released works under Gold with such bands as the Terrible Twos. Maria Nuccilli of the Deadbeat Beat says: "Zak putting out my tape is kind of just an extension of me putting out my own tape. [Gold Tapes] is just like a vehicle."
This brunch is a preliminary toast to two full years of Gold Tapes productions, fortifying them for the three-day showcase of the "roster." Twenty tapes have featured such locals as the Hard Lessons, the Pizazz and Protomartyr.
Many bands on the Gold roster capriciously release their subsequent songs and albums on revolving "vehicles," be it X! or Urinal Cake. There are no signed contracts and Frieling certainly isn't making any money out of it. But one of "his" bands can go ahead and release something next month on Urinal Cake records and it's all cool. "I can't even imagine a scenario where friction would arise," Frieling says.
"I'll sue the shit out of you!" Brown yells after downing his first mimosa. Nuccilli jokingly chimes in too: "Yeah, what happens if one of us gets super-super famous and starts suing …"
Brown, riled up with wild Bluto-bulged eyes, reiterates: "I will sue andsue again!"
"I don't think any musician's ever gonna be famous again," Frieling says.
"So [Gold Releases] were all just bands you figured would never get to be famous," his housemate, Allison Young, of the Kickstand Band, says as she shoulders by him. "They were just OK-enough bands so maybe you'd just release some of their music."
Brown, bowling forth, cries, "You mean we're not famous?! If I'm not famous, why am I drinking Champagne over blueberry waffles while Zak makes me tapes?!"
"It's very informal," Frieling says. "I literally just ask a band, usually they're a friend, see if they wanna do a tape. I follow up with a Facebook message. Then we make the tape, figuring out artwork together and then selling them online." Frieling keeps half to sell via his website and the band takes the rest on tours or for their merch tables.
Tapes are cheap and fast and it certainly takes the pressure off when it's just a handshake deal between friends. But Frieling sees it as more than that: the more bands you have, the more labels you need.
It doesn't matter to them if some see tapes as a dead format. For this new breed of music makers filling the ranks of various indie-punk labels, it's a means of self-documentation but also an extension of their insatiable listening habits. They're continually listening to music and they're genuine fans of one another's works, so why not loop some tapes together? "We really do think of ourselves as friends," Frieling says. "Rather than 'people in bands that we see at bars sometimes.'"
Gold Tapes Fest runs Feb. 20-22. See the full lineup and admissions at goldtapes.blogspot.com.
Jeff Milo writes about music for Metro Times. Send comments to [email protected].