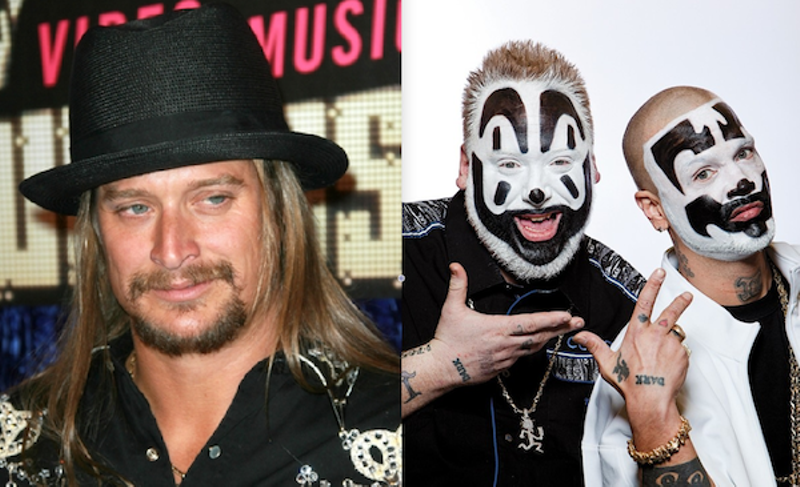 What a weird week for Detroit music. Within one week, we've had two kinds of political speeches coming from two of the Detroit-area's better-known artists. One of them came from
Kid Rock during his splashy series of concerts opening the Pizzarena downtown
. The other came from
Insane Clown Posse on the National Mall
.
See our photos from the Juggalo March on Washington here.
Detroit musicians stumping for their beliefs? It's not a joke. From MC5's association with the White Panther Party to Alice Cooper singing about being
"Elected,"
politics and popular music often run together in the Motor City.
We sat down to compare the two speeches closely. We found that they both had many things in common.
For one thing, neither Kid Rock nor ICP seemed to take themselves very seriously. Kid Rock made his speech from a podium that read "United States of 'Merica." ICP stagecraft generally involves face paint and Faygo, and usually invites the crowd to point out where they goof. (
At the 3-minute mark
, Shaggy blows his lines and raises his hands in agreement as the crowd chants, "You fucked up! You fucked up!")
For another thing, both speeches make appeals to a higher power: Kid Rock made his exclusively to Jesus, while ICP offered a more open-ended expression of belief.
Both speeches are lewd and crude, using obscene and vulgar language to make their point. With fans of both recording artists, that's almost certainly just fine with all of them.
The fact that both "speeches" are often more like spoken-word performances makes it difficult to gauge the oratory as prose. The Kid Rock speech is solidly fourth-grade level English. (Thank you,
Flesch-Kincaid readability scoring
!) While no transcript of the ICP speech is available, if it were, trying to crank the thing through a readability program might cause a central processor to melt. Even we're not sure how to grade, "There's many Americans who don't fuckin' wanna see any more played-out, nineteen-sixty-fuckin'-four, old-guard, old-money, old redneck, whiskey-throat, bigot bitch-boy, Richie-dickhead douchery discrimination and its played-out bullshit in our country anymore." (Maybe we need a "rappability" index.)
But the speeches were also different.
Politically, Kid Rock's speech seemed to be a mix of centrist and right-wing viewpoints. As for the centrism, you can imagine cheerless, corporate-funded politicians from both sides of the aisle agreeing that, say, neo-Nazis and deadbeat dads are bad, or to offer somewhat ambivalent backing for government-subsidized health insurance.
But for about half of Kid Rock's speech, he gave a right-wing stance, cranking up a middle finger against (downward) wealth redistribution, (non-corporate) welfare recipients, poor single mothers, Colin Kaepernick, and transgender people. The speech ends with a lot of love, but its chewy center is full of hate.
Politically, Violent J and Shaggy 2 Dope dealt less with hot-button issues than the one that's near and dear to their hearts: The FBI's labeling of their fans as "gang members" — a decision that they say is wrong and has led to harassment of the "family" from law enforcement.
But ICP deserves credit for their — and this isn't a word they'd use, but — "intersectionality." They could have just made it all about them and their fans, but they believe that the government's abuse of its power won't stop with them, and so they need to stand against all discrimination — against discrimination, racism, and unfairness. Violent J said, although he's not gay, he would march for gay rights, and that his pro-freedom views extended to every cause that doesn't hurt people or bruise their feelings.
It was very interesting to see the two support, rather than condemn, even those who disagree with them, exemplified in the lines: "Everybody's opinion worth more than gold to me, I believe in the right to have an opinion. Taking away somebody's opinion is no different from sewing their butthole shut."
And ICP also talked mostly about fellowship, family, and love: "If a ninja has a soul, then a ninja matters immensely. Everybody living should mean the world to us. … Love always wins every time. We're marching for love. Juggalo family love."
So, based on our unofficial analysis, what do you think?
Are you a 'Merican? Or are you a Ninja?