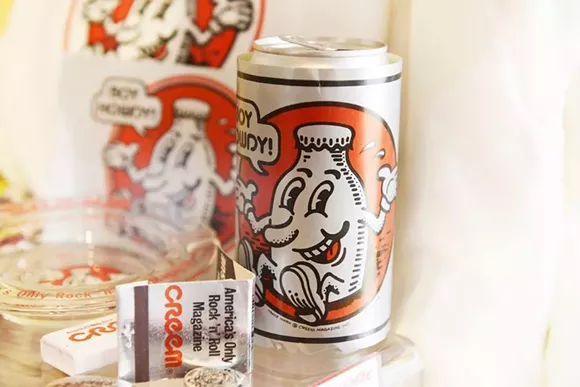 UPDATE
: We first broke the news about the forthcoming
CREEM
magazine documentary on December 8 of last year. And yesterday,
Rolling Stone
magazine (which used to be a little bit of a competitor to
CREEM
, and which never was nearly as good, but to the victors go the spoils)
posted about the film
with a link to their
Kickstarter
for the project (raised over 13% of their 100K goal in less than 24 hours), as well as the very
crammed and exciting trailer
for it.
We're a bit bummed to learn that Thurston Moore is in the film, even though it sounds like the little guy has very smart things to say on the subject. This is just because he, Dave Grohl, and Henry Rollins should be banned from all music documentaries no matter the subject matter, at this point in geological time. But! Everything else about it looks super good.
We'll have a feature of our own on the documentary in the coming weeks, after we speak to the director and a few original writers for the magazine.

ORIGINAL POST
from Dec. 8, 2015:
The rock and roll magazine
CREEM
(1969-well, depends who you talk to)
is a strong part of the Detroit area's cultural legacy. I used to buy it as a kid in Cleveland at the local convenience store. And it's soon to be the subject of a full-length documentary film.
The film is to be directed by Scott Crawford, whose
Salad Days
was a really solid look at the hardcore punk rock scene in Washington, D.C. during its 1980s heyday.
The Facebook page for the CREEM film
lists Wayne Kramer (MC5), Alice Cooper, Lenny Kaye, Bebe Buell, Iggy Pop, Bob Seger, Mitch Ryder, KISS, Jaan Uhelszki, and Dave Marsh as people to be featured.
A Kickstarter will get going next month, with filming in Detroit and elsewhere to start shortly after the funding goal is met.
CREEM: America's Only Rock'n'Roll Magazine: a documentary in progress that explores the seminal music magazine from its 1969 launch in Detroit to the untimely death of its publisher Barry Kramer in 1981. With the Motor City as its backdrop, the magazine was created to document the vibrant local music community with emerging locals like Alice Cooper, Mitch Ryder, Bob Seger, and others. As its readership grew, groundbreaking artists like NY Dolls, Lou Reed, Iggy, Clash, Funkadelic, MC5 and others found a home with CREEM.

The magazine was as irreverent as it was passionate about the music that it covered—featuring writers like the late Lester Bangs, Robert Christgau, Greil Marcus, Susan Whitall, Ben Edmonds, Patti Smith, Cameron Crowe, Dave Marsh (who was the first to coin the term "punk rock" in 1971 within its pages), Jaan Uhelszki and others.

CREEM was bold, raw and took no prisoners—over 40 years later, it remains a ubiquitous spirit in rock'n'roll, from the pages of Rolling Stone to Pitchfork.