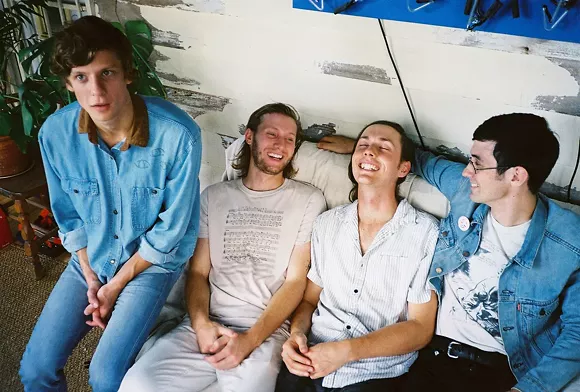 We love Bonny Doon, and
have for a couple years now
. Sometimes, we even spell their name right.
As they prepare to release their first LP on Salinas (out in two months, because the test pressing came back weird — and look
you can pre-order it here for only $10
) — the press machine is starting to work in their favor.
Just today,
Stereogum premiered a track
from the record, and it's mighty nice.
The words that those fancy New Yorkers had to say were also sure nice. Maybe they will be one of the next breakout artists from the Detroit area?
Detroit rock-country outfit Bonny Doon are leading off the rollout for their self-titled debut album with the soft-and-sweet "I See You." Bonny Doon is a collection of new and previously-released songs, all of which have been given a fresh coat of paint. "I See You" sits in the middle of the tracklist, serving as a good example of what can be found on the rest of the album: likable sad-sack country music, full-bodied production, and the occasional noisy passage. The song itself describes the emotional responses to the little things, like well-meaning text messages from Mom and the reflection of one's face in a wine bottle (a ridiculously clever reference). It's an impressive bit of songwriting that marks Bonny Doon's Bill Lennox as a worthy torchbearer for figures like David Berman, Bill Callahan, and Stephen Malkmus.

Bonny Doon have a couple Michigan gigs coming up:

01/07 Ann Arbor, Michigan @ Arbor Vitae
01/13 Detroit, Michigan @ UFO Factory

Tracklist:

01 "Relieved"
02 "Summertime Friends"
03 "What Time Is It In Portland?"
04 "Lost My Way"
05 "I See You"
06 "(You Can't Hide)"
07 "You Can't Hide"
08 "Never Been To California"
09 "Maine Vision"
10 "Evening All Day Long"
11 "(Crowded)"
(And if you think me exceptionally lazy for just basically making an entire post out of cutting and pasting the work that someone else did, welcome to Internet.)