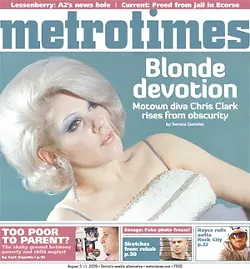 If Chris Clark's original releases on the Motown, V.I.P. and Weed labels were issued with the legend "The Sound of Tomorrow's Northern Soul" instead of "The Sound of Young America," and if the price tags accorded to her rare vinyl releases these days were affixed onto shrink wrap and plastic back then, maybe we would've had some idea of how we as young Americans were undervaluing the woman handpicked and groomed by Berry Gordy Jr. to be Hitsville's answer to Dusty Springfield.
From 1965 to 1967, Motown released a few criminally ignored singles that found a home on Clark's 1967 long-player Soul Sounds. Given the scattered sessionography, Soul Sounds surprisingly holds up better than any other studio album by the more recognizable greats of Motown.
The statuesque Clark turned up on the steps of Detroit's Motown at age 17 and eventually won a reluctant Gordy over. In later years, she would work behind the scenes at Motown, doing everything from rewriting the screenplay to Lady Sings the Blues — for which she received an Oscar nomination — to photography to scripting interviews and special material for Motown artists' TV appearances. She is even dubiously credited with bolstering Michael Jackson's interest in cats.
"I knew him when he was a kid," Clark says. "He used to come down to my house because I had jaguars. I finally signed a contract with Motown in the late '70s that said I could no longer own a cat that weighed more than I did."
But it's Clark's work as an artist for the label that has been slowly finding its way back in print in this country, through such comprehensive compilations as The Complete Motown Singles Vol. 6: 1966, where Clark's own version of "Put Yourself in My Place" goes toe to toe with the Supremes version and comes out swinging, to Soul Sounds' first official appearance on CD, beautifully remastered on the Reel label. In addition, she'll be performing some dates with Brenda Holloway and the Funk Brothers later this year and contemplating recording again at age 63.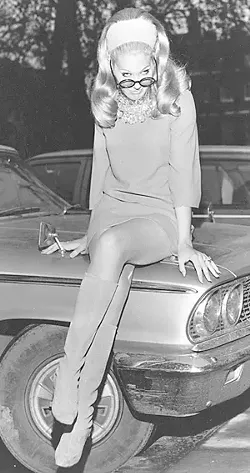 In England, where the Northern Soul crowd operates as a parallel universe where an unreleased or obscure Elgins single is chosen for heavy rotation instead of "It's the Same Old Song," Clark has been rightly greeted as a Motown legend.
"I have a ratty little fan base over there. God love 'em," she laughs good-naturedly.
What further jump-started this CC renaissance was a 2005 Tamla/Motown Anthology series that wisely included a two-disc Chris Clark retrospective with 24 unreleased masters. It topped the Northern Soul charts for three months, yet three days after its release, Clark wasn't even aware of its existence and only stumbled upon it on amazon.com while Googling her artwork.
Tamla/Motown "said they couldn't get ahold of me, which isn't out of the question," Clark says. "At the time I was in the woods in Prescott, Ariz., leasing a cabin in the middle of the National Forest and doing digital photography. You couldn't even get to my place without a four-wheel-drive Jeep during the winter. I loved it. I was there eight years. I had two Irish wolfhounds and a bunch of equipment and a photo darkroom. But I finally got Arizona'd and privacy'd out."
Her woodshedding ended when Clark was suddenly back on the road with the Temptations and the Four Tops.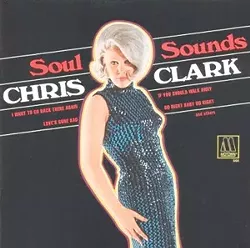 Clark's highest charting stateside single ever, on Soul Sounds, was "Love Gone Bad" which hit No. 41 on the R&B charts in 1966 and bubbled under on the pop charts at No. 105. Ironically, given Motown's penchant for interchangeable parts and groups, it was released again the same year by Motown's first rock group, also signed to V.I.P., Grosse Pointe's own the Underdogs. And it did even worse the second time around!
"I think we made good use of the material we had. It's not joking when they said it was like a factory. Because it was in-house, they were able to cut more stuff on everybody and try different things."
For a while, everyone tried writing and producing hits for Clark, including Holland-Dozier-Holland with "Love's Gone Bad" and Smokey Robinson's "From Head to Toe," which actually gave Elvis Costello a minor UK hit in 1982.
But the most incredible I-can't-believe-I've-never-heard-this-before moments on Soul Sounds are the ones Gordy himself wrote for his protégé. They include "Do Right Baby Do Right," and "If You Should Walk Away," which sounds partly like the adult pop of Marvin Gaye and Tammi Terrell mixed in with the showbiz glitz of the Supremes' "The Happening" and almost predicts the sound of Holland-Dozier-Holland acts that the trio would produce on Invictus and Hot Wax after leaving Motown.
In his earliest days as a songwriter, Gordy naively sent his first completed song "You are You" in an envelope marked "Doris Day, Hollywood" in the hopes that the biggest female movie star in the world would record it. In Clark, he must've seen a lot of Doris Day, her eloquent, slightly jazzy phrasing, her unmistakable platinum blond mane, her innocence and her dogged determination to make it. When asked whether her relationship with Gordy was indeed what no less of an authority than Wikipedia classified as "dating," Clark laughs and says, "It depends on what day you hit me. It was actually more mentoring. But we crossed some lines."
The inability to score hits with the boss of the record label taking a special interest seems perplexing unless you factor in the times, and audiences and DJs accustomed to having its Motown singers in a darker hue.
"I always hesitate to say any of that, or that they-didn't-promote-me-blah-blah, because that always sounds like sour grapes. But there was a bit of a backlash. They thought that something had been put over them. The photos weren't on the single."
Although the UK dubbed Clark "the White Negress," (the same appellation that Cliff Richard gave to Dusty Springfield), Clark says, "I don't think I sounded black either. I think I've always had a blues edge … I'd gotten tossed out of folk groups for it."
Only once was her color a problem in a live setting. During the weeklong buildup for her first appearance at one of Motown's Christmas shows at Detroit's Fox Theatre, Clark's picture was routinely booed whenever the show trailer was shown.
"What I didn't know was they were telling Berry, 'You cannot let that girl go on, they will snatch her off the stage and hurt her.' He said, 'Don't worry about it.' So he had me start singing offstage and there was applause and the moment I came onstage there was this hush. You know, the moment where a dog decides he's going to either leap for your throat or let you walk by. I think only because I wasn't expecting it, it didn't startle me so I never had a problem after that."
Clark has experienced a different kind of stage fright recently from the Northern Soul crowd. "They're pretty specific. Frank Wilson called me one time. We both had this record called 'Do I Love You' [note: Wilson's is reportedly one of the most valuable singles ever issued, valued at more than $40,000] and he said, 'When you get over there, you better know those lyrics or they will set your butt off that stage so fast,' and he scared me so bad I scared everyone on the bill with me."
Chris Clark's Soul Sounds (Reel Music) is available at Street Corner Music, Dearborn Music and other Detroit-area record stores.
Serene Dominic is a music writer for
Metro Times
. Send comments to
[email protected]