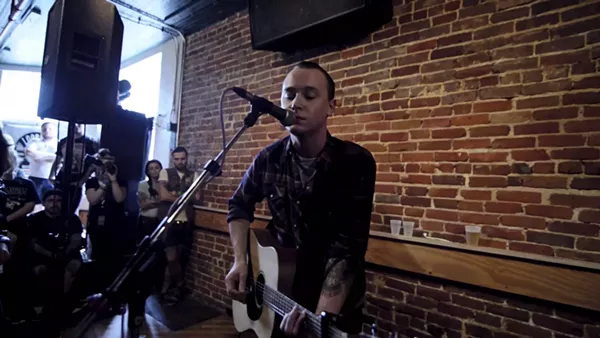 This year's much-anticipated
BLED Fest
is almost upon us. The all-ages, multi-genre, substance-free festival is largely a celebration of youthful punk/related musics. It goes down all day this Saturday, May 27, at the Hartland Performing Arts Center in Howell, MI.
Metro Times
spoke to veteran performer Chris Cresswell of the Flatliners in anticipation of their appearance at BLED.
Metro Times
: You buds played BLED Fest back in 2014 and I remember passing by your photo shoot there, which eventually became the gatefold artwork for your 2015 LP release,
Division of Spoils
. What is your fondest memory of that day?
Chris Cresswell:
It was cool that those photos turned out really nice so we could use them for something! That was the last day of a short tour and I got to see Citizen live for the first time. That was awesome. I love that band so much and I've been listening to their records for a while but until that point, it was one of those things where they always played in Toronto the day we came home from tour or the day we left for tour or whatever. That actually happened a lot but it was wicked to finally see them play.
MT
: What is it about BLED Fest that enticed The Flatliners to come back this year and what can the audience expect differently this time compared to last.
Cresswell
: We've got some good friends that run BLED Fest. Scotty Bell is a good friend of ours and especially when you see your friends start something really cool years ago you, hope it could continue and it goes well for them and you hope it's a success and all these things and when that becomes a reality, if you get asked to play then you might as well play! So much of what we do as a band and so much of what a lot of bands do is based around your friends and what you can to together to build it all up. So when Scotty hit us up to play we said of course. As far as what people can expect differently from last time, we put out a lot of new music since then so we'll probably mix all that stuff up into one set and play as many songs as humanly possible in the time we have.
MT
: The new
Inviting Light
material felt to me like an emotional self-actualization check rooted in a constantly evolving society and frequently evaluated friendships. This was the first new Flats material in four years. What were you feeling while you were writing this?
Cresswell
: It's always so gradual. The progression of the band is definitely something that we notice as were writing music but at the same time it's not such a stark difference to us because we're a part of this long process every time obviously. But as far as what I was thinking personally, it took a couple years but I started to realize my age more. Me and the guys are basically 30 now so it's just an interesting time in ones life to realize you've spent your entire 20s on tour. Those are pretty formative years in anyone's life and we've lived it in a way a lot of people don't get to live their life, which is cool but you miss a lot of stuff too. So there's always the good and the bad. Not a lot of people get to look at the world through that lens that we do so its incredible when we get to travel to these amazing, far off places as a band, as friends just because we play music its absolutely amazing. So there are those fun memories and then there're the times when you're like, 'shit, I missed my girlfriends birthday like five years in a row.'
So in a way you start to feel less and less like a real person living in the real world and you start feeling more and more like you're living in your own bubble. And I think that's what a lot of artists of any kind of art form go through and that's what you kind of have to go through in a way. But just as a person you start to think more introspectively about those things, about life in general, about the things around you — when you get to a milestone age like 30. And also on that same token as a band we were finally tapping into some other kind of stuff that we've wanted to try our hand at for a while. So there's obviously some different stuff on the record. There's also some stuff that could fit on any flats record but the mix of the record mirrored our cognitive state about where we are in our lives. It's been a super fun journey so far. The bands fifteen years old this year so there's a lot of reflection happening with us and it's been really cool to see people being receptive to this new record.
MT
:
Inviting Light
was collaboratively released on Rise Records. What are the differences of working with a major label and what kind of support does that entail these days?
Cresswell
: I know that Rise has affiliations with Sony BMG but to be honest we haven't had any dealings with that and I'm cool with that. To be totally honest the staff size at Rise Records is very comparable, if not the exact same to Fat Wreck Chords for instance and making the shift to from Fat to Rise was really all about curiosity. After being on a label like Fat for ten years, it was amazing because they were the label that inspired us as young kids to be like 'punk is where you want to be' and then we were able to live that life for a decade with them and it was amazing. But to be honest working with Rise is largely the same process and again I know they have access to some of these
things
but our whole kind mantra with this record is building it up. So were not trying to shoot for the moon or anything, we're just doing what we've always done with a few new people in tow so to speak and just seeing what we can accomplish with a new team behind it.
Rise is a pretty tight unit. It's a small and strong contingency of people working really hard. They have a lot of different kinds of bands and they put a lot of records out and they do it all really well so that's what kind of peaked our interest in the beginning about trying to work with Rise and then we finished the record and started talking to them and they liked what they heard. So that's kind of how it happened. No one other than the band and our friends Peter and Derek who worked on the record with us and produced the record really were involved in anything. Even with Fat, they were never like 'you should do this.' Like with Cavalcade we worked with Fat Mike, which was great but he was wearing his producer hat, not his label hat. We've never had a label tell us to change parts of songs. As much as we respect the people we work with at record labels and they're friends of ours, we're the band. We're gong to do whatever we want. It was really cool to start this new chapter of the band's life with Dine Alone Records in Canada and Rise Records everywhere else and that they trusted what we were going to do in the studio. For decades we've all heard the horror stories about the major label influence in a record and it really changing a band and we didn't experience any of that. It's great.
MT
: For a while there that Flats were a big fish in the small pond that was Toronto punk, which is now exploding with acts like PUP and The Dirty Nil. What's it like to contribute to such a healthy hometown community?
Cresswell
: It's incredible right now. We just played at Pouzza with PUP and The Dirty Nil. You've got bands like Greys, you've got Weaves, Dilly Dally — I mean there's a lot of really cool different kinds of bands from Toronto. To be totally honest, for a long time even though we live in Toronto and it's our home base, we're on tour so much that we knew what was going on in Toronto but we always saw it from a far. In the last couple years we've been home a lot more and busy working on Inviting light but we've been able to see more of this stuff up close and personal and it's amazing. A band like PUP has done, in a short time, a whole hell of a lot for Toronto. You've always had a band like Fucked Up who has put Toronto on the map in a global way with their perfect blend of hardcore, punk and kind of indie rock.
They had all of those bases covered. So you had guys like Keith Morris from Circle Jerks and Black Flag doing a guest spot on stage with Fucked Up at SXSW and everyone sees that all over the world and thinks, "Oh shit, Fucked Up's from Toronto!" You can dive so deep into that catalog and you can also dive deep into the Toronto music history going back to the 60s and 70s. It's always been strong but there's something different happening right now. And I don't know where the fuck it came from, but it's really cool. There is a really good support net of people in Toronto that like to nurture smaller bands when they're first starting. For instance, there are a lot of promoters that will give local bands opening slots for nationally touring bands and that's exactly how we got our start back in the day playing with Suicide Machines and Rancid. It's a very positive place.
MT
: About Pouzza – How was the experience and how do Canadian and American Festivals compare?
Cresswell
: I think that they're pretty similar. The thing about Quebec is that it is so different than the rest of Canada and it is like a small European country inside Canada. I think there's a different mentality there, especially Montréal, about how to approach anything that falls under the art world umbrella. It's less business, its less corporate. Pouzza is sponsored by companies just to make it work but there's a looser approach to it. But Pouzza itself is so fun because it's at multiple venues like BLED Fest. I know BLED Fest is all in one building, but all the stages are so close together its really cool. That's what Pouzza Fest is like at different venues but that all right around the corner from each other and it's all so tight knit. I'm looking forward to getting back to BLED Fest and seeing how its changed in the last few years but still knowing its all under one roof. And the line up is amazing at BLED Fest too.
MT
: More times than not when I see you play in Michigan, there's usually a relentlessly collective chant demanding old material — namely "KHTDR." What do you think that's about and will you be prepared for possible classic call-outs this weekend?
McNeely
: Every time we go to Michigan we're aware of it. I think its just because Michigan was the first place in the states, where we really had a great group of people who cared about us. We had great friends who had put on shows for us and we made so many great friends who came to see our band and it was really the first place in America where we felt like we were at home. I mean we used to do Michigan tours. We'd go play like six shows in Michigan and go home and that was it. There were a lot of people that had our back there and still do I think that's probably where it comes from and we did a lot of touring obviously at first in the states for our first two records, mostly
The Great Awake
so I think that's where the "KHTDR" chant comes from every time. But yeah man, Ann Arbor, Kalamazoo, Battle Creek, Grand Rapids, Lansing, Detroit… We've played so many house shows in all those cities. Longer than anyone else in the states, Michigan has had The Flatliners back. And it's pretty close! So we can come back anytime.