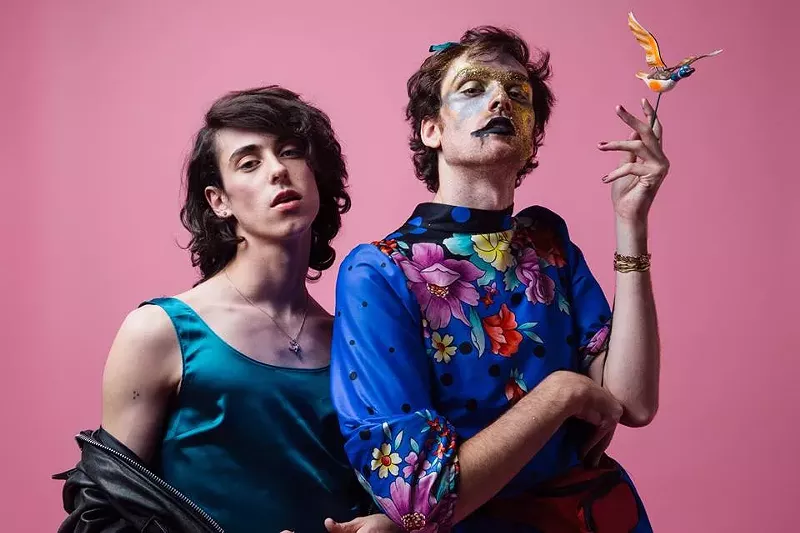 You might not have heard of PWR BTTM, the queer punk band from Brooklyn, but the duo made up of Ben Hopkins and Liv Bruce have been making waves in the DIY-punk scene and have been heavily praised by music critics.
That's why it was pretty shocking to hear allegations of
sexual abuse, predatory behavior, and anti- semitism
have been made against band member
Ben Hopkins
in the last day. Many fans of the band took to social media over the last 24 hours denouncing the band and distancing themselves from them.
Even opening bands for PWR BTTM's upcoming tour have canceled their performances, touring band members have quit, and upcoming music festival
Bled Fest
in Howell, Mich. has canceled the band's set in the wake of the allegations.
Bled Fest posted this statement on their Facebook page this afternoon:
Hi friends,

Two days ago, our team was made aware of allegations of sexual assault by a member of the band PWR BTTM that were making their way around the internet. We appreciate everyone who respectfully made us aware of these allegations. After taking the needed time to discuss the situation with folks that we have a great working relationship with, we've made the decision to remove PWR BTTM from this year's lineup. We do not have any tolerance for this kind of activity, and it's important that we act in favor of any victims, whether we know them directly or not.

One of the things that we've always taken pride in, but doubled down on this year, is creating a safe space for fans of all ages and walks of life, where they could enjoy themselves regardless of who they are. We don't love the term "safe space" (just like we dislike the word "scene"), because it implies the opposite of some of the elements of danger and excitement that drew us to punk rock in the first place. However, we try very hard to make our little festival a safe place for folks of all walks of life. All races, genders, religions, sexes, preferences, and ages are welcome here. And importantly, in this case, all past victims of abuse of any type are welcome here, and are meant to feel comfortable inside our venue. We cannot control what happens in the world, but we can control who we feature on our stages, and the allegations against PWR BTTM are such that we cannot maintain that promise and allow them to remain on our stage.

One of the new features of BLED FEST in 2017 that we announced last week is our Community Room, where we'll host 4 discussion panels. One of which, entitled "Safe Spaces, Not Boring Spaces", will tackle this exact issue in depth. We'd love to hear your voice and what you have to say. We'll announce the panelists next week.

Finally, we are going to actively try to fill the spot vacated by PWR BTTM's removal, but it's late in the game, and we can't promise to have anything booked on such short notice. If we don't, we'll just move set times around (those announce May 16). We're working to have news for you soon regarding the acts that were supporting PWR BTTM's tour (Tancred and Nnamdi Ogbonnaya). We want them to know that they're still welcome here, and that we were excited for their performances on the festival, independent of their involvement in any tour. We're fans of both, and hope to have good news about them soon!

If you have any questions about anything, I'm willing to discuss via email at [email protected] I have an incredibly busy weekend working with my wife's dance recitals, so my responses may be delayed, but I will answer every message sent my way. Thank you for your support, your energy, and your passion. BLED FEST is a strange, special day each year, and this year will be no different. Take care of one another, and we'll see you on May 27!
Sincerely,

Nate Dorough
Fusion Shows

P.S. Please give us a few hours to update all the artwork on our various sites.

PWR BTTM took to their Facebook page yesterday to respond to the allegations made against Hopkins. You can read their statement below:
Hi everyone,

Ben and Liv here. We want to respond to some very serious allegations that have been made against Ben. The allegations come as a surprise, but we are trying to address them with openness and accountability. With respect to the image included with these allegations, Ben previously addressed this matter on their/the band's Twitter in January (https://ibb.co/dsNRRQ).

Unfortunately we live in a culture which trivializes and normalizes violations of consent. There are people who have violated others' consent and do not know. Ben has not been contacted by any survivor(s) of abuse. These allegations are shocking to us and we take them very seriously. Further, the alleged behavior is not representative of who Ben is and the manner in which they try to conduct themselves.

To address this matter head on, we have set up an email address through which a survivor or someone working directly with a survivor can discuss the allegations being expressed on social media: [email protected] We are currently looking for a mediator with the necessary qualifications. This will be the only person with access to the account. Ben does not have access to the account, for two reasons: 1) because we acknowledge that certain individuals will not feel comfortable establishing a direct communication link between themselves and Ben, and 2) to protect Ben in the event that a malicious party attempts to use the address for anything but its intended purpose.

Our primary goal here is to ensure that a survivor of abuse has a voice, that their story should be heard and that people who cross the line should be held accountable. What this means for the band, our album, our fans and our upcoming tours is, as of yet, unclear. Music is everything to us, but we feel strongly that this matter needs to be addressed first. Updates forthcoming.

PWR BTTM's second album,
Pageant,
came out today, May 12.