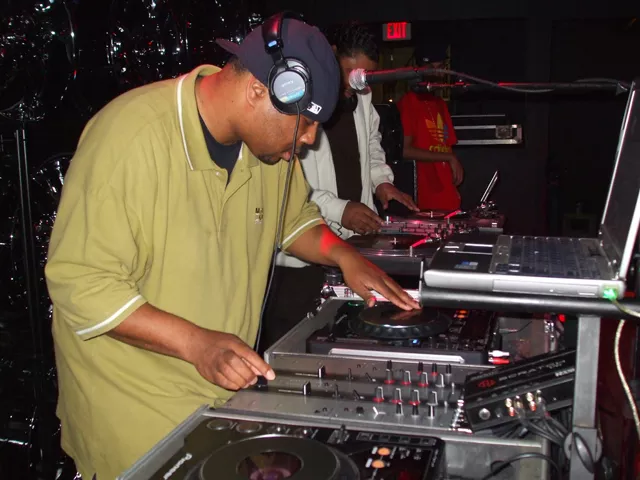 It's the Friday after Thanksgiving in Highland Park and the term Black Friday is taking on new meaning. At roughly 3 p.m. on a cold afternoon, the Metro PCS on the north side of Woodward Ave. looks more like Ghettro PCS, with a throng of local residents stuffed inside trying to win all of the free giveaways they can. But the highly sought-after prizes aren't coming from the mobile phone provider at all. WJLB (97.9 FM) is camped out inside, and one of the radio station's most popular on-air personalities, Ya Big Dog Blast, is keeping the crowd excited as he gives away T-shirts, mixtapes and, eventually, two free tickets to see comedian Kevin Hart at the Fox Theatre. As countless people approach him with jokes and ask to take photos, it's immediately apparent just how popular Big Dog Blast really is.
He's been one of the main voices of urban radio in Detroit for just shy of a decade, and when he's not at 'JLB five nights a week, he's hosting parties for the station across the city or doing private cabarets and club nights just as frequently. According to Blast, his frenetic pace of spinning records all over the 313 whether he's on air on in the clubs isn't simply about keeping his name in the streets, but rather because he loves it. "Being a DJ is something I've wanted to do ever since I could remember," Blast says with a smile. "I always looked up to guys like Gary Chandler, WaxTax 'n Dre, and really loved the way Reggie Reg sounded on the radio. After interning at the HPR (Highland Park Radio) station, I knew this was exactly what I wanted to do."
Before that, Blast (born Mark Davis) says he actually bought his first pair of turntables while working for tips at the old Tiger Stadium as a teen. Once he got good enough to leave his basement, Blast cut his teeth DJing at some of Detroit's better-known ghetto cabarets.
"I came out of the strip club," he says. "I started at L'Elegance back in '95 and then used to DJ at the Grind, Brass Key, Secret City, places like that, which is where I learned to start talking on the mic." The Redford High School grad has come a ways since then, eventually working into the primetime slot on WJLB, where he started as a DJ nine years ago. It was, in fact, Gary Chandler who give him his shot at hosting a weekend show several years ago.
These days, Blast, who recently turned 37, says he's at a place where he's more focused on giving back to younger artists and DJs around the city. In line with that, Blast created a group called the Conglomerate DJs, composed of some of the city's best urban selectors. Some might work at cabarets or booty clubs, and others are fellow radio hosts, such as DJ Don Q and DJ Polo. But if they're good at what they do and not afraid to break new records, he brings 'em on board.
"It's not a 'me' thing, it's a 'we' thing," Blast says. "I know DJs in my city got talent. Hopefully we can all come together and break artists and make sure more people know about all of the talent this city has." Roughly a month ago, Blast began a weekly Conglomerate party — in Detroit on Wednesday nights at Lucky's on Jefferson — which he's hoping turns into a mixture of a regular club night and artist showcase. He doesn't allow folks to perform, but he'll play an artist's music more regularly that night to give them exposure.
"I'm in a position to help people. I realize that. And I'm looking to help those who need a shot. My thing is, I want something to happen for everyone."
Conglomerate DJ Night: 9 p.m. on Wednesdays at Lucky's Bar and Grille, 2690 E. Jefferson Ave. (at Chene), Detroit; 313-638-2483.