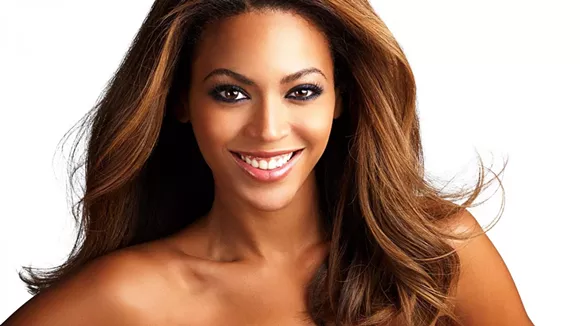 Tickets go on sale next Tues., Feb. 16 for Beyoncé's stop in Detroit at Ford Field on May 29. The queen's website is down, surely because it's getting hammered by millions of people at the same time, but tickets will be available at her website
here
on Feb. 16.
Oh wait, we
just learned
that they will be available at
Livenation.com
a day earlier, Monday the 15th.
And of course, if you are either maxed-out or well-heeled enough to have an AmEx card, there is a special pre-sale for you. But I'm not going to link to that because I don't think it's fair for some people to get tickets early. I mean, if it's because you're a member of a
fan club
, that's hard to argue with. But just because you have a certain credit card? Life is already easy enough for you if you have an AmEx card; go ask Jeeves how to get your V.I.P. section seat days ahead of anyone else; I'm not helping you any more than I already have.
Beyoncé joins the ranks of Meek Mill, Cher, Pearl Jam (who sing just like Cher!), Third Man Records, Big Sean and dozens of others in the music industry in donating funds to the victims of the ongoing crisis in Flint. It sucks that our governor isn't doing more to help (starting by turning himself in to the police). But I've no intent to be divisive. Heck, Beyoncé's music is one of the only things that pretty much everyone can agree upon and which brings us all together; she even made Coldplay bearable for a few minutes, which is pretty close to impossible.
In a press release sent out last night just after the Super Bowl started and before her performance, plans by the socially conscious artist were laid out as follows:
"True to her life's work of always giving back, fans will be given the opportunity to participate in Beyoncé's #BeyGOOD initiative supporting local United Way programs and the continued work surrounding the water crisis in Flint, Michigan. United Way of Genesee County has been at the forefront of distributing thousands of filtration pitchers, faucet mount filters, replacement cartridges and truckloads of water to underserved populations to address immediate needs in Flint Michigan. They are also partnering with the Community Foundation of Greater Flint to create a fund that will address long-term developmental, education, nutrition and health needs of the children affected by the Flint Water Crisis. Follow @beygood on Twitter for more information."