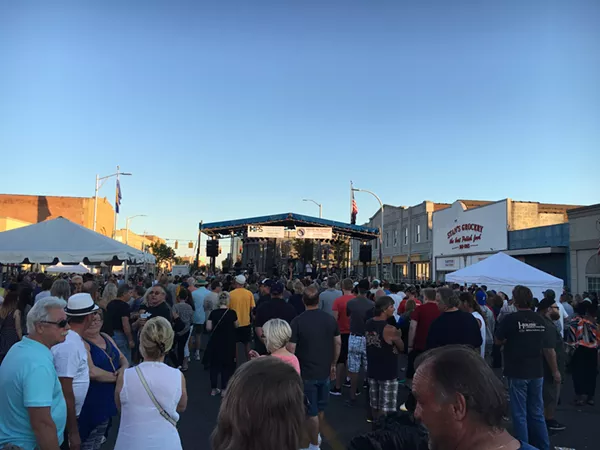 To those who've never been to it, the Hamtramck Labor Day Festival might seem like the redheaded stepchild of
festival
weekend. But the things that make it less conspicuous are often what make it special. Unlike well-funded powerhouses with high-caliber sponsorship and lineups of international acts, Hamtramck's 38-year-old tradition is a free-admission, urban carnival. The city streets fill up with food and novelty vendors and amusement rides, and two stages push out increasingly artistic and experimental sounds.
The guiding hands behind that last development belong to a trio of thirtysomething musicians who live in the city: Matt Luke, formerly of Black Lodge, John Garcia of the Johnny Ill Band, and Jeffrey Fournier of Timmy's Organism.
"It's all volunteer," Fournier says. "We love doing it. Everybody always has a good time. It's rewarding to do one's civic duty. It's a thing I can do, with my skill set, to support the city I live in."
This marks the third year that the threesome has programmed the festival together. Annually, they overcome challenges that include competition with other festivals, a minuscule budget, and the search for a balance of musical styles in Detroit's fast-changing music scene.
town,
because a lot of the rock venues book a lot of the same people," Fournier says. "Plus you don't want to get the same things that are on the other festivals. We have Motor City Muscle two weeks before us now, and they drew a lot of acts, and so we were sometimes scrambling to do something a little bit different if we could."
The lineup includes a lot of the hard-working local bands that regularly grace the stages at the Loving Touch, Outer Limits, Ghost Light, Small's, Trinosophes, PJ's Lager House, the Magic Stick, and El Club, either as headliners or openers for out-of-town bands. These are artists who are practicing without a net, trying to make a living.
"We don't do cover bands," Fournier says. "What we're trying to do is showcase the best of the bands that are
working
art bands right now. These are all artists that are touring and playing shows and trying to produce albums and music that they can take on the road."
As usual, the lineup includes plenty of local rock. From the psychedelic space rock of Sisters of Your Sunshine Vapor to the theatrical hard rock of outer space mutant band Krillin to the
avant
rock of six-piece Ancient Language to the power-popping monster garage rock of the Sugarcoats, featuring Joey Mazzola from Sponge, there should be something for every rock fan. Fournier says there will even be some goofy antics, such as the Craig Brown Band being paid off in cash on stage "in little money bags with dollar signs on them, just like in the Old West."
Some bands will come from afar as well. Japan's Mugen Hoso, who gotrained out at last year's festival, returns this year for another go. The festival will also back-to-back set from Detroit's own hardcore-oriented punk of Werewolf Jones and the harmonic garage of Madison, Wisconsin's Proud Parents.
"It's a lot of rock," Fournier says, "but there's some R&B. Some rap. We've got some electronic. Chris Koltay is doing his modular synthesizer set. Stefanie Cox will be singing with her band, the Blocks. They're a soul-R&B outfit. We'll also have Lu-Fuki, with his Afrobeat jazz-rock thing." Also in the mix will be J. Walker & the Crossguards, a band that does rock and soul with a garage edge, or Young Punk, recently featured live on WDET. And that's not to mention the closeout show on Monday night from Martha Reeves & the Vandellas.
"I think except for Sponge a few years ago, Martha Reeves is the biggest act to play the festival," Fournier says.
But one of the most anticipated performances will be from Detroit-based rapper Awesome Dre, who was an early Detroit rapper to get signed to a major label. The late 1980s saw him strike gold with his Hardcore Committee, with such tracks as "You Can't Hold Me Back." In fact, his work is getting a new look. The Insane Clown Posse guys are reportedly fans, Public Enemy's Chuck D says Dre's old tracks have become classics, and early Dre slabs will be reissued this fall by Bloc Sonic/Traffic Entertainment Group.
"So he's gearing up for this," Fournier says. "I was talking to him. He had management issues back in the day, and it was hard to get on the radio because of the style of music. He's a really cool guy. Andrea Bonaventura hooked that up for us because of her connection to ICP."
And of course, it wouldn't be the Hamtramck Labor Day Festival without performances from the Polish Muslims and Danny D, who are at the core of a crowd-pleasing lineup on Sunday's South Stage.
"The Polish Muslims and Danny D bring a lot of people in," Fournier says. "It's a thing for the old residents. They like the nostalgia about how the festival has been for years — with music they can drink beer to."
Another new wrinkle this year is a rain plan. The festival should have indoor backup venues for both stages. The backup for the main South Stage is going to be at Ant Hall, which could give many people their first gander at the new venue.
"We're doing the best we can with the money we have," Fournier says. "The budget for this festival is way, way less than for every other festival," he adds before bursting into laughter.
"But we try really hard to make it punch above its weight. Me and Matt and Johnny are all touring musicians and we go to a lot of shows and we call people we know and we're trying to get people who are able to work within the very tight budget restrictions that we have. We're trying to get national touring acts in. We're working up to that. The bigger the festival gets and the more people drink, the more fun things we can afford to do next year."
Pressed on why drinking is important to the festival, Fournier tells us, "The entertainment budget for the festival comes out of beer sales at the festival."
So if you want to support the festival, come on down to Hamtramck and drink some beer?
"Yeah, come down and drink some beer with us," Fournier says with a laugh, adding, "We'll drink with you!"
The 39th Annual Hamtramck Labor Day Festival takes place Sept. 1-3 on Joseph Campau in Hamtramck; for the full musical lineup, see hamtownfest.com.

Editors note: Werewolf Jones and Proud Parents were originally cited as being from Chicago.
Get our top picks for the best events in Detroit every Thursday morning. Sign up for our events newsletter.