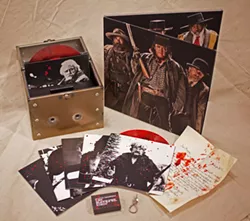 For the soundrack for his latest film,
The Hateful Eight
, director Quentin Tarantino tapped classic composer Ennio Morricone to compose an original score, eschewing his typical approach for wide-ranging musical pastiche. Well, for the most part, at least — the film still contains quite possibly the weirdest use of a White Stripes song since
Napoleon Dynamite
.
But we're sure it's more than just the White Stripes connection that led to Jack White's Third Man Records
securing the vinyl release
of the Golden Globe-winning soundtrack. Like White, Tarantino has an affection for all things retro and weird:
The Hateful Eight
originally screened as a 70mm print as part of an old-fashioned limited run roadshow. So it only makes sense that for the vinyl release, Third Man is pulling out all the stops.
They're selling the soundtrack as both a standard 180-gram double-LP as well as a limited edition 7-inch box set on "blood red" vinyl. The box set features a number of hand-made touches, ranging from the impressive (like a galvanized steel carrying case with real bullet holes) to the bizarre (a metal noose pin and a replica of the film's blood-soaked letter from Abe Lincoln).
Fans can pick up the box set — which was limited to a release of 500 — from Third Man Records Cass Corridor in Detroit on Jan. 25.
Watch a video showing off the box set below: