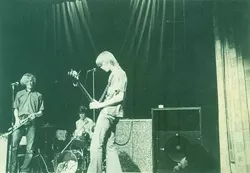 Roger Miller is well known as the guitarist and vocalist with Boston post-punks Mission to Burma, but not everyone knows that the Ann Arbor native and brother of Destroy All Monsters' Larry and Ben Miller was in a psychedelic rock band with those siblings in A2 in the '60s called Sproton Layer. Even crazier, Sproton Layer is playing two reunion shows this week in Ann Arbor and Detroit. Miller told us all about it.
5
Ann Arbor in the '60s: I started going to rock shows during the "Summer of Love," 1967, between 9th and 10th grade. The first "Love-in" at West Park, Ann Arbor's 7th Seal opened for the Charles Lloyd Quartet and the Grateful Dead. Free. Great. Later, I saw the Prime Movers there. In later 10th grade, I was the guy who painted psychedelic lettering for the marquee at the 5th Dimension, an Ann Arbor club. Saw so many bands there: SRC (who influenced Sproton Layer), the Amboy Dukes, the Rationals, the Thyme. Also Jimi Hendrix, Pink Floyd, Mothers of Invention. Pretty wild time, all in all. When the MC5 moved to Ann Arbor, things ratcheted up quite a bit. Must've seen them 20 times, and their little brothers, the Up. Saw the Stooges twice: their first LP release show at the Eastown in Detroit — totally tight rock band. Second time I saw them it was at a benefit concert and it was a wall of feedback with Iggy taunting the audience. No songs. Great.
4
The Sproton Layer sound: We had an improvisation session in our family house — I was 17 and Laurence and Benjamin were 15 — where we discovered, basically, "free rock," much like "Interstellar Overdrive." We were playing freeform riffs, not blues-based stuff. That formed the basis of our sound. And because we were also attending the University of Michigan Music School "Contemporary Directions" concerts, we were emboldened by Stockhausen and more complex structures. We were influenced by Pink Floyd's Piper at the Gates of Dawn, Captain Beefheart's Strictly Personal LP, and the first Soft Machine LP. It was a time of expansion, and we went for it.
3
Destroy All Monsters: My favorite period of the Miller-Monster mash-up was when Laurence's band, EMPOOL, merged with Cary and Niagara (before Ron). EMPOOL was a totally freeform two-piece noise band. This blended very oddly with Cary's simplistic guitar riffs and Niagara's non-singing. Both Ben and I played drums in the group at this phase — it was the beginning of punk in Michigan, and kind of amazing. Then Cary brought Ron in, and the band got more serious and became a real "rock band" with Lar on guitar and Ben on sax. I played drums in that form for a while until they got a real drummer. I love the first single "Bored/You're Gonna Die." When I moved to Boston in 1978 (Burma formed in 1979), my claim to fame was that I was the brother of two members of DAM! That was fine with me.
2
Mission of Burma: Our last record, Unsound, was released on the UK label Fire Records. Personally, it's my favorite record we've ever made, tying with Vs. for fun and proliferation of ideas. We are going to Europe for an eight-day jaunt in early July. We don't tour in the regular sense of traveling across the country — we make spot-jaunts. We already have some new material, though we never know if we're going to make another record until we get enough songs to do so. However, so far, we have not stopped! Who knows when we'll get back to Detroit — I hope sometime soon.
1
Sproton Layer reunion: The World in Sound reissue of With Magnetic Fields Disrupted generated a lot of interest. We had discussed the idea of getting together to play some shows after it came out (2011), but it seemed unrealistic — Ben is in NYC, I'm in Boston, and Lar's in Ann Arbor. For some reason, I think it was Ben who brought it up in January, we all just said "Yes" to playing shows this year. I mean, when else are we gonna do it? We slotted potential times, and I looked into clubs. I thought we might get a mid-week night, but both Blind Pig and PJ's Lager House gave us, to my surprise, weekends! So I expanded it to July, when we play Boston, NYC, and Northampton, Mass. Headlining on weekends! Kind of amazing, since the band played only two or three club gigs "back in the day," and those were 43 years ago. But we are up for it. It's returning to our roots, to our first manifestation of real creative music-making. I dare say the songs still stand up to time! A certain "time-specific" quality, but I am anticipating a real psychedelic rock band delivering the goods onstage, on-time.
Sproton Layer plays June 14, at the Blind Pig (208 S. First St., Ann Arbor; 734-996-8555), and June 15, at PJ's Lager House (1254 Michigan Ave., Detroit; 313-961-4668).