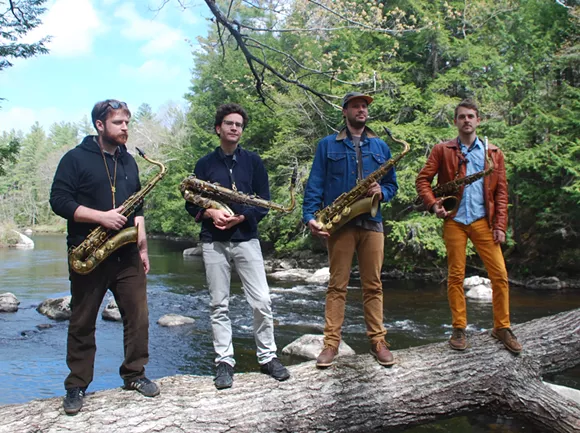 Holy moley we are so excited about the circular-breathing saxophone weirdos in Battle Trance, who
return to Trinosophes for the third time in as many years tomorrow, Saturday, Oct. 15
. Travis LaPlante's face-melting saxophone quartet is so good at weaving these thick lines of sound together in a hypnotic and rhythmic way to make this giant um,
sound-quilt
, just for you.
It's obviously informed by the fringes of minimalist music, but it's a music as sensitive to improvisation and nuance as the finest jazzers. Classical heads, rock 'n' roll meatheads, and way-out hop-heads will all swoon, fall in love, and fight one another over the Battle Trance effects on sale at the merch table. There might not be a better-named band out there.
Come one, come all! And if you actually go to this show and do not enjoy the fuck out of it, you are legally and ethically entitled to pelt this reviewer in the face with a very rotten tomato (please make it heirloom because GMO, yuck).
Doors at 8 p.m.; 1464 Gratiot Ave., Detroit; trinosophes.com; $10.