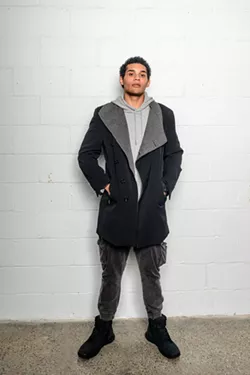 One might say that Detroit rapper Wurl Sotto was put on this planet to bring people together. An actor, poet and activist in his own right, Sotto also belongs to the Detroit-based artist collective Weirdoz Gang, whose mission is to "spread the culture and creative energy across the world and bring people from different walks of life together to share their insight and stories." He and the many members of Weirdoz are also affiliates of other creative entities in the city, like 777 Renegade and Spiritual Color H.
Last year, Sotto debuted with "Ibuprofen," a lustrous showcase of the artist's penchant for tasteful poetry. This momentum continued with the release of Energy Entwined, a 6-song project described by the emcee as "a dive into the eyes of myself to display my experiences, show my versatility and highlight real issues in Detroit."
Sotto has played at over 30 venues in the past couple years, but one event lives with him as his most rewarding performance: the "Points of Light" conference at Cobo Hall. "I performed a poem of mine called 'Genocide,'" he says. "I had the privilege to perform this piece in front of Lonnie Ali, originally intended to be heard by Muhammad Ali but unfortunately he passed before the event." Other performances include the official afterparty for Dally in the Alley 2016 and brief tour with Weirdoz Gang, hitting Grand Rapids, Chicago, Columbus and New York.


While active in the city's creative scene making his own music, Sotto is also an advocate of the arts. Before committing full-time to his solo gig, Sotto was a public ally and served as Specialist in the Arts with Southwest Solutions. More recently, he was casted in an upcoming independent film titled "Black Petunia," playing the role of a young Detroit artist and activist. Sotto will also be modeling for Ben Baller's upcoming "Superism" clothing line. The collection, scheduled to release this year, will be styled and shot by former A$AP Mob collaborator Akhil Sesh.
With more projects in the works, Sotto looks to give back to the community that's fostered his own creative visions. "I want to keep establishing myself so I have something to offer the youth of this great city," There are so many young artists in Detroit with no place to express themselves and their experiences," he says. "With the right outlet, they can develop their craft. Collectives just like Weirdoz Gang are all working to make this unity possible."
— John Struman
Back to 2017 Detroit bands to watch