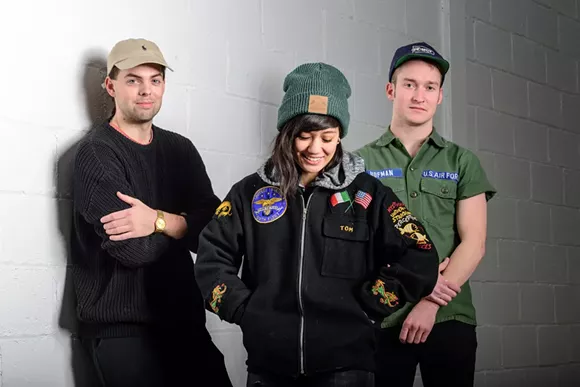 Two days before Detroit's Mo Pop festival took place this summer, a band canceled last minute and Valley Hush were asked to fill in on a moment's notice. The festival, which is comprised of mostly national touring bands, is a huge showcase for a band like Valley Hush — local, young, and hungry for more.
"It was definitely go time," says Lianna Vanicelli, lead singer of the group. "It's such an awesome festival and we were really excited to play it."
Since the successful Mo Pop appearance, Valley Hush have only been working harder to get their name out in the music world. In October, they released their highly anticipated self-titled debut album — and it's easy to see how this buzzy Detroit-based band could take on the larger music scene.
There's no denying that Valley Hush is making sweet pop music, but with Vanicelli's soaring vocals and producer/guitarist Alex Kaye's expansive production, Valley Hush's sound is an ever-changing landscape of what pop music means to them. "Pop music is a very diverse genre, so there's some of it that we like, and some of it that we really do," says Vanicelli.


Each song on the debut seems to be based of a certain synth or sound and grows more and more until it blossoms at the forefront. To our ears, it's an approach reminiscent of what the xx did back in 2009.
Listen to songs like "Concepts" or "Iris" and you'll hear that this multi-genre band is doing a lot more than making your run-of-the-mill pop songs — nobody is making music like this in Detroit right now.
Album No. 2 is definitely something that is in the works for Valley Hush, but touring and getting their name out on the national level seems to be where their focus is at the present moment.
"We do have some regional shows booked in the next couple months, and then we are heading to SXSW in Austin to play," says Vanicelli. "We have one official showcase booked, and then some other shows around town, too. We're just super stoked to get out there and play these songs."
— Jack Roskopp
Back to 2017 Detroit bands to watch