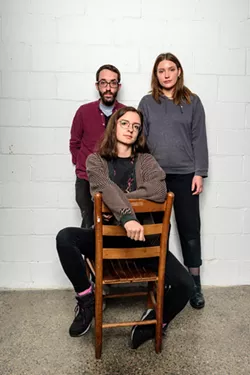 Thanks to a sound that has drawn comparisons to the likes of Liz Phair and Car Seat Headrest, Stef Chura and her band are gaining national buzz. In fact, it was Car Seat Headrest's Will Toledo who gave Chura a big break last year after reading a Pitchfork review and deciding to invite her band on tour. Since then, it's been a whirlwind.
Originally from Alpena, Mich. ("Lots of farmer kids, lots of like, Carhartt jackets," she says), Chura escaped to Ypsilanti in 2008, where she started hanging around the house show scene. She went solo in 2009, and started playing as different versions of the Stef Chura Band starting in 2010.
In 2012, she relocated to Detroit and took a yearlong break from music to try art school — just long enough to make her realize she instead wanted to pursue rock 'n' roll 100 percent. "People who like animation, they only like animation, they're completely obsessed with animation," Chura says of the experience. "I was like, I need to feel the way about the thing that I do that these kids feel."


Last year, she finished her debut album, Messes, which she recorded at Fred Thomas' house. It's her first proper record. Despite its title, and Chura's penchant for touching on different styles, the project soon developed into a cohesive whole. Chura didn't feel that way at first however. "I think they're cohesive because they were recorded at the same time," she says. "While I was recording them I thought they sounded totally different ... I was like, this is all over the place, no one's gonna get it."
But on Messes, Chura sounds like an artist that has come into her own sonically, with a roller coaster songwriting style (witness herky-jerky album opener "Slow Motion") and a vocal delivery that oozes with emotion (like "You"). The record gets released on vinyl (with a Molly Soda-designed sleeve) on Jan. 27 and has a release show on Feb. 4 at Marble Bar with Zoos of Berlin and fellow artist to watch Anna Burch.
After, Chura and her band will embark on a U.S. tour including a stop as part of the SXSW festival in Austin, Texas. This year, Chura says she's all in. "This album is like the only thing I've been thinking about, and like all my money goes into the band," she says. "It's not really a hobby at this point."
— Lee DeVito
Back to 2017 Detroit bands to watch