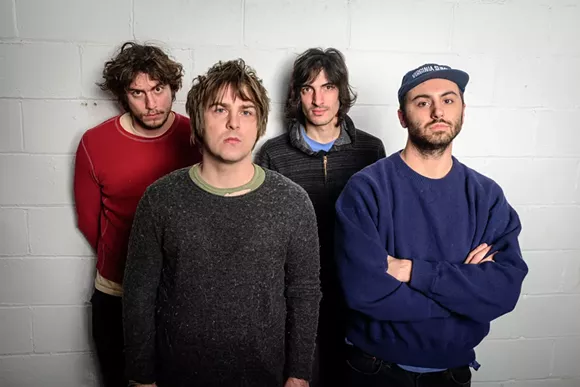 Paint Thinner is a band that knows how it wants to sound and takes its time getting there. Relatively freshly birthed when we compiled 2016's list, their demo cassette came out that March; since then, they've appeared on some pretty sick bills, including an opening slot for Blonde Redhead and performing in-between two very different His Name Is Alive sets at one show.
The band is Colin Simon (Frustrations, Fontana) on vocals and guitar; Paul Derochie (Fontana, Johnny Ill Band) on guitar and vocals; Jeff Arcel (Bill Bondsmen, Terrible Twos) on bass; and Zak Bratto (Growwing Pains) on drums. The demo was recorded by Jeff Else of Beekeepers, who captured their dynamics well in his basement studio. The song titles — "Distortion", "Fell Flat", "Glistening Dots" and "Hidden Key/Outerlude" — are clues to some of the sonic moods undertaken by the band, but the thing is that there's a real sense of purpose behind every single note. The music is directed, contained, and channeled, consciously and with intensity; in other words, Paint Thinner is most assuredly a band one must go see.


Their finest description comes from a German review of the demo, in which they are "best remembered as a bit of wire." Of course, the reviewer is referring to the experimental art-punk of the English band Wire, but the beauty of this unintentionally pretty translation is just as well-fitting and accurate as the remark itself.
Their music is what bubbles below the surface of the ordinary tensions we all face; their songs give a kind of context to these tensions, and in doing so they deftly convey emotion without oversimplification, supported by restless imagery and a downright melodic psychedelic dread. If Fugazi had sounded more like Unwound and really liked Pink Floyd, the result might have been something like Paint Thinner. Oh, and did we mention they shred?
Up next is their first full-length album, which has mostly been recorded; it remains to be seen when or how we will be able to hear it, though we are undoubtedly looking forward to it. With another big show coming up next month — they play Barely Human Fest on Friday night, with ESG — Paint Thinner is quickly taking shape as one of the most thoughtful bands to emerge from the weird, aggressive cocktail that is Detroit's punk and noise scenes.
— James Conde
Back to 2017 Detroit bands to watch